In 2002, something weird and wonderful happened, developer Square Enix released Kingdom Hearts, a game that somehow successfully merged their Final Fantasy universe with those of Disney, giving us an unforgettable gaming experience. Three years later, the game received a sequel in Kingdom Hearts II, but little did fans realise that they would have to patiently wait for another couple of years before the third game in the series would be released.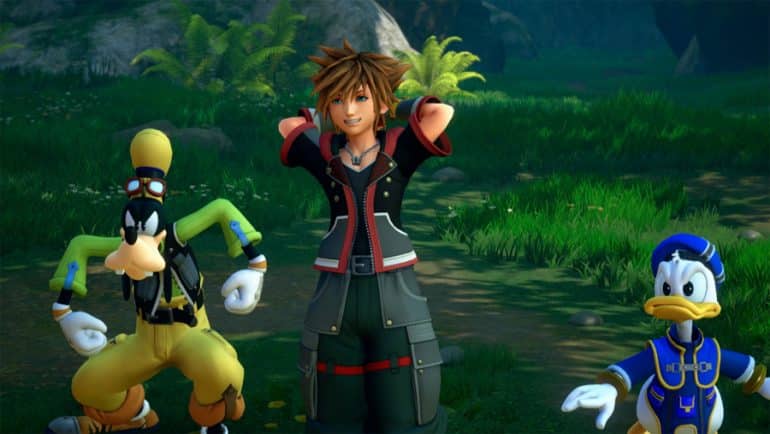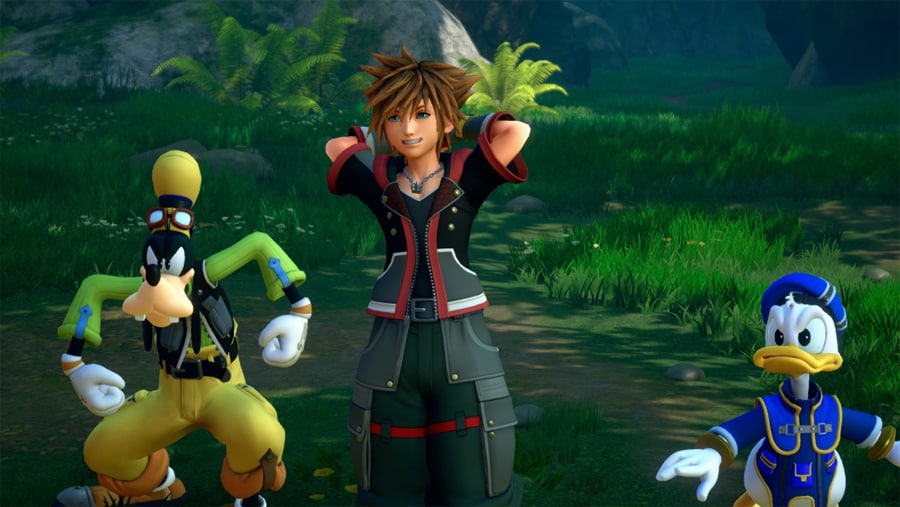 Fast forward 14 years and fans finally have the chance to play the long-awaited Kingdom Hearts III. The question is, does the game successfully bring together all the plot points from the previous games and, more importantly, is it just as whimsical and fun as its predecessors?
Kingdom Hearts III kicks off right after the events of Kingdom Hearts 3D: Dream Drop Distance. Sora has lost his powers, so he sets out with his companions, Goofy and Donald, on a quest to help him regain them and finally defeat the evil Xehanort in the ultimate battle between light and dark.
It's a narrative that spans across 15 games, so it's no surprise that catching up on all its nuances can be challenging and even daunting at times.
It's a narrative that spans across 15 games, so it's no surprise that catching up on all its nuances can be challenging and even daunting at times. Kingdom Hearts III does it's best to fill in the blanks for players, yet I still found myself perplexed at times by parts of the narrative.
Convoluted story aside, at its core, Kingdom Hearts III is about friendship and fighting for what you believe in. Sora is still just as happy-go-lucky as we remembered and helps give new players, who might not be that familiar with the overarching narrative, a relatable, and lovable character to latch onto.
On their quest to regain Sora's powers, the trio will get to explore various Disney and Pixar worlds. They'll get there by using the Gummi Ship, a blocky spaceship used to travel across the Kingdom Hearts universe. It's during these sections that the game becomes a shooter, where players need to navigate various obstacles and fend off enemies, including some bosses, while on their way to their destination. I found these sections to be the least enjoyable part of Kingdom Hearts III. It's bland and mostly boils down to holding in the fire button and trying to get from point A to Point B as quickly as possible. The game does allow you to customise or even build your own Gummi Ship, but even this can't help these sections from feeling uninteresting.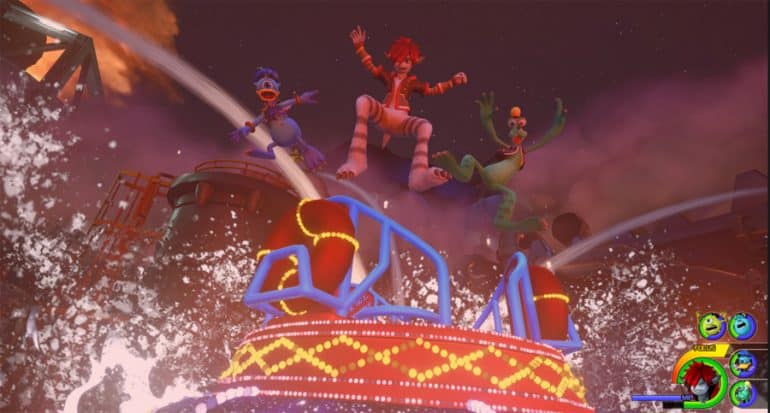 The same can't be said for the different worlds Sora and the gang get to visit. Each of these Disney/Pixar-inspired worlds are visually distinct and a joy to explore. From Big Hero 6's San Fransokyo to Tangled's Corona and even Andy's bedroom from Toy Story, each of these worlds have been lovingly recreated with loads of attention to detail. What is even more surprising is just how seamlessly Sora and the gang blends into these worlds, whether they be swashbuckling with Captain Jack Sparrow or hanging out with Elsa and Anna, never did it feel weird to see these spiky-haired characters hanging out with Disney and Pixar ones.
Each world also introduces new gameplay mechanics, such as the Toys Story world seeing Sora climb into a giant toy mech and tearing through his foes in first-person. There are also the sections where Sora can team up with Ratatouille's Remy and craft some stat boosting meals from the various ingredients he finds on his travels.
Each world also introduces new gameplay mechanics…
Of course, Sora, Goofy and Donald aren't just hanging around these worlds to enjoy the scenery. They are also tasked with defeating the heartless, nobodies and various other foul creatures that have begun to appear in these worlds. This is where the game's combat systems come into play.
As with previous Kingdom Heart titles, Sora wields a magic Keyblade. Basically, it's a giant key with which he whacks his foes into submission. As Sora explores more worlds, he'll unlock various new Keyblades, each with their own unique strengths. Not only does each new Keyblade look unique but each also has their own unique transformation. For instance, the Toy Story Keyblade can transform into a giant hammer causing huge amounts of damage, while the Keyblade from Olympus can change into a shield that can be thrown at enemies. These transformations last only for a short while but it brings a new layer of strategy to the franchise's combat. Sora can carry up to three different Keyblades and switch between them seamlessly during battle. In-between all the Keyblade wielding, Sora will also be casting various spells.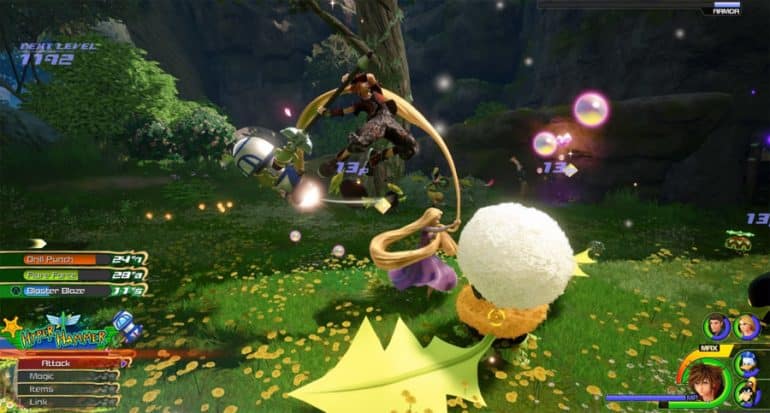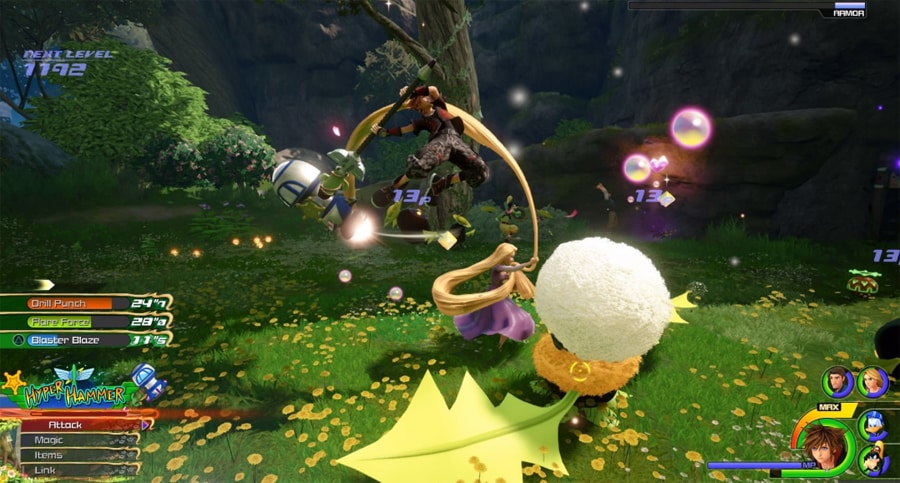 Another new addition to the franchise is the attraction summons, which sees Sora summoning various Disney park rides to aid him in combat, such as the Tea Cup or the Pirate ship rides. These are powerful and spectacular attacks that can help Sora out when he finds himself in a pinch.
If that wasn't enough, Sora can also call on the aid of various Disney and Pixar characters, like Simba and Wreck it Ralph, during battle.
Lastly, you have your trusty allies Donald and Goofy who will fight alongside Sora. While they can't be controlled directly, players can set up how they react in combat, such as having Donald only using health potions when absolutely necessary. This might all be a bit overwhelming at first but at least no combat encounter is ever boring.
Boss battles also feel unique…
Over time I did become a bit tired of starring at the same summoning sequences each time I used one of these abilities. It's great then that the developer does allow you to turn off these sequences in the game's menu.
There were also times, especially on the easier difficulties, where the combat tended to devolve into just smashing one button repeatedly until all the enemies burst into colourful spheres.
On higher difficulties being successful in combat does tend to take a bit more planning and strategy.
Boss battles also feel, for the most part, unique and I was never quite sure what to expect around each corner.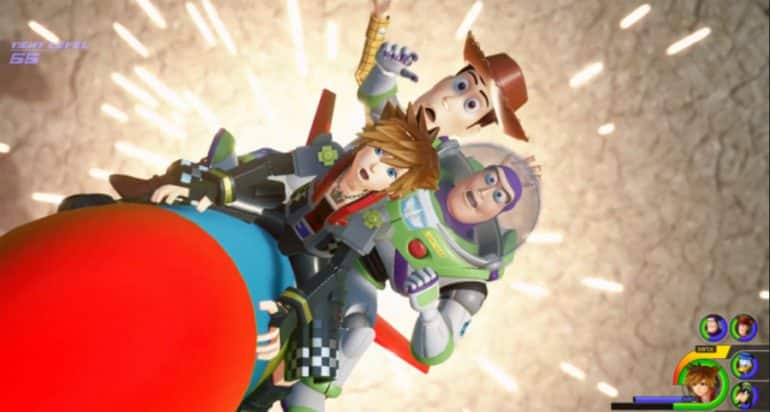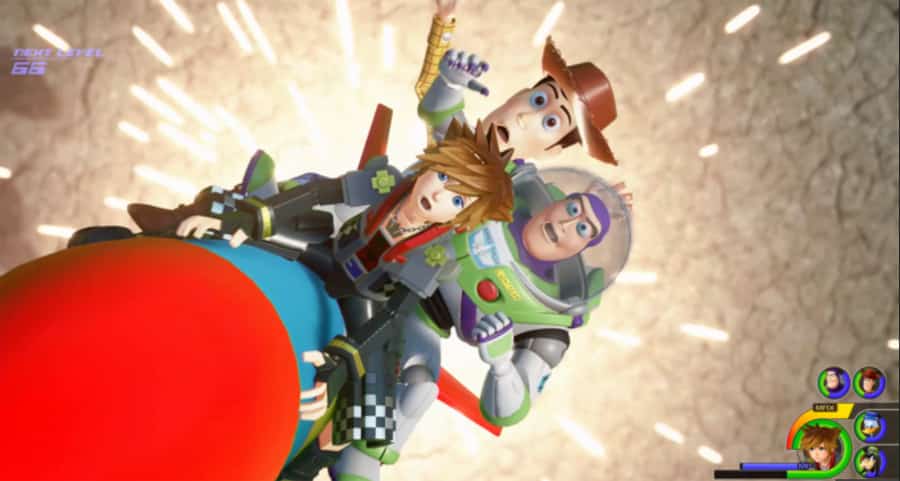 It is obvious just how much love went into the game. I continually felt like I was watching a Disney or Pixar film, thanks to the stunning visuals and on-point voice acting.
Playing Kingdom Hearts III made me feel like a kid again. I continually found myself being entranced by the magic and wonder that flickered on my TV set as I explored more of the game's magical locales. The new attraction summons and Keyblade transformations are welcome additions that help elevate the game's combat and adds to the overall spectacle of the game.
Kingdom Heart III might have a convoluted story and can, at times, be too easy but the game does achieve what it set out to do and that is to keep players enthralled with its whimsical worlds and give fans a suitable conclusion to a tale that spans over many, many years.
The Review
Kingdom Hearts III 
Kingdom Hearts III  gives fans a fitting end to the series. It's a beautiful, convoluted masterpiece that makes you feel like a kid again.
PROS
Combat is a spectacle
It looks stunning
It's filled with Disney charm
Unique worlds to explore
CONS
Story is still very convoluted
Frame-rate drops
Can feel a bit easy on lower difficulties
Review Breakdown
Storyline

0%

Gameplay

0%

Graphics

0%

Replay Value

0%

Sound and Music

0%