A movie drive-in located in the U.S city of Portland, Oregon has removed Kindergarten Cop from its summer film festival line-up.
The hit 1990's action-comedy stars Arnold Schwarzenegger stars as John Kimble, a tough police detective working undercover as a kindergarten teacher in order to apprehend a drug dealer. While undercover, Kimble discovers his passion for teaching and considers changing his profession permanently.
Seems light-hearted enough but apparently not for 2020 audiences.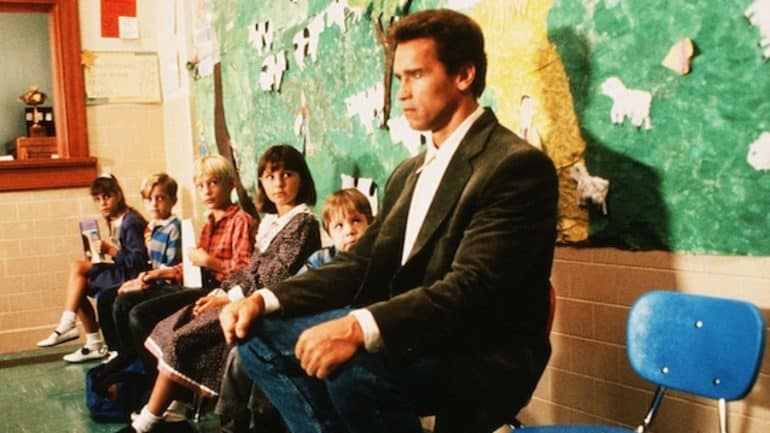 Portland's Northwest Film Center's Cinema Unbound Drive-in Theater pulled the movie after criticisms suggested that it plays a "school-to-prison pipeline" for laughs and "romanticizes over-policing in the U.S."
The campaign to get the movie removed was led by Portland author, Lois Leveen who voiced her concerns on social media before the planned screening.
"What's so funny about school-to-prison pipeline? Kindergarten Cop-Out: Tell @nwfilmcenter there's nothing fun in traumatizing kids. National reckoning on over-policing is a weird time to revive Kindergarten Cop. IRL, we are trying to end school-to-prison pipeline."
In a separate tweet, Leveen compared Kindergarten Cop to the much older controversial films The Birth of a Nation (1915) and Gone With the Wind (1939).
"We recognize films like those are not 'good family fun.' They are relics on how pop culture feeds racist assumptions. Kindergarten Cop romanticizes over-policing in the U.S."
Leveen has since made her Twitter account private.
In response to Leveen's tweet, the NW Film Center released a statement via their social media account saying…
"Thank you for your feedback. Due to overwhelming demand, the Northwest Film Center has added a second showing of John Lewis: Good Trouble. The additional showing on August 6 replaces Kindergarten Cop, which had been chosen for its importance in Oregon filmmaking history."
Movie-goers who purchased tickets to the screening of Kindergarten Cop were understandably upset by the decision, with one Twitter user writing…
"I'm sure the sold-out audience is very pleased that you caved to the artists. Well done."
Meanwhile, Lois Leveen followed up her tweets with a letter to Willamette Week, a local newspaper saying…
"Despite what the movie shows, in reality, schools don't transform cops. Cops transform schools, and in an extremely detrimental way."
Do you agree with the decision to remove Kindergarten Cop from the festival's line-up? Or does the move just enable the over-policing of harmless entertainment?