Comic book legends Tom Wheeler and Frank Miller's Cursed, which retells the popular Arthurian legend with a female lead character, is being adapted by Netflix as a medieval fantasy series.
And the first trailer, which stars Katherine Langford as the main protagonist, Nimue, looks promising.
Cursed is a re-imagining of the Arthurian legend, told through the eyes of Nimue, a teenage heroine with a mysterious gift who is destined to become the powerful (and tragic) Lady of the Lake. After her mother's death, she finds an unexpected partner in Arthur, a young mercenary, in a quest to find Merlin and deliver an ancient sword. Over the course of her journey, Nimue will become a symbol of courage and rebellion against the terrifying Red Paladins, and their complicit King Uther.
"They came while we slept, to cleanse the world of our kind," Nimue voiceovers in the trailer as she recounts the destruction of her village. "Because we're different. Because magic runs through us. Because we have what they want. Legend says this sword belongs to the one, true king, but what if the sword chooses a queen?"
It's epic stuff.
July seems to be shaping up as an action-packed month for fans of badass heroines. We're also getting The Old Guard starring Charlize Theron.
With Game of Thrones out of the picture, fans have been looking for another exciting and gritty medieval series to follow. Of course, Netflix has found success in the fantasy realm before, most recently with Henry Cavill's The Witcher.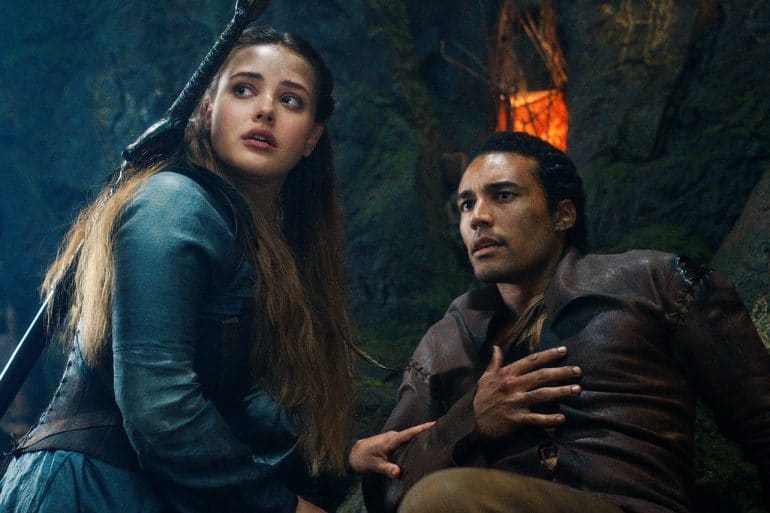 Also joining the cast is Devon Terrell as Arthur, Gustaf Skarsgard as Merlin, Sebastian Armesto as King Uther Pendragon, Shalom Brune-Franklin as Igraine (Arthur's sister), and Matt Stokoe as Gawain the Green Knight.
Cursed will arrive on Netflix July 17.