It's hard to tell if Justice Society: World War II is the actual jumping on point for the new DC animated movie universe, or if it's a direct follow-up to Superman: Man of Tomorrow. Either way, I was left with a single thought before it had even hit the halfway point:
What a disappointment.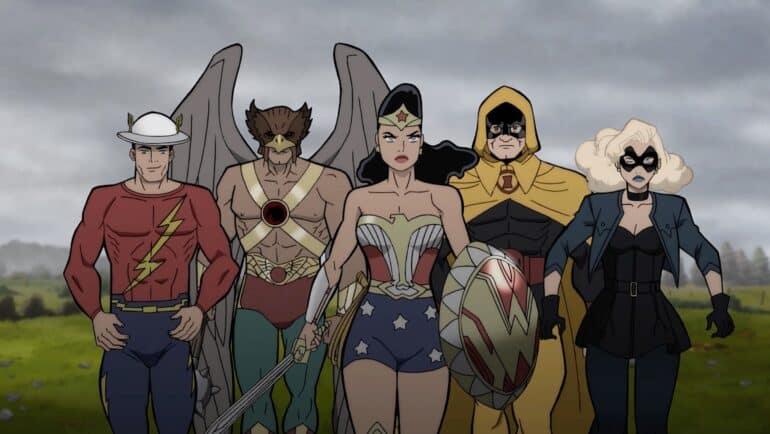 The Flash's life is about to get complicated.
When visiting Metropolis with his girlfriend Iris, Barry Allen – the Flash – finds himself caught up in events which transport him to World War II-era Europe. While he has no idea of how or why he's there, he soon realizes that he isn't the only superhero caught in a struggle against the Axis powers. A new team has been formed by President Roosevelt to protect the world from the march of evil: the Justice Society.
The Justice Society, a covert group consisting of Hawkman, Black Canary, Hourman, a Flash by the name of Jay Garrick, and their leader, Wonder Woman, must now unite with Barry Allen if he is to stand any chance of returning home. But his quest will see the Justice Society encountering new enemies and allies, from the deepest seas to the farthest stars…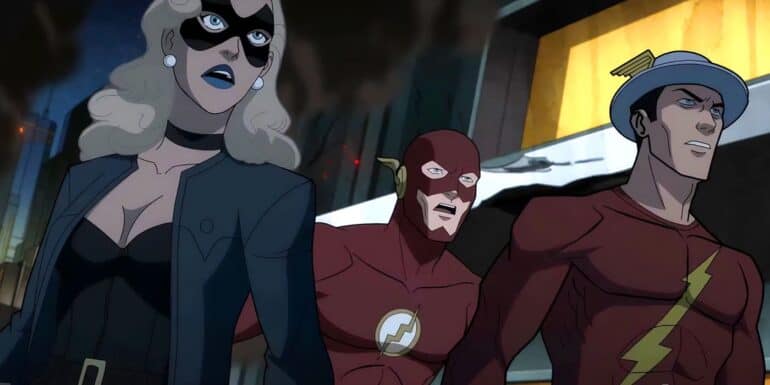 Theoretically, Justice Society: World War II could have been the perfect opportunity for DC's animation to do something different, something new. They could have done something which has been missing from many of their film adaptations – especially the live-action ones. Simply put, they could have properly laid the foundations for a solid future here, by delving into the rich, detailed legacy of DC's past. That's because, for those who may not be aware, the JSA was the first super-team in comic books. They're the classic team who set the standard for all the ones that followed.
And, on the surface, Justice Society: World War II demonstrates some of that potential. At first, anyway.
While it instantly goes back to the same well which far too many recent DC stories have, by relying on the Flash to pull his usual time/space/dimensional MacGuffin shenanigans, and throws in an early appearance of Superman (for… reasons), the animation is slick and the stylized art design works. It looks like a faded New Frontier, and the voice work is distinct. Seeing the JSA beating the tar out of Nazis is a satisfying sight and, initially, it looks and sounds awesome.
Unfortunately, it doesn't take long for things to fall apart.
Much like BvS, Justice Society: World War II tries to do too much without establishing the simple basics. If they really must present an understaffed JSA, you'd think the least they could do is delve more into those few characters they chose to show. Except you never get any sense of who any of them are or what makes them tick. There's an annoying over-reliance on the viewers already being familiar with their identities and histories. And since Wonder Woman receives a majority of the story's attention, those other heroes are relegated to being little more than glorified extras.
Maybe it would have been a good idea to actually feature the Justice Society more in a Justice Society movie. Just a thought.
Meanwhile, the plot tries to over-extend itself in ways which are baffling; it jettisons one of the original assumptions of the setting early on for a pointless bait-and-switch, which undermines the core of story. It then continues to pile on levels of knightmare-esque fallout regarding the Flash's destiny, without doing anything to justify it. All of this is before the third act of the story, which ruins any sense of period-specific nostalgia the film had by rerunning the worst parts of Throne of Atlantis as a sci-fi/kaiju mashup. Throw in a predictable deus ex machina and cue the unsatisfying conclusion, which only seems to exist so it can lead to more stories somewhere down the line.
Meaning that the point of all this is… what?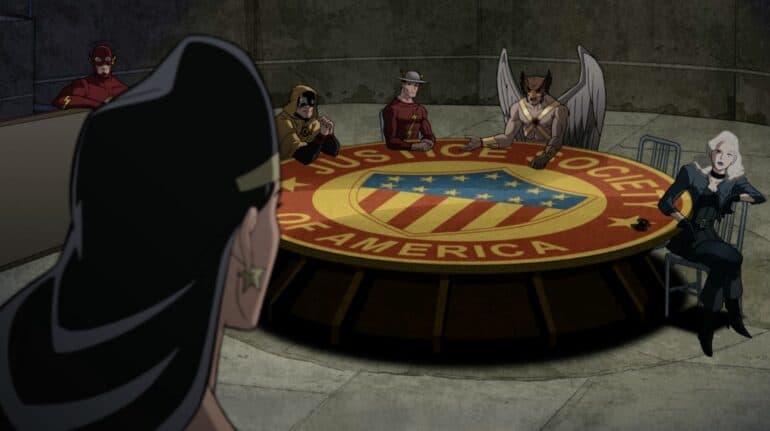 Justice Society: World War II isn't laying the foundations; it's retconning ideas before they've even been expressed, which makes it a frustrating viewing experience.
Many scenes are marked by awkward pacing and weak transitions, with characters lingering on screen like a bad smell for too long after dropping one wooden line of dialogue after another. There's some confusion caused by several heroes and villains never being properly identified, so even hardcore fans may be hard-pressed to instantly recognise them. If ever there was such a thing as a user-unfriendly film, this would be it.
It all feels stupidly unsatisfying, and many great ideas are woefully let down by bad decisions. Why they couldn't just tell a straightforward JSA story without the time travel (and more) hullabaloo is a mystery. There's plenty of source material out there, with a vast array of characters and scenarios to choose from, but this movie fails to take advantage of a majority of the opportunities afforded it.
There are still some things which can be easily appreciated. Wonder Woman has never been presented in action with such efficiency, this film's Steve Trevor is likeable, and any opportunity to see some of the veteran heroes in action is still a joy; but the cold, impersonal story is simultaneously simplistic and cluttered, and on the whole not particularly entertaining. It's an adventure in DC's animated universe, but not a noteworthy one.
At the end of the day, Justice Society: World War II is a passable time-filler which looks good but is hollow. It doesn't bode well for this current incarnation of DC's animated universe, and while it's still a foundation it isn't a strong one.
And by the way, if you're a JSA fan or want a better representation of DC's WW2 era tales, you'd be better off watching Stargirl, Justice League's "The Savage Time", Smallville's "Absolute Justice", or even the Batman: The Brave and the Bold's "The Golden Age of Justice" and "Crisis: 22,300 Miles Above Earth". Yes, even that last one, because an episode with the JSA standing around, complaining about substandard dinner party food, is still more enjoyable than Justice Society: World War II.
The Review
Justice Society: World War II
A disappointing, messy animated DC film.