Justice League War was a great film and along with it came some great character designs. Whilst being based on the New 52 Justice League, Shazam was present as the substituted for Aquaman. But this action figure is far from being a stand in. It brings some added lightening to the character in this series of action figures.
DC Universe presents us with another great series – they seem to churn out impressive lines on a frequent basis, much more consistently than their main rivals. There are five characters to collect in this series. With Shazam being the fifth, it is safe to say that DC did save the best for last when it comes to Justice League War Series 1. The Sculpt is great and so is the anime feel to it, but the face is not an exact match to the animated Shazam from the movie. You can see the anime inspiration but the figure is far from looking like Shazam. He has a great buzz cut hairstyle which really shows the youth of Billy Batson. His eyes immediately point you to the fact that this is an anime adaptation and, yes, he has maintained his strong jawline. The sculpt of his torso is plain, giving it that animated feel. You can see from his pectorals and oversized biceps and the narrow waist that this is definitely a rendition of a DC cartoon version of Shazam, as opposed to being a sculpt inspired by the comics. But it is in the intricate details that this sculpt is found wanting. His symbol is not sculpted, his belt is not sculpted and neither are the boot and gauntlets. The opportunities from some great paneling are truly lost. Instead, DC Collectibles has taken the cheaper way out and simply used paint applications as opposed to proper sculpting. Shazam's signature hood looks great and the fact that it is down is awesome! It has some great sculpting and is made from a strong and durable plastic that is almost rubber-like.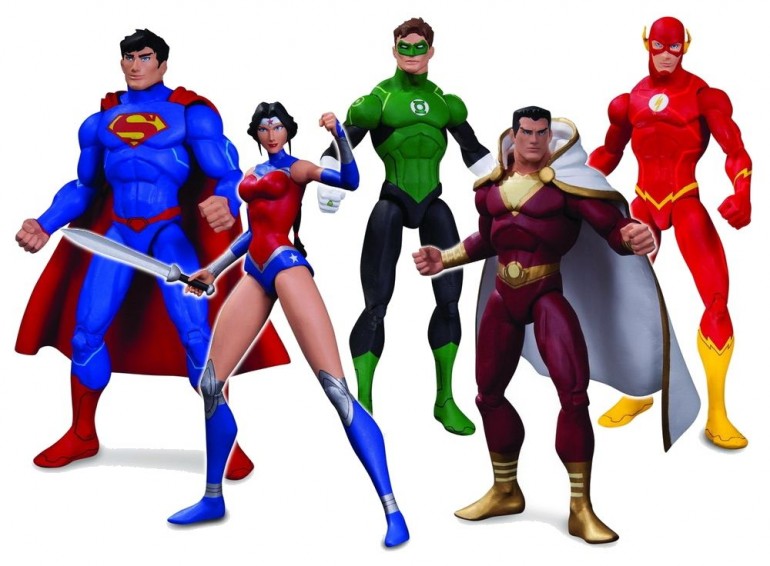 The paint choices on this figure highlight the fact that this is a take on the modern Shazam look. His costume is the new darker shade of red. This paint, however, does not shift in colour and the sculpt is not paneled. The figure comes off looking plain in this regard, but this is not a major setback. The gold used on his boots, gauntlets, and cape really suites the figure well. It gives Shazam that superhero royalty feel. Now this is a genius idea one which might actually be the reason for the lack of paneling on the sculpt; glow in the dark paint applications are used on Shazam's logo, boots and gauntlets. So turn off the lights and watch Shazam Glow with the power of Hercules. His logo pops out above the rest of the glow in the dark sections by far! The paint on his face and mouth looks great as well but I do think his skin tone could have been a little darker – but once again this is a minor issue.
In terms of articulation, this figure comes with the following features; a ball joint head that can rotate 360, tilt well and has a great range of motion. He has ball joint shoulders which also allow for a nice range of movement. He has a swivel at the upper bicep, a single hinged elbow that also swivels and he has swivel wrists. There is no abdominal crunch on this one sadly and thanks to the belt being a paint application there is no waist swivel as well. He has a T-crotch allowing his legs to stretch far out to the side. It struggles a bit when you bring the thigh forward or edge it backward. He has a single bend at the knee and that is it. So you do not have any ankle articulation at all and this is definitely something that will affect the action poses you wish to place Shazam in.
There are no accessories with this one either, not even a little lightning bolt or a display base. Both hands are closed fists. It would have been great to get a set of alternate hands to help Shazam strike more of a power pose or give him the chance to showcase his powers. Sadly, in terms of accessories, there is nothing on offer when it comes to this figure.
The packaging is great. It has blister card packaging with the back of the box showcasing the rest of the characters in the series. The plastic covering the figure allows the buyer to get a full view of the product without having to even think of unboxing it. Much like the Greg Capullo Batman line, the inside of the box contains artwork that features scenes and characters from Justice League War.
Shazam is a great animated looking figure, even with his limited articulation and lack of accessories it is still a great item to own. This figure looks far better that the long faced Superman. So, why not grab something that reminds you of a DC classic Justice League War? A big thanks has to go to Critters and Comics for supplying this figure to be reviewed. The staff at Critters and Comics are always helpful, making your online shopping experience easy and secure. Visit www.crittersandcomics.co.za for the other figures in this series and much more!