DC shows us that they do not intend to drop the ball when it comes to top quality animation. Justice League War presents its viewers with a new origin, one which features Darkseid himself!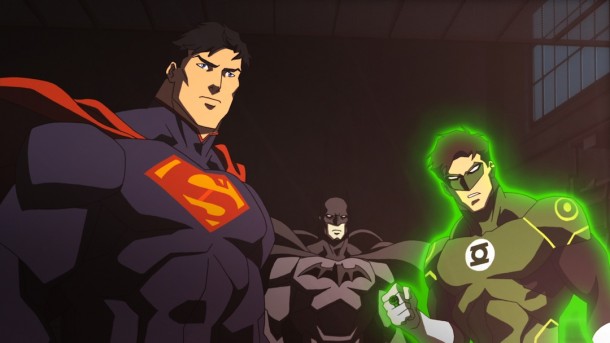 This movie is inspired by Jim Lee and Geoff John's New 52, so expect to see Cyborg substitute for Martian Manhunter. The premise is that Darkseid and his Parademons are busy planning a global invasion of the planet Earth. The sudden emergence of these Parademons leads our heroes to cross paths with one another for the first time. Some have heard about each other but have never met face to face. This allows for some great dialogue between characters, mostly filled with humour and a sense of rivalry. Whilst this invasion is being set up, we are treated to an origin story for Cyborg. We see just how Victor "Victory" Stone moves from being a promising American Football talent to the half man half machine.
Another substitute (when comparing to the comic counterpart) is that of Shazam, who replaces Aquaman. Sure people will be disappointed by this but there is an Easter Egg in the credits that will win critics over. Billy Batson aka Shazam also adds a great amount of character, entertainment and youthful delinquency to the film. It was great to include his immaturity into the team dynamic as he and seems more of a joker than Hal Jordan here. Hal, Barry and Billy offer some great jokes but it is the dark humour of Batman that always shines through. He offers some priceless interactions with his super powered allies.
When it comes to action sequences DC did not hold back. Justice League War has got to be the most action packed animation they have produced thus far. It is far from family friendly too. Much like Flash Point Paradox, we see visceral combat of a violent nature; from graphic eye gouging to maiming and decapitation this film will keep you on the edge of your seat. Be grateful that you are not a Parademon. For those concerned parents out there fret not as the violence is not as graphic as that on offer in Flashpoint Paradox, but this is mostly due to the fact that techno-organic Parademons are being slaughtered. However, there is quite a bit of foul language in this one. The choreography of the action sequences is great, especially when it comes to close quarter combatants such as Batman and Wonder Woman. The other super powered heroes also look great as they put their powers on display. Superman fans will love the way in which the powerhouse Kryptonian goes into battle fuelled by anger as his New 52 attitude is introduced to a motion picture debut.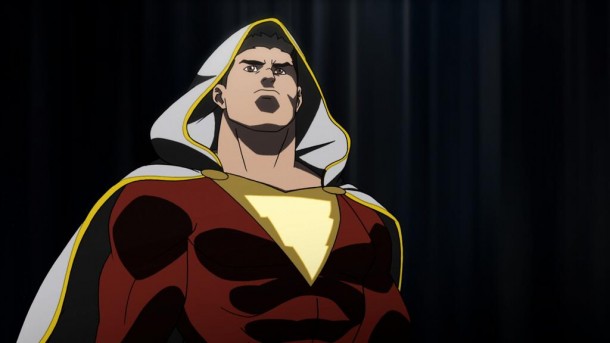 When it comes to art there is a definite improvement in this film. The heroes no longer look overtly muscular, except for Superman who is well… a beast. The art will seem familiar. This is because the characters have been designed by Young Justice lead designer Phil Bourassa. Everyone loved Young Justice, making this art a fitting match to this entertaining film. Once again the cowl gets shifted to a new voice actor. Jason O' Mara pulls off a decent job. He is no Conroy but he gets the job done for most part. A problem for me is that Darkseid hardly gets any major dialogue. He merely states his purpose and then goes to battle in one long boss fight. The great Steven Blum is left voice acting dialogue such as, "Argh!" "Hmph" and "Grrr!" You do not get to delve into the mind of Darkseid, instead he comes across as an inter-dimensional bully that only has size and power on his side.
Whilst this story offers no real twists or surprises it remains entertaining and thoroughly enjoyable. With great one-liners, some friendly banter and some great action scenes, Justice League War is still on par with the level of quality that DC is pumping into their animations. When it comes to animated full features it would seem that DC is unrivalled. DC has got a winning recipe and has earned the respect of the adult comic enthusiast when it comes to this level of animation. Their films show that time and effort has been placed into these works and that DC is not just churning movies out in order to make an extra buck. If viewers thought this was an action packed film, we can only imagine what "Son of Batman" will have to offer later this year!