Over the course of six years and fifteen films, the DC Animated Movie Universe has had its fair share of ups and downs.
Flashpoint got the ball rolling, bringing with it a promising – albeit rather bleak – view of the direction that DC animated films were going to go. The newly-crowned DC Animated Movie Universe hit the rocks almost instantly, establishing itself as the New 52 of animation by adapting all the missteps of DC's latest (and ultimately failed) reboot. Thankfully, over time, cooler heads prevailed. The films got away from the New 52's influence, telling original stories and adapting some of DC's better, earlier material instead. While the DC Animated Movie Universe will never surpass the DCAU in the hearts and minds of fans, it evolved to become a consistently solid and entertaining series.
So it's only right to now tear it all down, much as Marvel did with its live-action movies with Infinity War and Endgame. That may sound like a rather boastful comparison, but it's one that matches up because Justice League Dark: Apokolips War deserves some serious credit.
It all seemed so right.
The Justice League had never been stronger or more capable: Lex Luthor had joined the team following the Reign of the Supermen, their roster had been bolstered by the addition of the magical Justice League Dark, and their young allies – the Titans – stood ready to assist them. Led by Superman, a decision was made for the League to finally confront Darkseid, ruler of Apokolips, before he conquered Earth.
They failed.
Following the League's crushing defeat, the Earth was attacked and quickly became a ravaged wasteland. The few remaining heroes became shells of their former selves, and have gone into hiding. But when John Constantine is recruited to wage one last desperate battle to save what's left of the world, his journey leads him in directions he never imagined. As the remnants of the Justice League, Justice League Dark, the Titans and the Suicide Squad reunite, the greatest battle is just to survive…
Justice League Dark: Apokolips War's beginning is an immediate sucker-punch to viewers much like Endgame's introduction. The battle is over before it even begins, because that fight isn't what this is about. It's about what follows, and how heroes behave when they lose. What better way to grab audiences and brutally force them to pay attention, than with the Justice League getting instantly vanquished and the Earth being decimated?
The story that follows is fascinating and worthy of high praise as John Constantine, ever the hard-luck hero, becomes the Everyman figure who's pulled back in for one last fight. The world as we know it may have ended, and the few heroes who remain have all suffered horrible fates, but he lives with something worse than knowing that he failed: his own cowardice. He's never been much of a hero anyway, but he's always been a fighter… until now.
If his unwilling journey to redemption isn't enough to interest viewers, seeing many fan-favourite characters being put through the wringer should offer plenty of morbidly fascinating moments. Seeing the dark, twisted fates of Nightwing, Batman, Superboy, the Flash and so many others is like watching a road accident. It's not the shock value of Flashpoint's darker times though, because here it's handled so much better and more dramatic because it's earned these moments. As for the Suicide Squad, their appearance is perfectly timed and well handled, providing some welcome laughs amongst all the death and destruction.
Of course, this still has to culminate in the traditional superheroic battles. The smart thing about these ones though are how obvious it is that even if the heroes win… well, what will they win anyway? The planet is a ruin, there's almost nobody left to save, and death seems inevitable regardless. There's little victory in their victories. Heroes fall in so many scenes, and almost nobody is off-limits to being axed. Almost.
It's that last fact that's a sticking point, and where some of the few problems here lie.
Those who have followed the DCAMU know that it's only given a superficial glimpse at the world and those who populate it; the civilian "extras" who make our heroes' and villains' lives so much richer in comics have rarely been shown. With this branch of the universe feeling mostly empty anyway, it's hard to be concerned about the tragedy of it all ending. Likewise, the few "big guns" like the trinity of Batman, Superman and Wonder Woman will always seemingly get a free pass because, of course, it's usually all about them anyway. So when some characters get a get-out-of-jail-free card in this story, it feels like a cheat. Let's just say there were missed opportunities to delve deeper into many of the characters on a personal level, and instead we just got more fight scenes.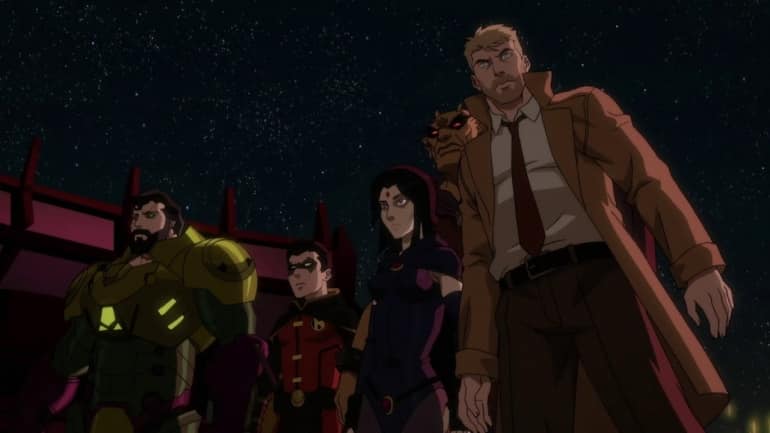 The visuals in Justice League Dark: Apokolips War look impressive, the music is excellent, and the voice work is mostly great… although Lex and Harley both sound off. In the case of Lex, Rainn Wilson again lets the character down; in the case of Harley, it's due to bad dialogue. When will DC's writers realise that you can't force craziness on a character, it has to be natural?! As a result, she's as entertaining as botched dental surgery while Captain Boomerang steals almost every scene from her. Plus, again nobody can pronounce "Constantine" correctly, which is almost as annoying as Constantine's pansexuality being played for laughs when he reunites with an old flame.
Justice League Dark: Apokolips War ratchets up the action and raises the stakes constantly. It's a hell of a way to bow out, and is easily amongst the best DC films because (unlike the live-action versions) it took the time to build up its interlinked universe of stories. It's a production that earns every great moment it achieves, even if the journey to get here wasn't always the smoothest. Now all that remains is to see what comes next…
The Review
Justice League Dark: Apokolips War
A triumphant Endgame-style finale to the DCAMU, but misses some opportunities.