Justice League #6 is the turning point for DC's strongest heroes. Whilst issue 5 was very much a showcase of the Legion of Doom and the powers they hold, this issue deals with the other side of the coin to each of these villains and forces, compelling the Justice League to embrace something completely new. Whilst some of the explanation as to how things are happening is still a little flawed, this was an interesting read and one that felt high stakes, while not sacrificing some character work on Joker, Lex, Batman, Superman, Flash and the new Ultraviolet Lantern, especially.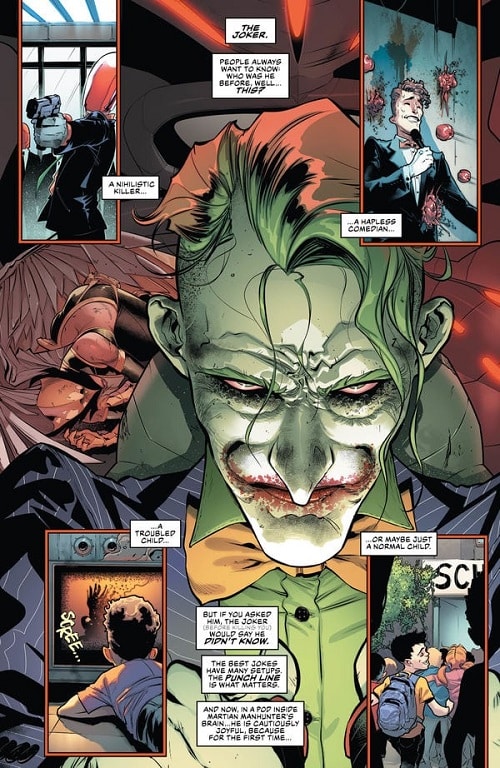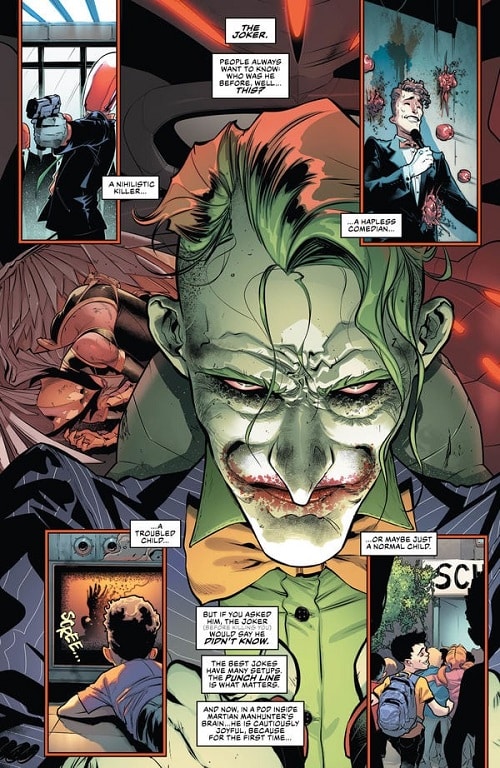 This issue finally puts crazy Lex Luthor's plan into action, manipulating Superman and Martian Manhunter into damaging the universe further and unleashing the forces that Luthor wants to control. Or the Earth is being changed by some Multiverse threat. Or the heroes are already being subdued by the forces that Luthor is chasing. To be honest, I was confused as to what was going on for a lot of it. Yes, it does feel high stakes, but the lack of clear explanations has really hurt the title. I struggled to follow along how the villains were enacting the plan that was set up in the last issue. For instance, it appears that Joker had completely taken over Martian Manhunter, using his body to shape-shift into a weird hybrid. But Batman had also made it to Luthor, hiding away inside Superman, with Joker  using J'onn to help sway the tide and Lex finally fighting off Bats with a doorknob. This book is full of utter madness and confusing left turns and I feel like it hurt the story a lot. While I stand by my comments that there was some good character work in this, it is really hard to understand the emotions behind the actions when you're not exactly sure what the actions are.
The thing that hit the mark the most was John Stewart understanding that he had to embrace the Ultraviolet Lantern in order to fight for Earth. This led to many other heroes embracing the seven forces that seek to dictate them. Flash, for instance, using the Slow Force in order to slow the Earth down? Again, this was a great moment but a questionable one as to what this actually means for the rest of the series. Meanwhile, Black Manta seems to have a little bit of resistance to Lex's plan, clearly showcasing jealousy that he has never managed to achieve this level of success. Joker is also struggling with failure, with his ambition to tell the best joke falling short, having been thwarted somehow by Earth's heroes. To top it all off, we now have a planet that has joined a Lantern Corps it seems.
Some people are going to love Justice League #6 and understand it much more than I do. While I want to give it a good review for its high stakes and compelling character work, most of it didn't quite hit because of the complex nature of the storytelling. This was an issue I found with No Justice and I'm hoping that it becomes clearer as the book goes along. For now at least I will say that it is a good addition to the series for its characters and its art, but it's large scale plot needs to be streamlined or better explained.