Lex Luthor and the Legion of Doom are on the warpath against the Justice League. Can the Legion be stopped, or will we see the triumph of darkness and the end of the Multiverse as we know it?
Justice League #30 commences the epic Justice/Doom War storyline. Lex Luthor with the aid of Perpetua, was transformed into an Apex Predator. As a result, Luthor is more powerful than ever and has been recruiting villains to the Legion of Doom to do battle against the Justice League. With fate hanging in the balance, can the League withstand this final assault?
It is a real treat that Snyder and Tynion have resurrected the Starman character and placed him at the centre of the plot. His mythology is interesting, and they do a good job adding Starman lore into the wider DC mythology once more. Diving deep into the mythos of the multiverse is where the intrigue of this first issue lies. Snyder and Tynion have carefully used the different mythologies like the Speed Force and the Lanterns', Emotional Spectrum etc. to weave the next mammoth good vs. evil storyline.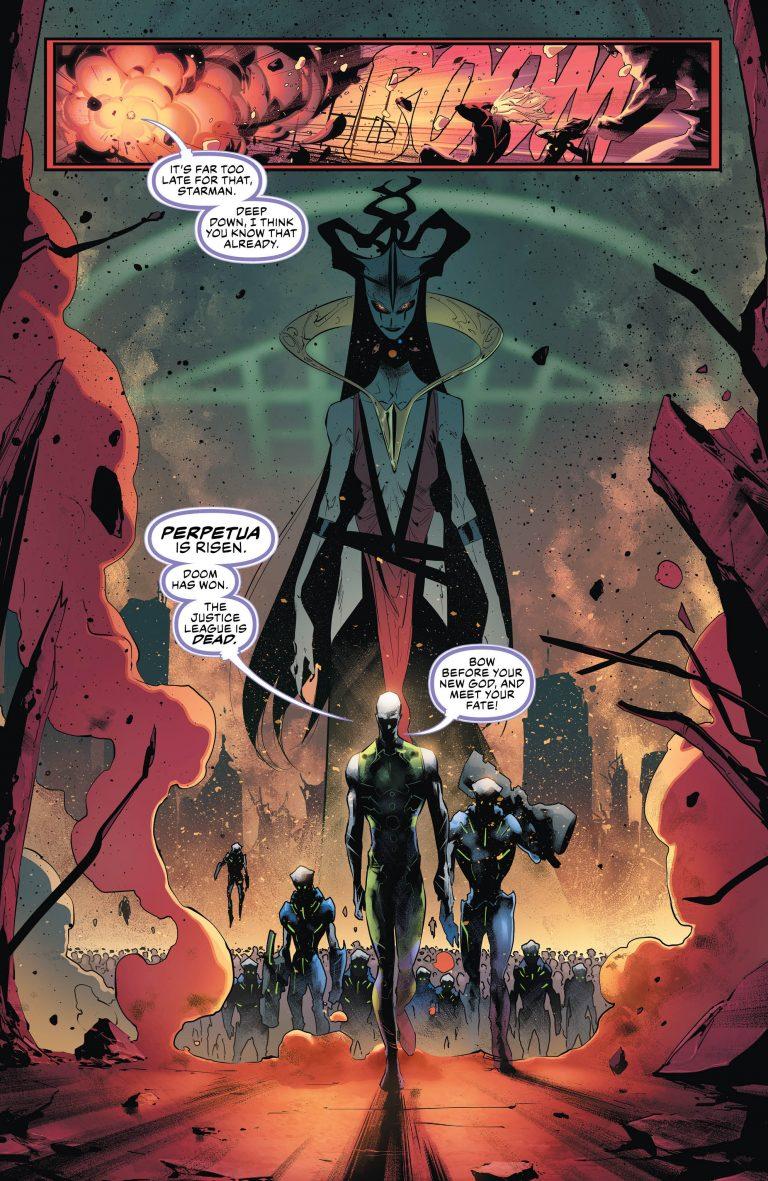 Artist Jorge Jimenez adds plenty of dramatic effect by exaggerating the limbs of his characters. Their striking poses make the pages come alive and with the extreme angles he uses, creates a feeling of foreboding and conveys the power of Apex-Luthor for example, in a visceral way. The colour work by Alejandro Sanchez is what is best about this comic, to be honest. The tones and hues used on metal and blue light most especially are marvellous.
Justice League #30 might be bogged down with too much explanatory dialogue and is low on action but it's unapologetic in its embrace of cosmic mythology to tell what seems like the next great Justice League arc.
The Review
Justice League #30
Justice League #30 offers great DC mythology.