The pages of this week's Justice League issue are ram packed full of interesting tidbits as to where these iconic characters could be heading in the future. Full of imaginative costume design and spectacular art that brings each familiar location into a new futuristic life of its own, the real hero of this book are the artists and colourists that have worked so hard to produce such a fantastic looking comic.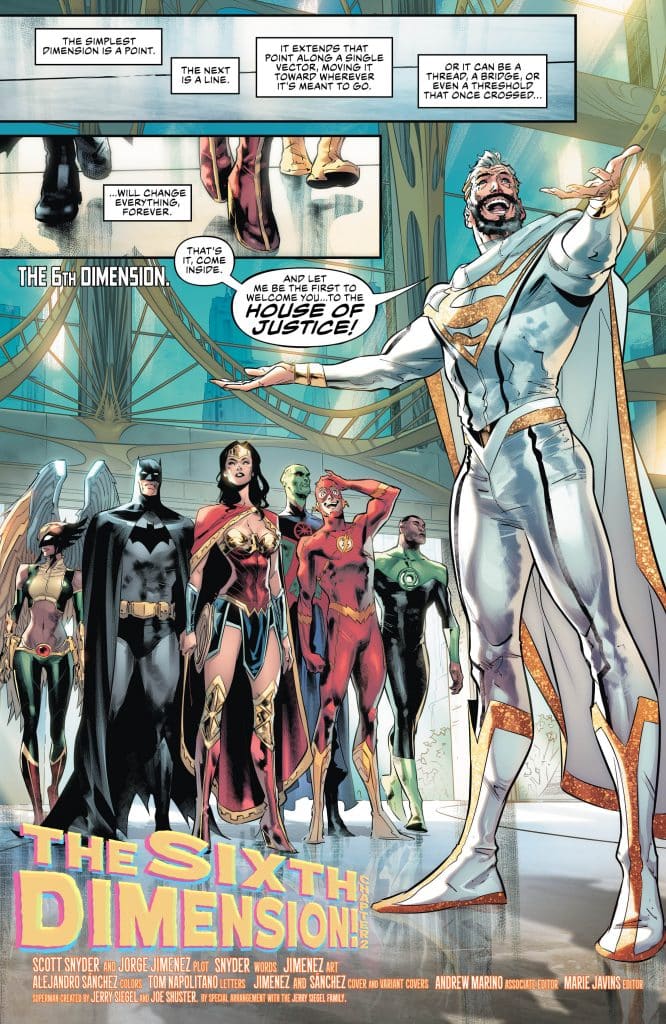 We continue off where we left off, with the Justice League in the far future alongside the impostor Superman. The heroes of the present are guided by the future selves around the new multiverse that has been created. Things that never seemed possible have become a reality in a world that is repeatedly described as heavenly.
It's not just the Martian Manhunter that feels uneasy about this new status quo, however, as the reader knows that perhaps this is all too good to be true. With Superman still trapped in a large hole, coming face to face with himself only in the last few pages, this is a whistle stop tour of all the possibilities the writers came up with as to how the future of DC could look.
Some interesting choices were the inclusion of a new Batman, due to Bruce Wayne apparently sacrificing himself.
As the tale started to unfold I did start to wonder whether Perpetua was evil or the saviour they all need. These clear futuristic foes seem very set on keeping her locked up and disgracing her name.
The biggest transformation is, of course, Gotham, which even surprises Batman upon returning to his city post-multiversal chaos. It's perhaps in this moment we truly get the feeling that this whole world is impossible though. Gotham in sunlight just doesn't seem right.
Elsewhere Kendra and J'onn are the heart of the story once again and their romance continues to evolve. It doesn't appear to startle them that in the future they have a child together, as if in some ways they realise that their destinies are entwined.
The next few issues of Justice League are sure to be spectacular as this continues to go in different directions than expected.
The Review
Justice League #20
Justice League #20 has some of the best artwork of the series. This is a fantastic looking comic book.