This Justice League run continues to hit every corner of the Multiverse as the writers bring in multiple elements to add extra layers of creative intrigue to the tale. The introduction of the sixth dimension is another fantastic way to move the narrative forward, maintaining a fresh and fun vibe within each page whilst contributing to the larger story that is being told. With a few mentions of what is to come and the threat of Perpetua still ominously looming, Justice League #19 takes us in a different direction as a new problem arises whilst they try to solve the ones they've already caused.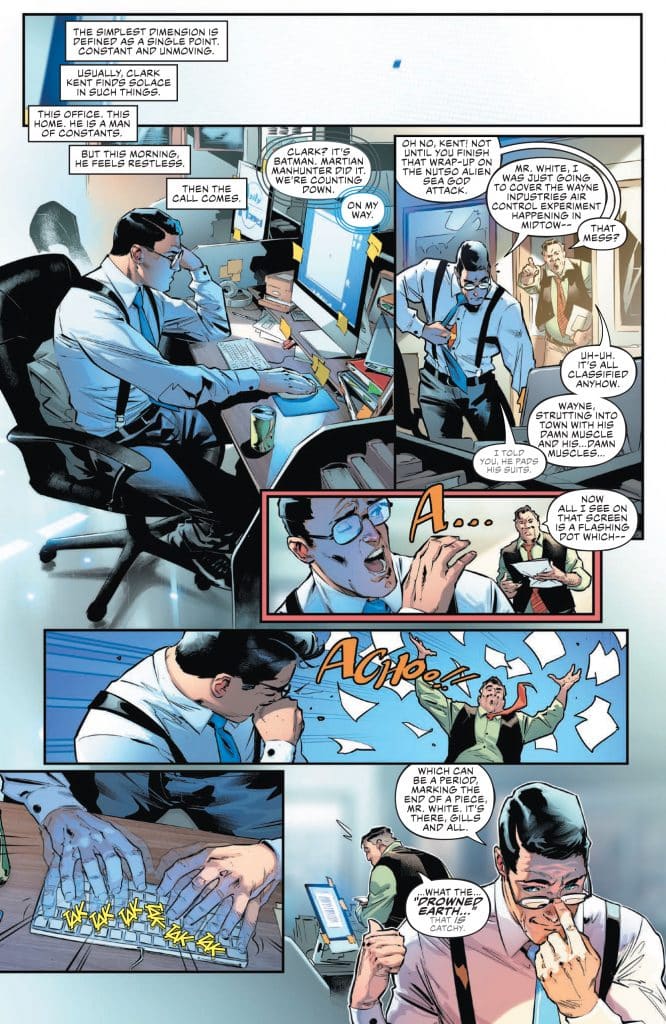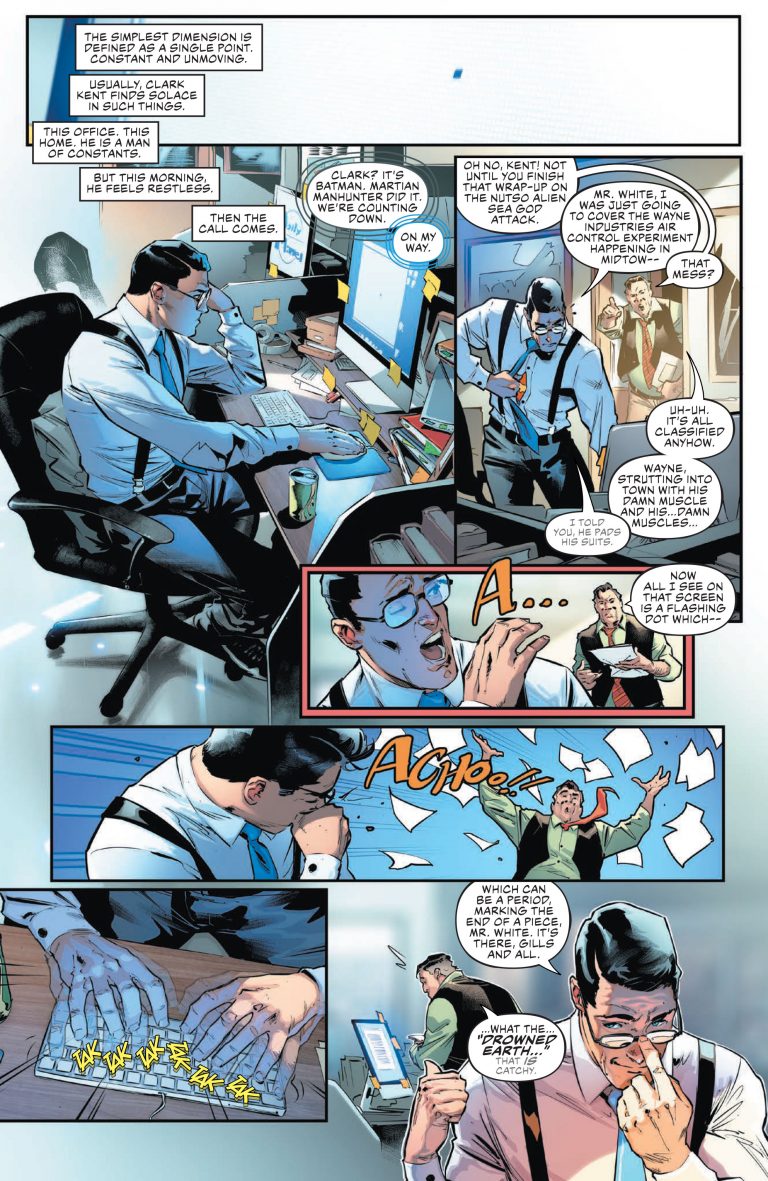 What has to be mentioned first about this book is the art. With the imp of the fifth dimension, Mister Mxyzptlk, being introduced into this story, the artists had some amazing opportunities to really have fun with the nature of the character.
The writing team also clearly had fun with this issue, with many jokes in the dialogue, particularly about the ongoing bromance that Batman and Superman continue to have. This was a really nice break from the doom and gloom these issues have been giving us, especially from the literal Legion of Doom we had in the last issue.
The idea that Mxyzptlk has brought the city to life, creating a series of terrifying and dangerous monsters out of the various buildings, is an interesting and fantastical visual and narrative element that carries this issue along. By breaking down to the core of the character however, we see that the imp is perhaps not as evil as he leads people to believe.
Telling the League of the sixth dimension, the imp claims that he can help them and that he has been preparing Superman for this moment for as long as he's known him. This is a nice piece of continuity that makes this story feel like it spreads a lot farther. The description of the different dimensions was also particularly useful.
No other characters truly stand out across this issue, apart from Superman. He goes on this journey to the sixth dimension, if only for a brief time. He returns almost instantly a much older and wiser man. Although, we do question if this really is the Clark Kent that left? This impostor leads the League to a future version of events, where everything has been fixed. There's some great character designs here and callbacks to other arcs.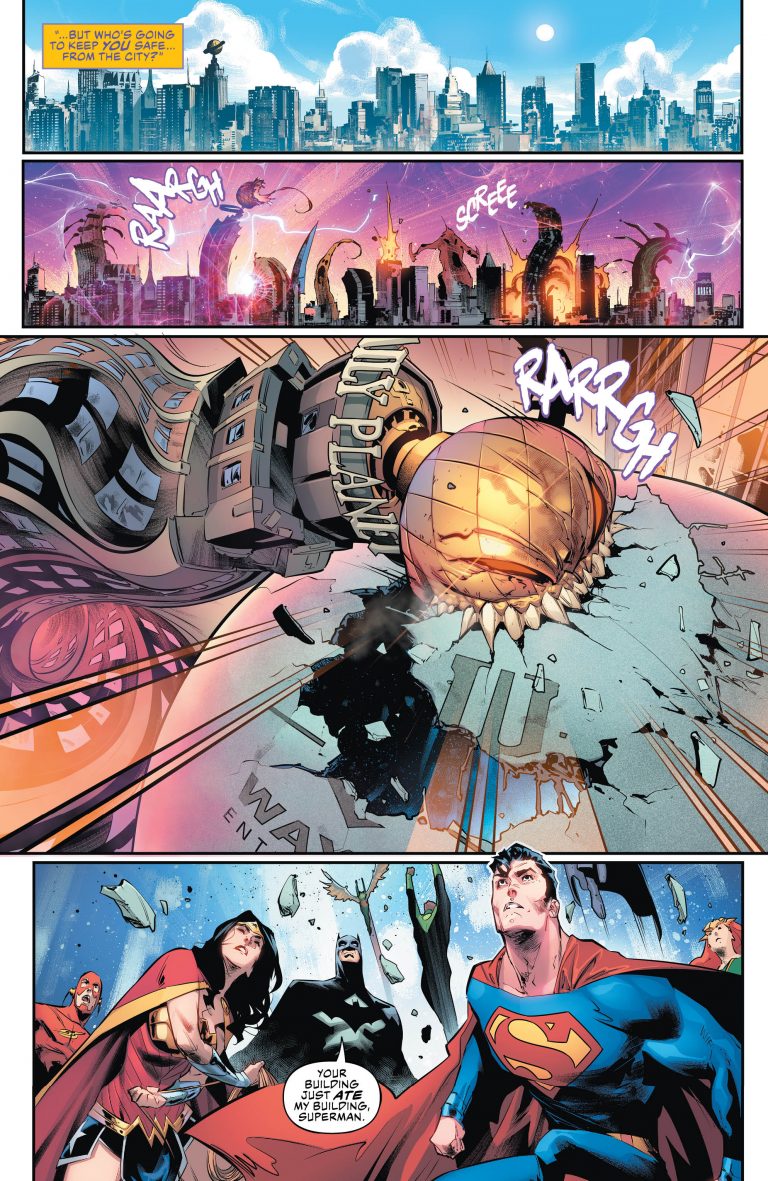 Justice League #19 has really highlighted some of the great elements of this run; from the fun interactions to the great art and compelling design and, of course, the imaginative storytelling.
The Review
Justice League #19
Maintaining a fresh and fun feel within each page, Justice League #19 contributes to the larger story that is being told with more great art and fun interactions between the characters.