Just Dance 2021 is the 10th instalment released from Ubisoft, and it is also my first foray into the dance rhythm game genre. Having never played a dance game ever before, I was very eager to dust off my dancing shoes and dance the night away.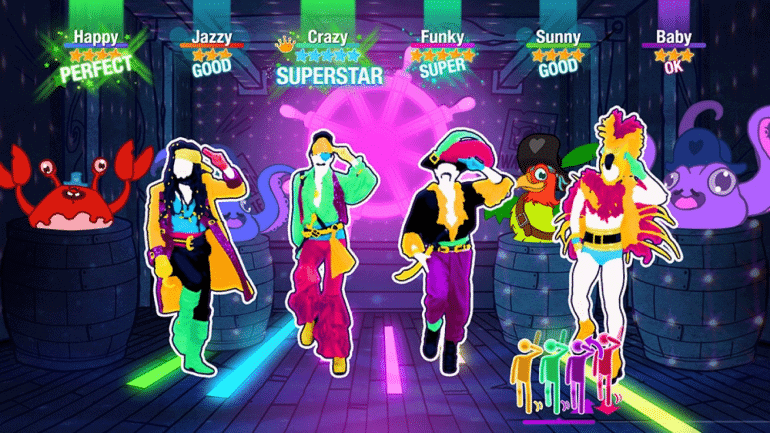 Could I Have This Dance
There are three ways to play Just Dance 2021 on the Playstation 4 (the console that we reviewed it on). You can either use your Playstation Camera or Playstation Move, but if you don't own any of those devices you will be happy to know that you can use your smartphone by simply downloading the companion app from your app store. You can control the games menu using your smartphone and play with up to six of your closest friends or family members.
Once you're connected, you are greeted with a very basic but vibrant menu which consists of only three game modes:
A Quick Play mode where a random song is selected and you hop right onto the dance floor.
A Kids mode including songs for the little dancers to show off their dancing skills
A Just Dance mode where you can select up to 40+ songs to dance to.
The songs included are popular chart-topping hits from The Weekend, Billie Eilish, Doja Cat and Harry Styles to name a few. If you want more songs to groove to, you can always subscribe to Just Dance Unlimited where you gain access to 600+ songs.
Lose Yourself To Dance
The aim of Just Dance 2021, which is still based on the winning formula created by the original game which released in 2009 for the Wii, is to mimic the on-screen choreographer's dance moves and rack up as many points as possible before the song comes to an end. While this might seem like a silly and flawed system, it works surprisingly well and feels accurate.
With my smartphone clenched tightly in my right hand, I was ready to break a sweat. And boy did I. Just Dance 2021 is so much fun and also a great workout at the same time.
After just two songs, I was already out of breath from busting out all my hidden dance moves but also having really enjoyed myself in the process.
This will be a great party game for the December holidays when you have your friends and family over. In fact, it actually supports up to four players.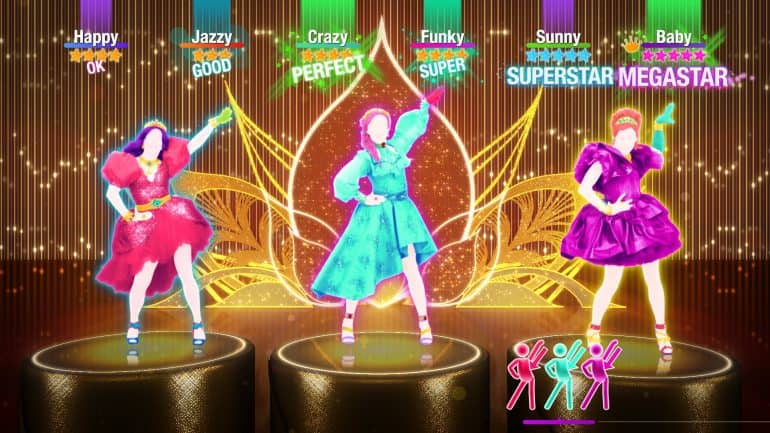 Save The Last Dance
If you are new to the dance rhythm game genre, I would highly recommend Just Dance 2021. As the title suggests, it really is so much fun to just dance and be silly.
Having the option to use your smartphone as a controller was also a really smart move from Ubisoft. For those who have played previous instalments, Just Dance 2021 might not have much to offer besides the updated song selection and access to Just Dance Unlimited, so maybe wait until there's a sale before upgrading.
You can take a look at the songs included in the game below:
• "Rain On Me" di Lady Gaga e Ariana Grande
• "Adore You" di Harry Styles
• "Ice Cream" delle BLACKPINK x Selena Gomez
• "Say So" di Doja Cat
• "Kick It" degli NCT 127
• "Rare" di Selena Gomez
• "The Other Side (dal Trolls World Tour)" di SZA & Justin Timberlake
• "Volar" di Lele Pons con Susan Diaz e Victor Cardenas
• "YO LE LLEGO" di J Balvin, Bad Bunny
• "You've Got A Friend In Me" da Toy Story di Disney Pixar
• "Señorita" di Shawn Mendes e Camila Cabello
• "Blinding Lights" di The Weeknd
• "Without Me" di Eminem
• "Dance Monkey" di Tones And I
• "Que Tire Pa Lante" di Daddy Yankee
• "Don't Start Now" di Dua Lipa
• "Temperature" di Sean Paul
• "Feel Special" dei TWICE
• "Juice" di Lizzo
• "all the good girls go to hell" di Billie Eilish
• "Yameen Yasar" di DJ Absi
• "UNO" dei Little Big
• "Paca Dance" della The Just Dance Band
• "Magenta Riddim" di DJ Snake
• "Lacrimosa" di Apashe
• "Kulikitaka" di Toño Rosario
• "Joone Khodet" dei Black Cats
• "Get Get Down" di Paul Johnson
• "Georgia" di Tiggs Da Author
• "Buscando" di GTA e Jenn Morel
• "Alexandrie Alexandra" di Jérôme Francis
• "In The Navy" dei The Sunlight Shakers
• "Zenit" degli ONUKA
• "Heat Seeker" dei DREAMERS
• "Till The World Ends" del The Girly Team
• "The Weekend" di Michael Gray
• "Samba de Janeiro" di Ultraclub 90
• "Runaway (U & I)" dei Galantis
• "Bailando" di Paradisio con Dj Patrick Samoy
• "Dibdi Dibdi Sound" di DJ Fresh e Jay Fay con Ms Dynamite
• "Boy, You Can Keep It" di Alex Newell
Just Dance 2021 is currently available on Playstation 4, Xbox One, Nintendo Switch as well as  Stadia. There is also a next-gen version available for the Playstation 5 and Xbox Series X/S.
Ubisoft provided a review code to Fortress of Solitude for the purpose of this review.
The Review
Just Dance 2021
Just Dance 2021 is great fun. And that's all you really need from a dance game.
PROS
A lot of fun
Smartphone companion app
Great selection of songs
CONS
Subscribe to have access to more songs
Limited game modes
No real updates from previous version
Review Breakdown
Gameplay

0%

Graphics

0%

Replay Value

0%

Sound and Music

0%