Just Cause is a series that more and more needs to justify its existence, as the latest instalment has once again proven that, despite technological advancements, the actual core gameplay loop probably peaked with Just Cause 2.
That was 8 years ago, and the newest instalment, Just Cause 4, does very little to show why it is necessary, aside from a few additions that the most hardcore fans would enjoy playing with to create YouTube videos.
You can see this stagnation in the marketing too: everything about it has been "it's Just Cause…but with huge WEATHER EFFECTS!!" This series has now reached the Police Academy stage of franchising, where it's the same every time, but with a gimmick attached for the never-ending sequels.
All of this may sound unnecessary cruel, because Just Cause 4 is indeed not a bad game, and is a great deal of fun. If you've never played a Just Cause game then I recommend that you read this review with that in mind at all times. However, it is an unnecessary sequel, with the way it's designed. And I'll be explaining why below.
Like always, you control Rico Rodriguez, a special government agent with near superhuman abilities at toppling military dictatorships. Once again, he finds himself in a tropical-ish island nation where a corrupt dictator needs removal. This time its personal though, as his father was rumoured to have been involved with the dictator as a scientist creating super-weapons for evil. Rico also faces the Black Hand, a mercenary group he took in Just Cause 1 and 3 earlier.
The plot, as always, is largely an excuse here, and there is never really any meaningful characterisation for anyone involved.
The plot, as always, is largely an excuse here, and there is never really any meaningful characterisation for anyone involved. The setting and villains are remarkably similar to other instalments, and it seems almost criminal to have Rico once again fly all over scenery that just looks so damn close to what it is in every other game in the franchise. Yes, I know Just Cause 3 was in the Med, but it somehow also ended up looking the same there again too. It's like the designers only know how to work with one biome.
The plot and story missions ended up motivating me not at all, so that leaves the game with only gameplay to push me forward. This is unfortunate when so much of the content is gated behind the story missions that you must suffer through to get to.
The Open-World gameplay prioritises movement and creativity and making your own chaos, so why then do so many story missions force me to the ground and make me defend a position while someone hacks a door or some such? It takes away the best part of the gameplay loop while emphasizing the weaker elements (the floaty gunplay). This is fine now and again, but the story missions just seemed so uninspired and lacking in potential overall. This is aside from the actual fact that I didn't care about any of the people involved that were doing the hacking or protecting of.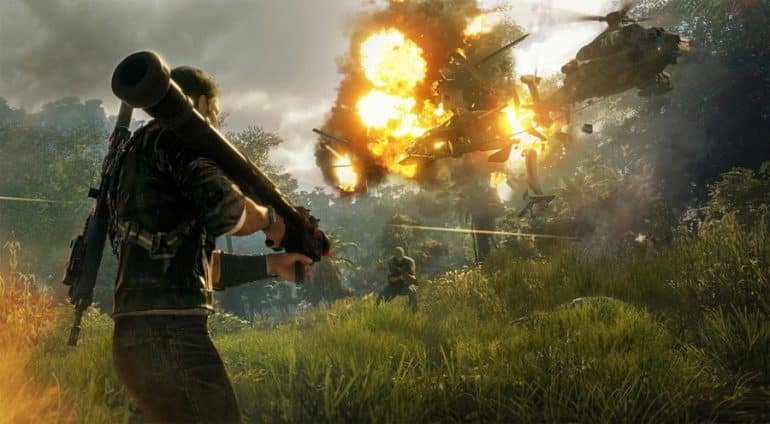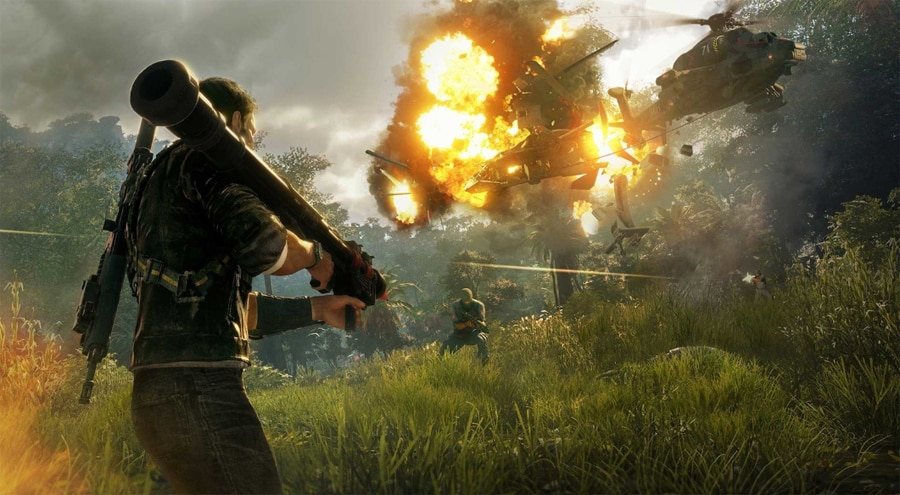 The main gameplay system involves completing objectives around the different zones to allow your resistance army to push back and gain more ground against the dictator. This is a change from the previous system where you just had to create enough chaos through destruction to gain an advantage. Here, the thought is clearly that they want you to do more things, but some of them can be very arbitrary, like completing vehicle time trials to gain a military advantage. Anyway, aside from the system being poorly explained at the start of the game, I didn't mind it so much, as a variety of objectives is appreciated by me.
…despite all these systems being quite fun, they remain a very tech-demo like experience…
Let's talk more about the core gameplay loop that drives the central focus of the game. It's focused on two systems that interact: mobility and destruction.
Mobility is found with the three gadgets of the grappling hook, wingsuit, and parachute. With those three in place, Rico is basically Batman, and as you get the hang out it, zipping around the world is a delight of motion, in a similar kind of way to the Spider-Man swinging mechanic.
The Destruction mechanics meanwhile, have at their basic level weaponry. The weapons are fun to use and distinct, despite being slightly floaty and arcade-y in feel. They usually have an alt-fire mode that gives some creative options to your fights. Added to this is your grappling hook for combat purposes – you can leash objects and enemies together to create effects, such as sending an explosive barrel into an enemy plane to make it explode, or causing an enemy soldier to fly into the air. Added to this in Just Cause 4 is the new Fulton balloon system, where you can easily attach multiple balloons which expand quickly and raise objects into the air. These balloons can be customised to have different effects, and between your grappling hook and the balloons, you can do all kinds of damage to the environment and enemy armies. The creativity of these systems is impressive.
The point I feel is that, despite all these systems being quite fun, they remain a very tech-demo like experience: Great for messing around with the physics, and great for experimentation, but not that much fun in any structured way within the game itself. It appeals to a very niche group I believe, and if the game was priced like Garry's Mod, perhaps I wouldn't criticise it so much.
I contrast Just Cause 4 with Breath of the Wild, which also gave a lot of tech-demo toys to the player at the start of the game, and let you explore and enjoy the world creatively using them, but that title also had a better plot, better characters, and more reason to go out and test those toys, beyond them merely existing.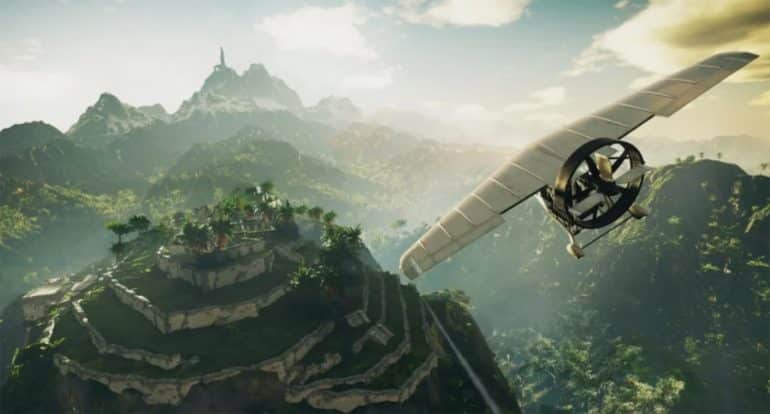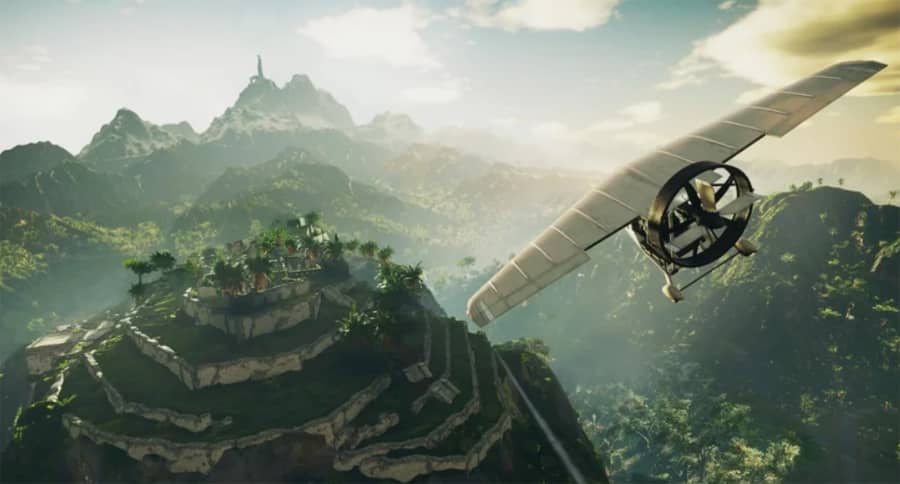 Despite supposedly being a country that real people live in, and having some settlements, the setting of Solis in Just Cause 4 doesn't really feel like an actual place where people live. Part of this is the scale that must be in place, but Spider-Man also had a reduced scale and still felt a lot more alive. Solis here feels like a LEGO playground where everything is just a pretend version of a real place, including the plastic people within.
…the graphics seem to have been downgraded somewhat for framerate reasons and leave everything with a strange cheap feeling…
Speaking of plastic people, the graphics seem to have been downgraded somewhat for framerate reasons and leave everything with a strange cheap feeling. The hair effects around the beard and heads look especially bad. On console, there's still a bit of pop-in from textures, but I've heard that on PC it doesn't look much better either.
The new and much-vaunted weather effects should be mentioned, I suppose. You will face such states as tornados, lightning storms, blizzards and sandstorms, which add new effects to how the environment is damaged and how Rico must navigate them with his wingsuit. They give a sense of danger and fear, and I did find them a fun challenge, but they take too long in the plot to arrive and I was largely tired of the game by then. I spent countless hours on Just Cause 2, and I had to push myself over the line with this one to finish it.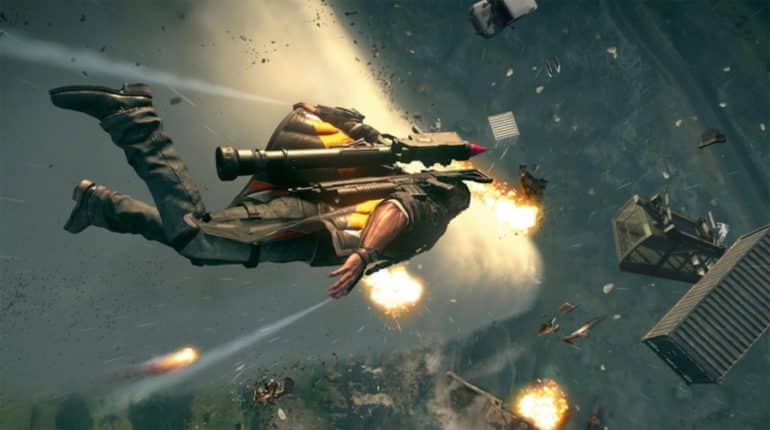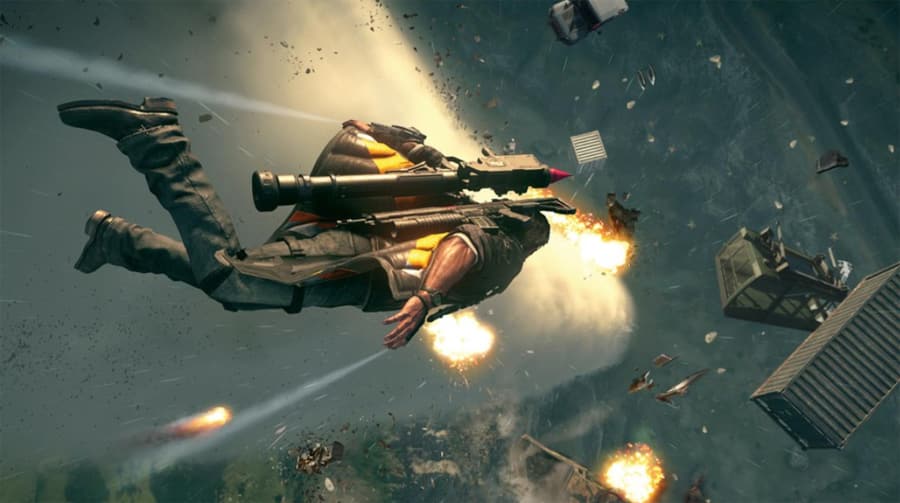 Look, people who like Just Cause 4 will still love it, despite this review being quite harsh. I say these things out of a feeling of frustration more than anything though. The series could be more, but is doing nothing that special or creative to push itself forward.
Another series to compare it to is God of War – by the time of Ascension in 2011, that franchise had no justifying its existence aside from money being made from fans. Then it took a break and came back in a new, strong, creative direction in the reboot sequel this year. Just Cause could learn from that, and I hope it does.
The Review
Just Cause 4
Just Cause 4 proves that while blowing stuff up is still fun the series needs to start reinventing itself.
PROS
Over-the-top weather effects
All those explosions
Awesome gadgets
CONS
Doesn't do much new
Very thin plot
Review Breakdown
Storyline

0%

Gameplay

0%

Graphics

0%

Replay Value

0%

Sound and Music

0%