Is Jurassic World Evolution 2 the ultimate Jurassic Park fan experience? Well, yes and no.
When I was growing up, one of my favourite PS2 games to rent at my local blockbuster was Thrillville. The strategy game that allowed you to make and manage your own theme park was such a joy to play. It was different from my usual platformers and action adventures I usually kept returning to. Every park I built felt like a fresh and new experience and so it was a perfect game to rent every now and again.
Over a decade later, I have not touched another park management game until this past week where I played Jurassic World Evolution 2 on my PS5.
From the very first moments the game loads up, it is very clear what the team over at Frontier Developments wanted to achieve with Jurassic World Evolution 2. And that is to make a construction and management simulator about making dinosaur theme parks that is more about the fascination of the incredible beasts than actually building a park that exploits them for money.
They wanted to make a game that leaves you in awe of these majestic creatures and for your focus to be on making sure the dinosaurs are looked after. The guests are very much secondary. But the better the dinosaurs thrived, the better the guest's experience was and so it was a good place to start in making a fun and rewarding theme park game.
But was that ultimately achieved in Jurassic World Evolution 2?
I never played the first game, and so I was going into Jurassic World Evolution 2 very blind. I might recommend watching a starter guide because I think there were things that the game presumed I knew, or maybe I was being dumb. Either way, a quick beginner tutorial video can go a long way for newcomers.
The three main modes are Campaign, Sandbox mode and Chaos Theory.
Jurassic World Evolution 2 Campaign Mode
The Campaign Mode was where I started, and I found it laid some foundation on how best to take care of the dinosaurs in my park. It is very different from actually running a park though.
Most of Jurassic World Evolution 2 takes place after the last movie, Fallen Kingdom, and, thanks to what happened in that movie, there are dinosaurs roaming all over the planet. You are tasked in the USA to capture and rehabilitate some of these dinosaurs that are disrupting the country's normal day-to-day life.
Some of the original actors return for their roles, which is really nice. Unfortunately, the big one missing has to be Chris Pratt. Thankfully, the actor here actually does a decent enough job and it is mostly a hit.
But they set the scene for you, and dictate your tasks on how to capture your dinosaurs and teach you how to keep them happy and healthy. Also, the CIA is also involved, for some reason.
Jurassic World Evolution 2 goes from a desert area in Arizona to a snowy mountain valley in Washington State to the simple greens in Pennsylvania. All the areas offer different types of dinosaurs to capture.
This whole campaign is very short and you have simple tasks that are easy enough to be executed. It never really got that exciting. That said, it was a great place for me to start, and I recommend you do too.
Ok now I know how to make great dinosaur enclosures, now it was time for me to show off my skills to the rest of the world and not make the same mistakes that those stupid people did in the movies. How hard can it be to keep the dang dinosaurs in their enclosures?
Very hard apparently.
Jurassic World Evolution 2 Sandbox Mode
Things that could go wrong always seem to go wrong for me. Either I was not very good or this game didn't like me. I got bankrupted so many times that I had to restart multiple times, or at least go from a previous save files when I figured out how to do that (don't ask).
Either the dinosaurs got anxious in their enclosures (even though I made their terrains as comfortable as possible) and they broke their fences freaking out the guests or a freak tornado would come and completely wreck my entire park, leaving me frustrated after doing all that work and not saving enough.
Something made me laugh though. My T-Rex got out and ate a guest before I could tranquillize it. You would think my park would shut down right then and there but my rating just went down a bit and I recovered back to my previous rating pretty quickly. There are no consequences in Jurassic World Evolution 2. And that isn't a criticism because it would be frustrating if I got a game over from that. I just thought that was funny.
Talking about the guests, yes, they are secondary to the animals but you got to keep them happy and engaged to make money. After all, you need to keep the lights on and continue to love on your dinosaurs and expand your dinosaur species count (and there are plenty).
I will say what was kind of frustrating in Jurassic World Evolution 2 was that some dinosaurs kept on needing to see the dino doctors. They would get sick or catch a disease that needs research. While keeping your dinosaurs healthy was a fun enough task in between managing the park, it becomes frustrating in some scenarios where they kept on getting sick or hurt.
One particular group of Triceratops kept getting into fights, which leads to broken bones. Maybe I was doing something wrong, putting too many Triceratops in one enclosure or something, but if there was something I was doing wrong the game wasn't telling me.
Sandbox was fun, and I can't wait to go back into it and see how big I can make my park grow and how diverse I can make my enclosures.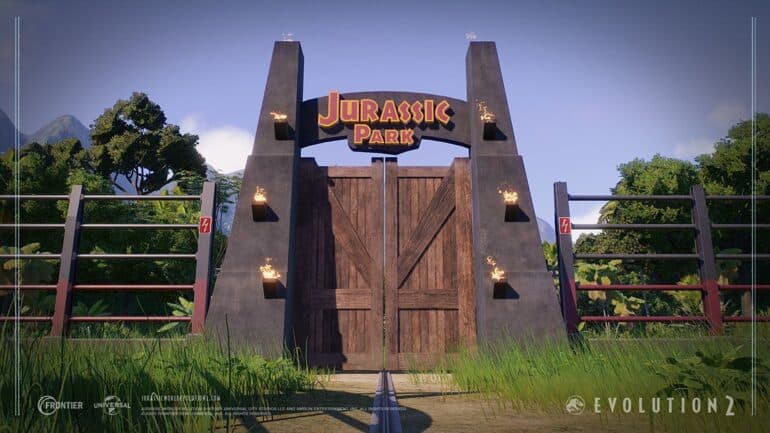 Chaos Theory Mode
While I didn't get much time in Chaos Theory, I will say it is something else I can't wait to dive more into. This mode takes each of the 5 movies and makes you build those parks and make the decisions. Will you be smart enough to know that escaped dinosaurs is a bad thing and not everything is about profits?
Overall, Jurassic World Evolution 2 is a flawed game but it is worth a play if you enjoy this type of gameplay and the universe.
The Review
Jurassic World Evolution 2
Jurassic World Evolution 2 sets out to be a game that is about the amazing dinosaurs and building your own dinosaur kingdom. Can you correct the bad decisions from the films and build a successful theme park full of happy paying guests? Jurassic World Evolution 2 may be flawed when you get into the more detailed stuff, but I think you will still enjoy building the next successful Jurassic World.
PROS
It's about the dinosaurs
Plenty of dinosaur species
It is compelling to make the best park
Lots of replay value
CONS
Campaign is more like a tutorial
A big learning curve
Keeping dinosaurs healthy can be a repetitive chore
Keeping guests happy needs a little more depth
Graphics could be better
Performance on PS5 is disappointing
Review Breakdown
Gameplay

0%

Graphics

0%

Replay Value

0%

Sound and Music

0%

Story

0%