It's a little ironic that there's a strange parallel between the Jurassic World franchise and the story it's telling. Despite the chaos and disaster of the past, a bunch of scientists (or filmmakers who never seem to learn from their mistakes) continue to fiddle with something that should have remained extinct. It's a tale they've told for six films now and continue to do so in Jurassic World Dominion. They just won't leave the poor dinosaurs alone.
Nearly 30 years ago, Steven Spielberg's Jurassic Park was released, revolutionising filmmaking forever. A mix of computer-generated and digitally composited effects, the blockbuster movie was a wonder to behold. Dinosaurs came to life before our very eyes.
In 2022, however, we've become accustomed to VFX and seeing the deadly creatures on our screens. So, it's not completely surprising that Colin Trevorrow's Jurassic World Dominion, the sixth instalment in the franchise, feels outdated and predictable. We've seen the dinosaurs. We've seen them in the wild. We've seen them being tamed. We've had our close encounters playing hide and seek. And we've acknowledged their taste for eating bad guys. What more is there to see?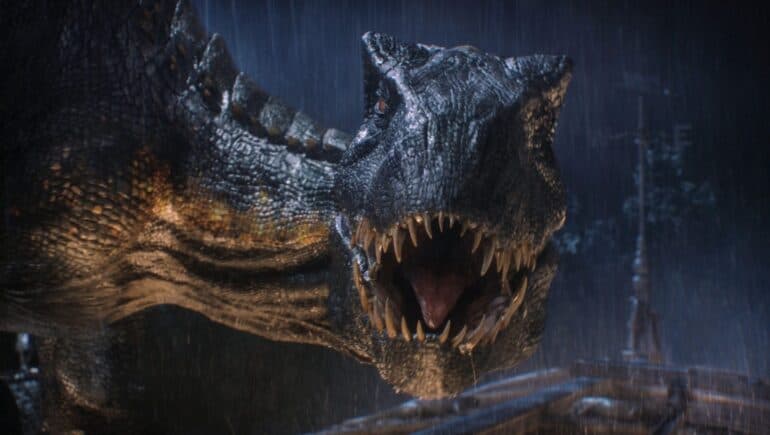 Well, according to Jurassic World Dominion, there isn't much else to the experience. While the film offers a fun rollercoaster experience, filled with jumpscares and action thrills, there isn't much new added to the park. It's the same dinos we've visited in the first five films. They're still fun to look at, but the zoo has lost its wonder.
Those who saw the last instalment (and the destruction of Isla Nublar) will know that the future of mankind now hangs in the balance as humans and dinosaurs coexist. Except, it's not so dramatic. Even though the huge beasts are now out in the wild, they mostly get transferred to a new facility — where they are experimented on, again. This time Apple Biosyn is the evil bioengineering company behind the disaster. They'll stop at nothing to gain power — including kidnapping children, capturing dinosaurs and unleashing deadly insects upon the world.
The old team (veterans Laura Dern, Sam Neil and Jeff Goldblum) and the new team (Bryce Dallas Howard and Chris Pratt) from the Jurassic franchise show up. "They're here to save the dinos from the man, man!" And while it's super cool seeing all team up, something still feels amiss in Jurassic World Dominion. Perhaps there are only so many times we can see them narrowly escape a brutal death. Perhaps the franchise requires more logic. Or perhaps we've just visited the park once too often.
Still, the dinosaurs are bigger and scarier than ever in Jurassic World Dominion. It defies logic but it's a whole lot of fun. And that's what a rollercoaster ride should be.
Let's hope the park stays closed a little longer this time. Let's leave the poor dinosaurs alone — especially that T-Rex.