Jump Force is a game entirely about fan-service and wish-fulfilment, and it is unashamed in that. Neither is that necessarily a bad thing, but at the end of the day, you do need to put a functioning game under the fan-service as well if you want to get any longevity from the concept. A fun idea with some stand-out moments, it manages nonetheless to get diminished greatly by several extremely questionable design choices.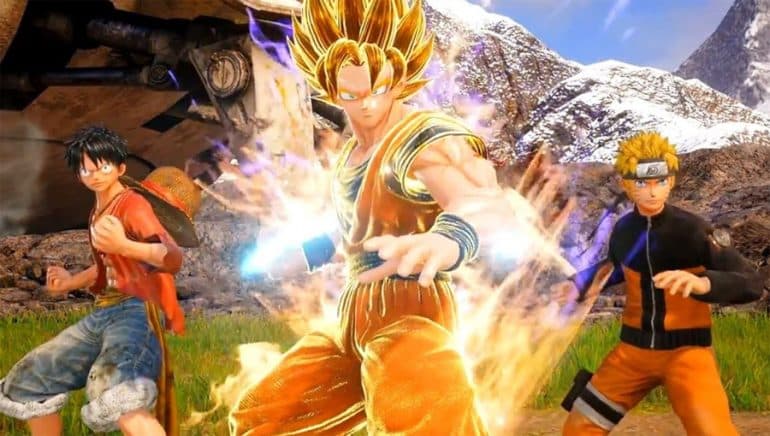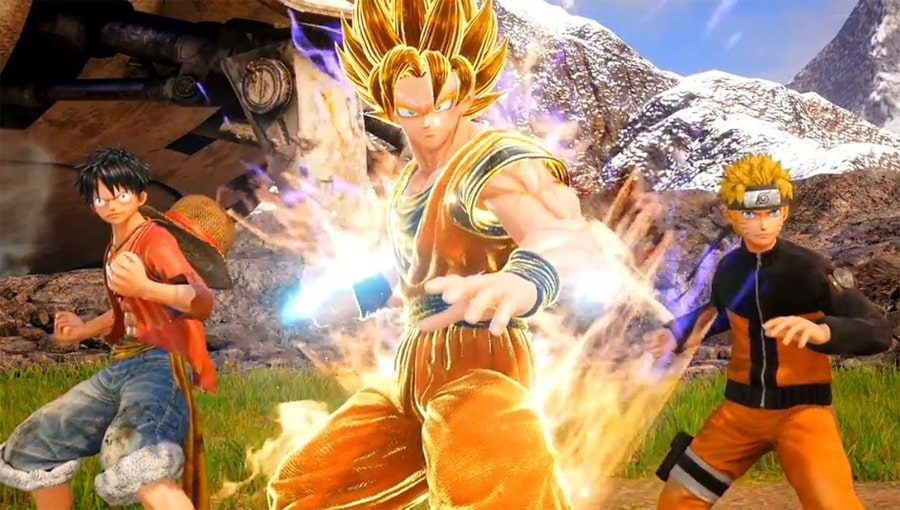 Jump Force is laid out as part of the 50th-anniversary celebrations of Shounen Jump, one of the largest manga publishing groups in Japan. Even if you are not familiar with the name itself, you will know what brands they have produced – Dragonball, Naruto, Bleach, One Piece, Yu-Gi-Oh, Death Note, Fist of the North Star, JoJo's Bizarre Adventure, and many more besides. It seems natural then to want to make a game that combines all these characters and have them fight to the death. This has been done several times before, and Jump Force is by no means the first cross-over game, but it is the largest in scale, the most technically advanced, and the most hyped at this time.
At launch, Jump Force has 41 playable characters, but you can't just jump right into having Goku smash Luffy's head off. The story mode is paramount here, for good and for bad (mostly bad). A cutscene shows Frieza invading some modern looking city, and Goku tries to stop him. A stray energy beam strikes a civilian, and Trunks rushes over to assist, placing a strange energy cube against the civilian. Not only will this heal the victim, but it will also give them superhuman powers. As often happens.
The load times were also atrocious at launch, and while they have been fixed somewhat now, they are still not amazing.
From there you are taken to the extremely substandard create-a-character screen, where you choose from one of three fighting forms, and design your character. You see, you are OC the Character, straight from DeviantArt and ready to be a part of these fantastic franchises. After beating some goons and going through tutorial fights, you are taken to Jump Force HQ. The director explains that evil energy is possessing people from the Jump Universes and turning them into beings called Venoms, who then invade the various parts of the real world. You naturally immediately join Jump Force and choose to join a team – Alpha, the hard hitters, Beta, who reclaim territory, and Gamma, who go on stealthy reconnaissance missions. In practice, this means very little aside from which moves you start with first, and you can immediately purchase any other moves you would like to have after this, rendering the point largely moot.
Playing as an OC in a cross-over world is not always a bad idea, as you get to have an outsider's perspective, but it is not handled well here. The limited create-a-character mode means your fighter looks very generic, and the fact that they stand around mute while everyone else is talking about stuff is painful at times. Further to this, the story mode itself is just kind of boring. Heroes fight bad guys, heroes win, sometimes bad guys win, heroes fight harder and win some more. It's on the level of the least interesting filler arc from any of these franchises. The cut-scenes are stiff and boring and seem to have no idea of how to use movement and space. The load times were also atrocious at launch, and while they have been fixed somewhat now, they are still not amazing.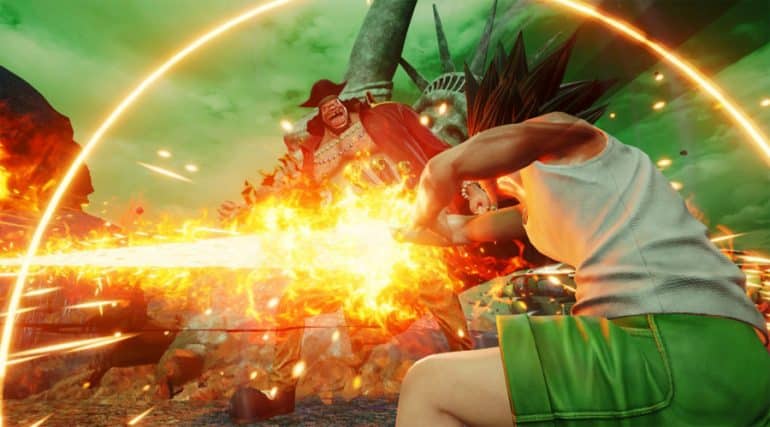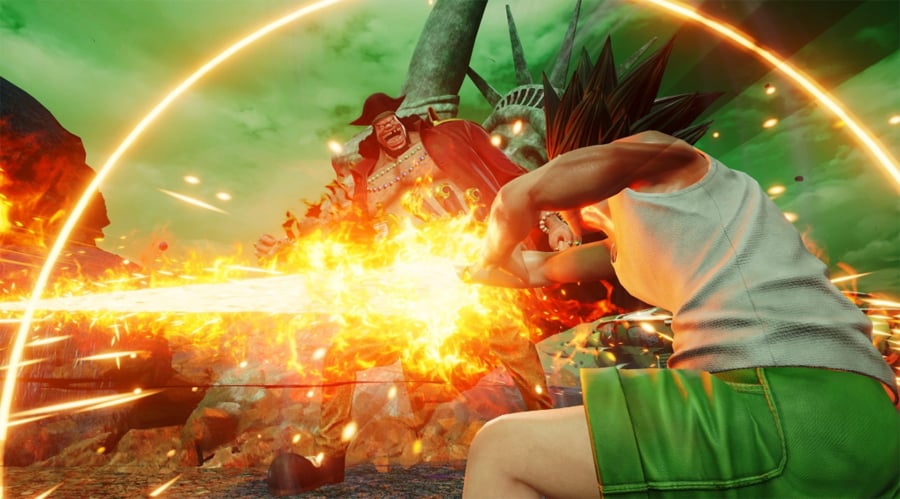 Jump Force goes for the same menu approach as DragonBall Xenoverse – that is, your basic menu only contains settings options and changes for your character, like their powers, clothes, etc. If you want to get into any game mode like missions, training fights, AI or online fights, you must physically run around HQ and find the person to speak to. I feel it worked better in Xenoverse, as the hub is a lot more boring here. You can choose between main story missions or extra missions with your own team you have unlocked in the story mission, to level them up and earn money, or you can go to the basic fight area if you just want to play with any other fighter outside of the story mode scope.
That is a lot of criticism, and all of it is fair – but let's talk about gameplay, which is primarily where anything positive is going to happen here. For what its worth, a lot of effort has been put into the characters, and I can respect and enjoy that. Each of them feels different in how they move during combat and are therefore distinct, something the biggest fighting games in the world often fail at.
…Goku will turn Super Saiyan at its basic level but transform later in a fight and he will become Super Saiyan Blue…
Combat takes place in a fully 3D circular space. Movement wise, you can run, dash, dodge, block and teleport behind. You have a light attack and a heavy attack that can be charged up. You do super attacks by holding down a shoulder button and then pushing a face button, so no complicated combos here. You get a super attack when you are injured enough, and a transformation mode that might be variant depending on how damaged you are. For instance, Goku will turn Super Saiyan at its basic level but transform later in a fight and he will become Super Saiyan Blue. The moves are generally flashy and can be divided into a few groups depending on what they do, such as projectile, dash combo, close-range melee, parry attack, and so on. They look great and I love the particle effects, but many of them suffer too much from cut-scene-itis, which is that all you have to do is connect with an enemy and they're taken to an inescapable cutscene of death. The gameplay works much better when you are both using attacks that do not have these pauses in them, but I suppose its true to the world of shounen anime.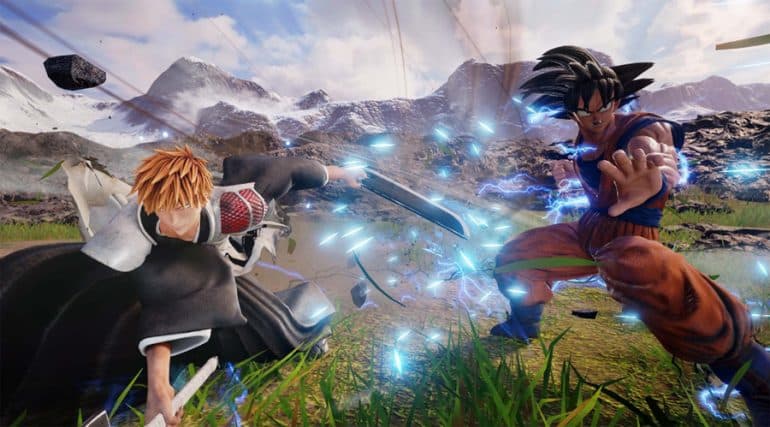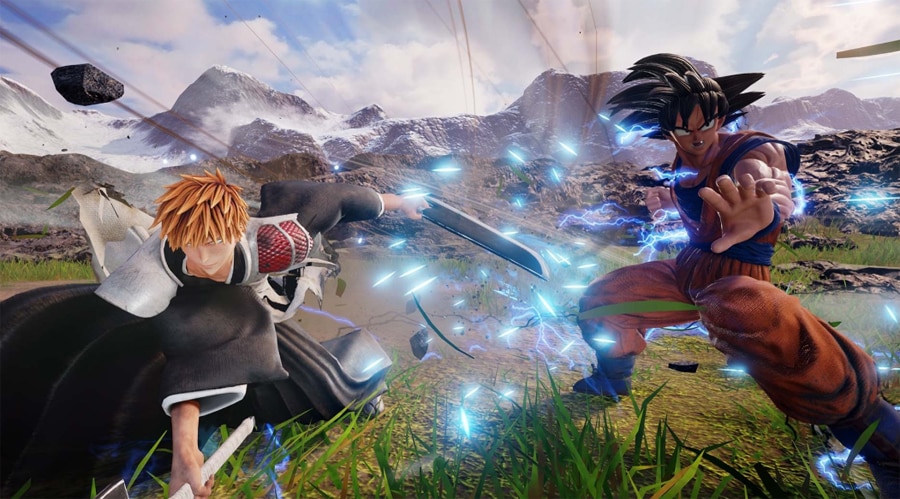 Fights are 3 by 3 with you being able to sub out constantly. What is interesting though is that you only have one health bar between you that is shared, and if one character is transformed, when you switch out, that new character will be transformed too. This changes things from being strategic about health bar management between characters to being strategic between which character is best to use, and I actually prefer this change over some other fighting games I've seen.
The fighting might not be very deep, but it feels good most of the time…
The fighting might not be very deep, but it feels good most of the time and is extremely fun with friends too. I would place it slightly below the Naruto Ultimate Ninja Storm franchise, from which it draws much inspiration, but above any of the other Jump crossover games, I've played. The graphics are pretty good in combat too, and the game does a good job of balancing out all the different art styles from the original franchises into a general one that works well enough here and can often look quite good too.
The 41 characters cover a wide range of franchises, with the main ones (DBZ, Naruto and One Piece) being heavily frontloaded, but there are some more unusual choices here too. There are very few female characters (3 right now) which is a pity, and there is also DLC planned to bring the game up to 50 all in all.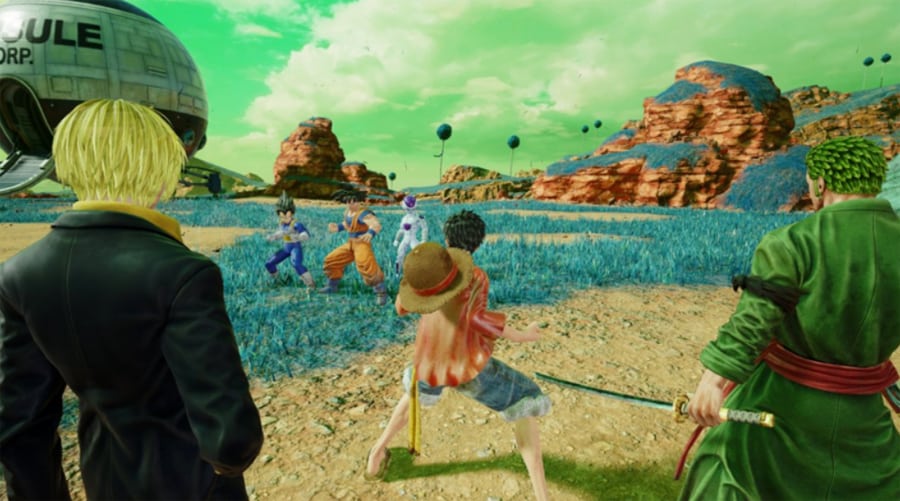 When actually fighting, Jump Force is fine, albeit a bit mindless. However, the story mode really is not very good and could have been a lot better, which is irritating. Your character customization is not detailed enough to make it worthwhile playing as an OC, and all of this that should be making the game so much more special ends up dragging it down. An average game made a little bit worse, which is a shame.
The Review
Jump Force
Unfortunately, Jump Force ends up being more about fan service than and less about being a fun game.
PROS
So many characters
Looks great
CONS
Story mode isn't very good
Shallow combat
Long load times
Review Breakdown
Storyline

0%

Gameplay

0%

Graphics

0%

Replay Value

0%

Sound and Music

0%