Fans of the Marvel Cinematic Universe have been begging for Jon Bernthal's Punisher to join the MCU roster, but is it possible?
After seeing Charlie Cox's Daredevil appear in the smashing success that was Spider-Man: No Way Home, and Vincent D'Onofrio reprising his role as Kingpin in Disney+'s Hawkeye, fans have begun to notice a trend of former Netflix characters making their way into the larger MCU. There have also been some rumours that there is an upcoming ECHO series that will be making the cut, along with the highly anticipated rebooted series Daredevil, which reports say won't feature Elden Henson as Foggy Nelson or Deborah Ann Woll as Karen Page. However, it does look like Chris Ord will be the executive producer, and Wilson Fisk might be reprising his role as King Pin.
Fans are starting to wonder if some of the other Marvel characters who appeared on Netflix will be returning, although many of them, like Krysten Ritter's Jessica Jones featuring Rosario Dawson's Claire Temple, and Mike Colter's Luke Cage are available for our viewing pleasure on Disney Plus. All the episodes of Netflix's Daredevil series is also still available on Disney+, despite them wanting to create a new one
A character that definitely doesn't get the recognition it deserves is Punisher – which is baffling, seeing as he's one of the most popular Marvel characters there is; well, at least his logo is very recognisable.
After a couple of mildly entertaining flicks failed to capture the audiences' attention as the bigger, flashier heroes did, The Punisher was quietly retired and turned into a series. There's been little to no talk of making a new Punisher film set in the MCU, and that's a shame, especially considering that they have one of the best versions of the character readily available.
The Netflix-Marvel Machine
The Netflix-made Marvel shows (Daredevil, Jessica Jones, Defenders, Iron Fist, Luke Cage, The Punisher) are some of the finest uses of the comic book characters outside of the larger MCU. These shows managed to rescue characters like Matt Murdock and Danny Rand from irrelevancy and also delivered one of the best live-action versions of The Punisher we've ever seen.
Played by Jon Bernthal, Netflix's The Punisher (now part of the MCU) was a nuanced character that seemed like a combination of the newer comic book iterations of the character with some of the more badass aspects of former marine Frank Castle's persona that we saw in the Punisher MAX series.
Introduced during the second season of Netflix's Daredevil, this version of Frank Castle (Punisher) was played by Jon Bernthal of The Walking Dead (Shane Walsh), American Gigolo and The Wolf of Wall Street fame. The popularity of his character, along with the undeniable talent that this tremendous actor had to play the role, convinced Netflix to produce a standalone show featuring the Marvel vigilante as the protagonist.
While the Punisher solo TV show has its share of vocal detractors – and seeing how rocky the second season is, negative criticism is more than understandable – critics and Marvel fans seem to coincide in that Bernthal's acting is one of the show's definite redeeming factors.
The TV show ran for two seasons until it was unceremoniously cancelled in 2019. The reason for its sudden cancellation is the same as why so many other popular Netflix Marvel shows also got the axe: characters rights.
With the MCU growing ever larger, it soon became clear that Disney wasn't going to allow Marvel franchises to exist anywhere outside of the MCU. It's also worth mentioning that The Punisher's cancellation happened just a month before it was announced that Disney had bought the 21st Century Fox Company, effectively turning them into the majority owners of every Marvel franchise.
And so, the era of Netflix Marvel shows came to an end, just as suddenly as it began. Some might argue that the cancellation of Daredevil in late 2018 was a sign of the things to come, but seeing as we've already got both the protagonist and the antagonist of that show in the main MCU, the loss of The Punisher remains one of the worst losses for fans of the Netflix-Marvel universe.
Return of The Variants
The current state of the MCU is very interesting indeed, especially for long-time fans of Marvel's cinematic history. What began as mere rumours on the internet are now canon realities, like seeing Tobey Maguire and Andrew Garfield being part of the MCU and the latests Marvel Phase at last. We are hoping that the talk of Jon Bernthal's Punisher returning will have the same result.
Shows like Loki and movies like Doctor Strange in the Multiverse of Madness have demonstrated that the MCU is serious about bringing alternate versions of characters into the main cinematic universe. Even more fascinating is that we didn't need any sort of alternate reality shenanigans for characters like Matthew Murdock or Kingpin to appear in the MCU.
The inclusion of both of these characters could give us a clue about what the future of the MCU might look like – and it's certainly looking bright for Punisher fans. For starters, having these characters appear in two separate MCU properties shows us that, yes, there's a high probability that Disney might decide that the Netflix shows are now canon.
Since the events of both Daredevil and The Punisher series would hardly affect the continuity of the MCU so far, introducing them into the larger universe would be quite easy to do from a narrative point of view.
We know for a fact that all Netflix Marvel shows are leaving the platform on March 1st, but there's sadly still no word on whether the shows might be coming to Disney+ next. If we see the shows making their way into Disney+, that would be implicit confirmation that the MCU might be ready to welcome these characters into the fold in a more permanent capacity.
As for what the future holds for an MCU version of Frank Castle played by Jon Bernthal, well, the actor has already mentioned what it would take for him to return as the Punisher character – and it might be a bit complicated with what we've seen with the MCU so far:
"That character, in particular, has real, real, real deep, deep meaning for me and resonance in me. He's really in my heart, man. He's really in my bones. I'm enormously protective of that character. I've said before that there's nothing in this world more important to me than my wife and my kids, and only until you understand that kind of love and what it really means to willingly die for somebody, [do you understand] what it would be like if somebody took them from you. That's a road and a darkness and a rage that really, really scares me and brings me to places that I've worked the last 20 years to get away from. So I was really grateful, respectful and wary of the places where that role took me and the world in which I had to live in. That being said, that's where that character needs to be. It needs to be a level of darkness. I think if there's any let up on that character, you do a disservice to the character, to every iteration of the character, to every comic book that's come before, and to all of the unbelievable fans of the character. This character means so much to people in the military. So like I said before, it's not about whether you do the character; it's about whether you can do it right, and I'm only interested in doing it right."
To summarise, essentially he is looking for the right script.
Actor Thomas Jane Wants to Direct Jon Bernthal as the Character
In 2020, Thomas Jane, the actor who played the character in the 2004 movie, expressed his interest in directing Jon Bernthal in a Punisher movie. "I think the Punisher, and the reason why I did the short, was that it hasn't fully been cracked in a way that fully honours the character, Frank Castle, in a film. And I love what Bernthal did on Netflix. I think he's such a great Punisher. In fact, I would love to direct a Punisher starring Bernthal, because he's such a great actor."
Jane went on to express his vision for a Punisher movie. "We couldn't make a dark film when we did Punisher in 2004. We couldn't go as dark because people just hadn't trusted, on the production side, that fans would be into that. But, now we've got shows like The Boys and, of course, The Dark Knight came out after The Punisher, where I think that producers and studios are now aware that there's a real audience for the darkness, the Taxi Driver-esque quality that you could pull out of a Frank Castle, and that hasn't been done. And I would love to do that. But again, we have to take it to a place where, frankly, The Punisher has always wanted to go."
That certainly sounds interesting. Imagine a Punisher movie without all the red tape.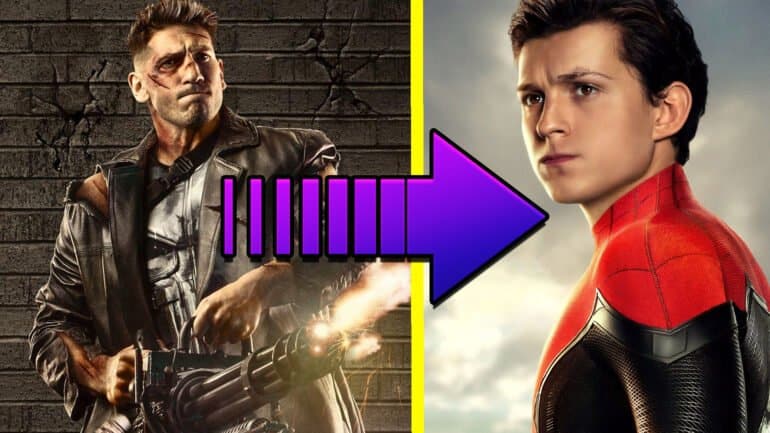 The Price of Jon Bernthal's Punisher Violence
There's absolutely no doubt that Jon Bernthal deserves a chance at playing the Punisher in an MCU film – the actor has mentioned that he'd love to reprise his role of the Punisher in the cinematic universe moving forward. However, his only condition was that the character has to be treated with the respect it deserves. This includes having a Punisher movie being, well, a movie about the Punisher – with all the brutal violence that's become associated with the character before.
Frank Castle is one of the most brutal characters in the MCU by far: his ultra-violent escapades surpass even the worst we've seen from characters like Deadpool, which might be an issue considering the generally family-friendly environment that is the MCU.
Of course, the 45-year-old actor is fully aware of what the character represents and the responsibility of playing the violent anti-hero. "I hope that this makes people think twice about the role of guns in society," Bernthal told The Hollywood Reporter in 2016. "Because my role [as the Punisher] shines a light on that."
When the Punisher logo was used by a few capitol rioters and even a few policemen (and the greater law enforcement community), Bernthal also expressed his disapproval on social media. "These people are misguided, lost, and afraid. They have nothing to do with what frank stands for or is about," he commented.
To make a new Punisher movie starring Jon Bernthal we'd first need to see if family-friendly Disney would be willing to produce an R-rated MCU flick – which, in all honesty, would be a great choice. But it might be controversial too.
Another choice that Kevin Feige and Marvel Studios have moving forward, especially now that several Netflix characters are joining the MCU, is to revive the Marvel Knights brand. While this venture proved unsuccessful in the past, now that the MCU could almost be considered "too big to fail" would be the perfect chance to experiment with some of Marvel's more obscure characters, and giving them their own brand sounds like the perfect choice for this kind of experimental content.
The Marvel Knights branch has always been closely related to Daredevil, and seeing it make a triumphant return to spearhead the standalone movies of Charlie Cox's Daredevil and Jon Bernthal's The Punisher would be a dream come true for a lot of diehard fans.
There's a pretty high chance that we'll get to see Bernthal return as Frank Castle somewhere in the future of the MCU. While most of the Netflix Marvel characters have appeared in mere cameo roles, it's high time that we got to see them return to the big screen; heck, even a Marvel's Defenders movie would be awesome: that way, we'd get to see Charlie Cox, Jon Bernthal, and Vincent D'Onofrio getting into the MCU in full force.
It's also worth mentioning that a Jon Bernthal Punisher movie could potentially introduce the character as one of Spider-Man's antagonists: a role that he's played often in the comics. Considering Tom Holland's Spider-Man's popularity being through the roof right now, it would make sense to give Bernthal his time to shine in the MCU. The comic book community would certainly love that!
The Perfect Frank Castle
Fans aren't the only ones excited about his portrayal of the character. Marvel Executive Vice President and Creative Director Joe Quesada believes Jon Bernthal was the perfect choice for the antihero. "Jon was this up-and-coming star, you know, we'd seen him in a bunch of different things but we just knew that this was Frank Castle. It's very easy, I think, to portray a character like that in a very one-dimensional manner. But number one, he had scripts that were incredibly deep and rich and Jon brought so much to the character of Frank."
The good news is that shows like Disney+'s Moon Knight might be setting up a darker side to the House of Mouse's Marvel. Maybe there's a home for the vengeful vigilante on the streaming service too.
Of course, Bernthal has been keeping busy in a myriad of roles, including Tony Soprano's father in Saints of Newark (the Sopranos prequel), Rick Macci (Venus Williams' tennis coach) in King Richard, Wayne Jenkins in We Own This City. He would have to make time in his busy acting schedule to play the role.
That said, Jon Bernthal himself has been very vocal regarding his own hope to someday return."There's always hope. It's unbelievably humbling how much people sort of responded to this version of Frank [Castle, aka The Punisher], and I can't tell you how much it means to me because he means so much to me. He's in my blood, he's in my bones… So it's not about whether we do it, it's about getting it right, and doing the version that the fans really deserve. We'll see. I mean, all of those decisions are made in rooms I am not invited into… But Frank's always there, he's always a part of me. And when we get the call to go, I'll be ready, and I'll make sure that I do everything I can to make sure that we do it right, or we won't do it at all."
Although he possesses no real superpowers, The Punisher has remained one of Marvel's most popular characters ever since his first appearance in The Amazing Spider-Man #129 (cover-dated February 1974). The Sicilian-American antihero has gone on to appear in his comics, multiple video games, TV shows and even a number of movies over the years.
Previous Versions of The Punisher
Who doesn't like Marvel's The Punisher? Frank Castle is everything that a comic book fan could ever want… assuming that Batman is too much of a hippie pacifist for you, and Lobo and Judge Dredd are too funny.
The one-man army was a rarity when he was introduced into the comic book world of 1974 – an anti-hero who actually killed. Over the years Frank's brutal war against criminals has brought him into conflict with the costumed heroes who litter Marvel's landscape, and he always held his own – despite having no actual powers of his own.
All it took to get the job done was an endless supply of guns, bullets, bombs, grenades, swords, knives… and a military attitude. Well, before all the supernatural hijinks and Franken Castle stories.
Since Marvel's The Punisher is a popular character, naturally there have been movies made about him although none have succeeded commercially or critically. Were they bad or is he a character that really has no place being in films? Is there a solution? Let's take a look…
First up is The Punisher, made in 1989 and starring Dolph Lundgren.
This definitely isn't the MCU's Punisher. The plot is a little odd.
Yes, Frank's a killing machine as he should be. However, his actions of wiping out mafia mobsters have led to the Yakuza gaining a foothold. The Yakuza kidnaps the surviving mafia boss's children. With the police useless, The Punisher takes it upon himself to rescue those kids and gets captured by the cops. Ultimately he's bailed out by mob boss Gianni Franco, who still needs his help. Together they wipe out the rest of the Yakuza but Franco naturally betrays Frank. The outcome is obvious, with Frank killing Franco.
So what's wrong with it?
To start with it's shockingly filmed, the budget was small and much of it just drags. The violence is there but it looks campy. The acting isn't much better, and while Dolph Lundgren looks good and plays the part with a dead-eyed lack of emotion he's not quite Marvel's The Punisher. Worse than that, the character's trademark skull logo on his shirt is entirely absent. He just looks like some guy.
Best moment?
One of the funniest lines in movie history, ever. Frank is asked by his old cop buddy exactly what he'd call his killing spree of 125 criminals. His response? "Work in progress."
Next up is the 2004 film called, well, The Punisher.
Tom Jane took on the role and he looks somewhat believable. They even give him the skull-emblem shirt. This time around Frank's after mob boss Howard Saint while trying to avoid the attention of his neighbours in the apartment he's just leased. Frank's tactics mostly involve getting the mobsters to turn on each other and destroy themselves through paranoia. At home, Frank has to spend pre-Thanksgiving with his neighbours Bumpo, Joan the Mouse and Spacker Dave, before being ambushed by hitman The Russian. In the end, he kills Saint by having a car drag the mob boss through an exploding parking lot.
That sounds good on the surface. The storyline of Frank's neighbours is taken from one of the best Punisher Marvel comic book tales ever, and there are solid performances all around.
So what went wrong? From the mopey music to the sheer boredom of it, the film seems to misfire all over the place. Hampered by a painfully low budget, ridiculous studio expectations, a rushed shooting schedule and a lack of action, it just doesn't make an impact of any sort. It isn't bad, it's just bland. There's a low body count too.
Best moment?
Everyone would say the fight scene against The Russian, hilariously set to the opera classic La Donna e Mobile. But really, it's watching Frank eat, taking no joy in the food but seeing it as fuel just to keep him going. In particular at pre-Thanksgiving, where he simply says "Thanks for dinner" before consuming it like a machine.
Finally, we've got Punisher: War Zone, made in 2008.
Ray Stevenson (minus Volstagg fat suit) wears the skull emblem with pride, killing almost everybody he comes across in highly violent ways. After wiping out a bunch of mobsters he leaves Billy Russoti for dead, being ground up in a glass-crushing machine. However, Russoti doesn't die and gets put back together as comic book villain Jigsaw. The mobster recruits his deranged brother Loony Bin Jim and an army of assorted criminals from various gangs as hired muscle.
He even goes so far as to kidnap Frank's "friend" Micro and the widow and daughter of a cop Frank accidentally killed. It's up to Frank to do what he does best: punish the guilty. In this case, more violently than ever.
So what went wrong?
Strangely, very little. It's a throwback to the hardcore ultra-violent action movies of the '80s, and if it had come out then it could have been a classic. But it didn't. It tanked at the box office, although it's picked up a cult following regardless. The storyline of Frank's guilt over killing an innocent man is well handled and the performances are good, while Ray Stevenson looks and acts the part to perfection. If you want a gleefully violent movie then it's a guilty pleasure.
Best moment?
Are you sick of all those parkour free-running henchmen that movies have been throwing at us since Casino Royale? So's Frank Castle. His solution is to get them in his sights one night as they leap from rooftop to rooftop and pull the trigger… of his rocket launcher. The resulting mid-air explosion is a gory joy to behold.
So what's the solution?
Does he have a future in film? War Zone wasn't really that bad, and it's a shame it failed. Marvel really shouldn't count him out though, and it would be good to see him occasionally showing up in the background of a couple of Marvel films to remind us that he's still around. But again, he isn't as good as the MCU's Punisher.
For me, the best adaptation was the PS2 game that they made, called The Punisher.
Featuring a better plot than any of the films and more violence than War Zone, it was wonderful to step into Frank's combat boots. It had him interact with characters like Nick Fury and the Black Widow, square off against Bullseye, meet up with Matt "Daredevil" Murdock when he needs a lawyer after being arrested, and even get into a gunfight at Stark Industries while Iron Man's off grandstanding in the background. Now if that were a movie, I'd watch it. I probably wouldn't be the only one.
Oh, and for the record… the best moment?
After Frank has saved Stark's building from the attack and made his escape, Iron Man is told of Frank's involvement… and says that he needs a drink.
Would you like to see more of Jon Bernthal's convincing portrayal of The Punisher in the MCU?