It's no secret that Guardians of the Galaxy's director James Gunn has a different style to that of 300's Zack Snyder. The two filmmakers have their own way of telling stories that have garnered fans – or detractors –, especially now that the two have shown us their unique takes on the DC extended universe.
While some might prefer Zack Snyder's mystical and gritty approach, James Gunn's humanisation of his characters doesn't stay too far behind. The truth is that, due to their conflicting styles, we've ended up getting two very different versions of the same characters and stories.
Let's see exactly how much these two filmmakers deviate from each other, and why having this variety might do the DCEU more good than anything else.
James Gunn's DC vs. Zack Snyder's DC
Mood and Tone
Most people consider Man of Steel as Snyder's first DC movie – however, the truth is that we got an early look at what the director wanted to do with the DC universe thanks to 2009's Watchmen. In his version of the story, the religious allegories are brought front and centre, even more so than in the original comic.
This idea that caped superheroes are modern-day gods has been a fascination and one of Snyder's most prominent plot devices during his time working in DC films. Gunn, on the other hand, has a different approach when it comes to portraying heroes and villains, and it's one that the MCU has been using for a while.
Instead of liking these figures as mythological entities, Gunn chooses to humanise these characters. That's how we end up with characters like The Suicide Squad's Starro: an entity from beyond the stars that is more human than a simple cab driver in any Zack Snyder flick has ever been.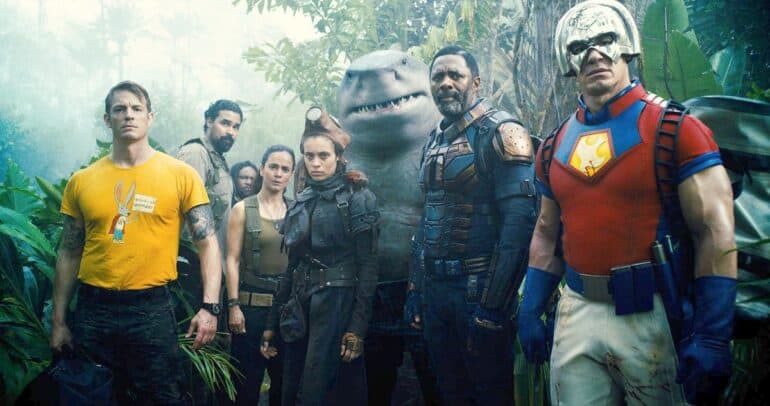 Visuals Cues
If there's one thing that Zack Snyder absolutely loves to do in his films, that would be his slow-mo, heavily choreographed shots. Most of his films are chockful of these moments when time seemingly stops working properly, giving his divine superheroes more time to shine in front of the cameras – or just to sneak in a religious reference or two.
Zack Snyder's slow and methodical style contrasts heavily with James Gunn's frantic, almost slapstick-like approach to storytelling. Gunn seems unable to let his characters go for more than a minute without cracking any quips or outsmarting each other. While this adds a certain spice to his movies, it could certainly be exhausting for some fans that have been accustomed to the serious tone of most of the DC universe.
Thankfully, if there's one thing Gunn excels at, that would be visual comedy. His characters feel more like cartoon versions of themselves brought to life, and that might resonate more with fans of classic superhero stories.
What Comes Next
Before we continue, there's one thing that's been made abundantly clear thanks to both filmmakers' respective DC films: none of them is clearly better than the other. There are some things about Gunn's style that make the DCEU feel like an edgy subsidiary of the MCU, while Zack Snyder's grandiose storytelling might not sit all too well with fans looking for a light film.
The truth is that the DCEU benefits from these clashing styles. If there's one thing that this cinematic universe has over Marvel's, that is how varied it can be both in presentation and stories. While the MCU feels monolithic, the DCEU offers a combination of stories and styles that contrast with each other – a contrast that, in the end, gives the DCEU its own unique flair.
What do you think? Who should move the DC films forward, Zack Snyder or James Gunn?