Keanu Reeves is one actor that has never seemed to follow the mould of a typical Hollywood A-lister. He's the guy that rejected several offers from Marvel for a role in the MCU but was more than happy to make an appearance in the SpongeBob movie. With that same logic, Reeves has some very interesting ideas for a crossover in John Wick 5. His suggestion might shock fans of the franchise.
RELATED: John Wick 5: The Baba Yaga Versus the Ultimate Evil
For John Wick, the possibilities are infinite, so it's only a matter of time before we see him performing stunts and action sequences that can rival even Tom Cruise's most daring feats. Chad Stahelski, the director of the franchise, has basically let the world know that there are no holds barred for the future of this character.
After the success of John Wick 4, Lionsgate is ready to get behind whatever ideas the stuntman-turned-director has for Reeves' gun-toting revenge tales. Stahelski has even said himself, "It's like I've just been let off the leash literally for nine years, doing whatever I want. If I want John Wick to go to f***ing space, he'll go to f***ing space."
That energy is what makes these movies so special. John Wick is a work of art that doesn't get lost in trying to be something it's not. When people want to see Keanu Reeves take down bad guys for two hours, Stahelski and the team deliver. The stunt work is amazing, and they always manage to bring in new ideas that amp up its storytelling and action. Maybe it's time for a little bit of Madea to really push things to the next level.
RELATED: A John Wick Spin-off for Donnie Yen's Caine Could Be On The Way
In an interview with CinePOP promoting the release of John Wick: Chapter 4, Reeves once again gave us a surprising reveal. When asked who he'd like to see John Wick cross paths with in the future, his character of choice was shockingly hilarious. "Me and my girlfriend thought it would be cool to have a crossover between John Wick and Madea."
This suggestion is pretty far out of left field, but if we were being hypothetical, there are plenty of shenanigans we can see happening.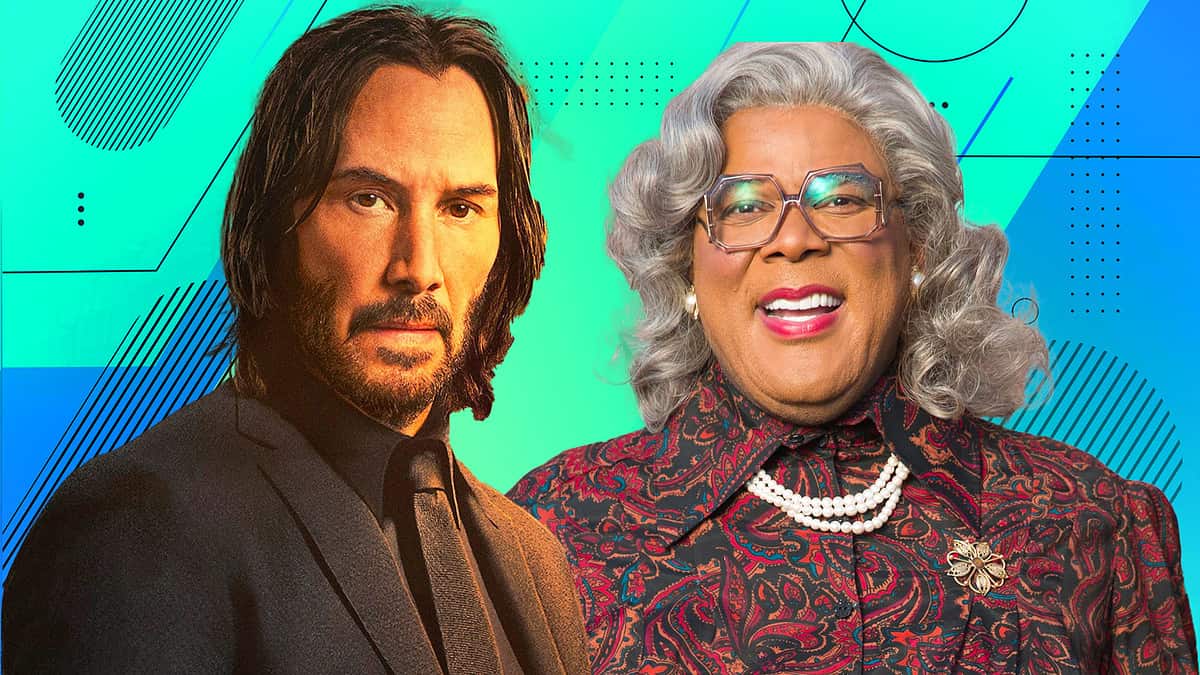 It's hilarious to imagine Madea arriving at The Continental only to find out that all the staff are shady and mysterious. The brooding dark outfits will surely set her off in hysteria. For Mr Wick himself, facing Madea might actually be the first real psychological challenge that he has encountered in a long time. His guns can't solve this issue, so watching a super-assassin try to tell off an angry Madea is an unexpected battle that could happen in John Wick 5. Let's hope that we get to see Madea take down a few bad guys in a Home Alone-style sequence of mishaps.
This isn't the first time R-rated action films have received a Madea shoutout. Tyler Perry himself posted a 'Ma-dea-d Pool' skit on Twitter back in 2018, and it even got a response from the man himself, Ryan Reynolds. Replying to Perry's skit, he tweeted, "If you could film six more minutes of this, we'd have Deadpool 3."
RELATED: Juan Wick: What Machete Would Look Like As John Wick
As far as personalities go, Keanu Reeves' John Wick and Tyler Perry's Madea couldn't be further apart. However, it seems that fate might bring the two large-than-life characters together in a new movie. Well, maybe.
Tell us, would you like to see Tyler Perry's Madea in Keanu Reeves' John Wick 5?