Yesterday a few of our Cape Town and Johannesburg readers were treated to an early screening of James Franco's latest masterpiece, The Disaster Artist. Thanks to Empire Entertainment, we hosted a press screening at V & A Cinema Nouveau and Rosebank Nouveau. "Is The Disaster Artist funny? Is The Disaster Artist inspiring? Does James Franco pull off the Tommy Wiseau impersonation?" These are a few of the questions answered by our film critics – you, the viewers.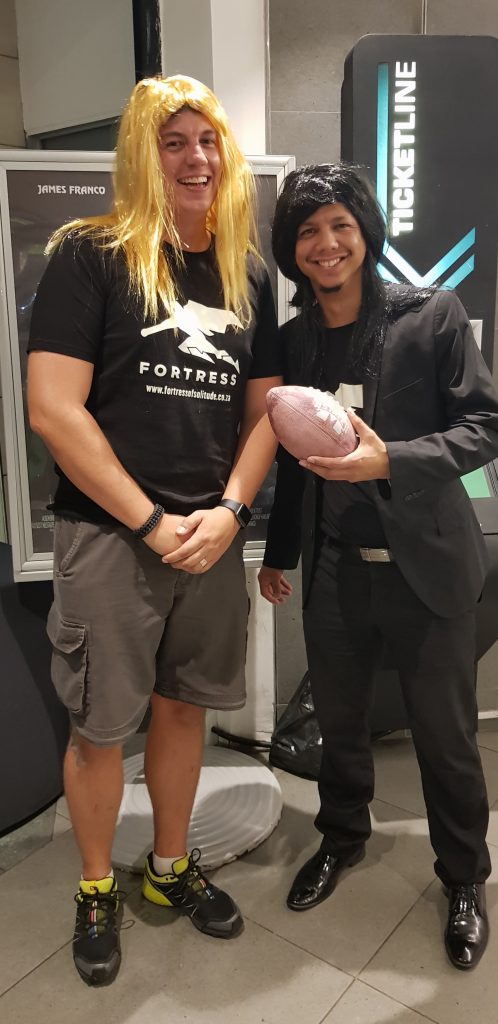 Tommy Wiseau's cult classic The Room, known as the best worst movie, holds a special place in the hearts of many, including some of the readers in the audience. It's a film so bizarre and so strange that only the team of James Franco, Dave Franco and Seth Rogen could do a biopic on the film justice. And they really have. You'll have'ta look twice to tell Wiseau and Franco apart.
Of course, the film is full of laughs but deep down underneath all the funny stuff is a truly remarkable character portrayal that's super impressive.
Franco has managed to pick up numerous awards for his performance, including a Critics' Choice award, Detroit Film Critics Society award, a Golden Globe and many others. The film currently holds an approval rating of 92% based on 255 reviews on review aggregation website Rotten Tomatoes.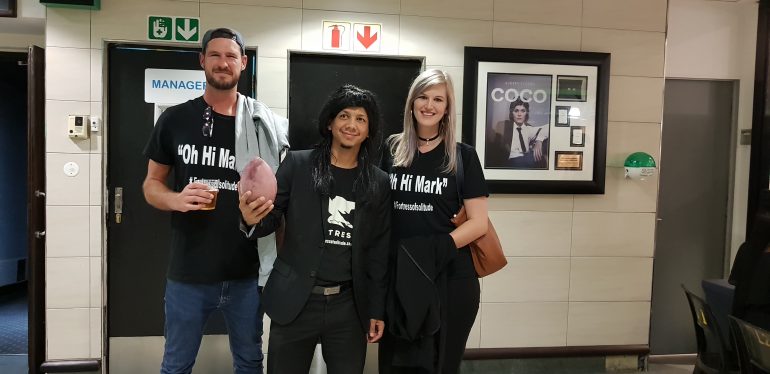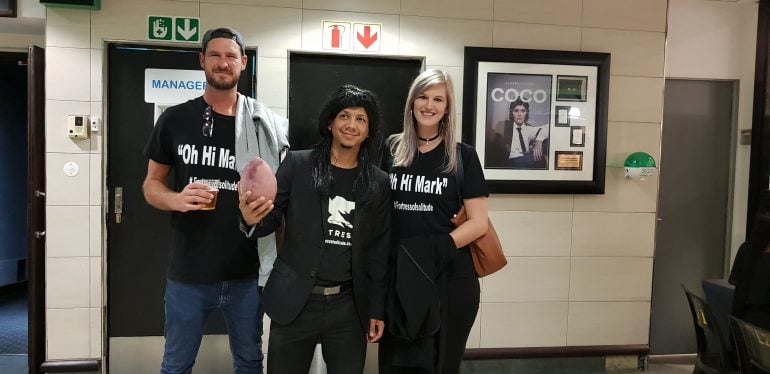 I had high expectations from the trailers and the Franco brothers delivered. James Franco played a role he will be remembered for. – Ravind Boodhram
The Disaster Artist was absolutely amazing, definitely the best movie I've seen this year. James Franco was brilliant and delivered an awesome movie in my opinion. – Dean Bruiners
The Disaster Artist was so inspiring. I feel like if Tommy could, I can. I've never enjoyed a set of characters as much as I've enjoyed them and I did not… Oh hi, Mark. – Judith Joubert
It was really funny! Something different as their movie made no sense at all. Still intriguing that no one knows where Tommy is from or how he is so wealthy. – Leona Naicker
It was such a great film! I haven't laughed that hard in a while, it's a must-see for anyone who has ever watched The Room. – Carla Pels Bekker
You're tearing me apart, Lisa!!! How awesome are these random strangers at #TheDisasterArtist screening at #Nouveau @VandAWaterfront . Thanks for the tix, @FortressofS !! pic.twitter.com/rFYIZt4ypI

— Leonie Mollentze (@LeonieMollentze) February 8, 2018
The Room was a terrible movie, made by two dreamers. This much we knew. But James and Dave Franco embodied these dreamers so accurately onscreen in The disaster artist that at times it was near impossible to tell if I was watching a movie or documentary. Outstanding performances by both Franco's, but special kudos to James Franco! – Quentin Rood
I've never seen The Room or any trailers for The Disaster Artist. But what a brilliant movie. The laughter and comedy aside (which was top notch), it truly placed so much emphasis on friendship and the support of friends when things get difficult. Seriousness aside, the acting was impeccable – the actors suited the roles perfectly, one would think the movie was written just for them. A must watch for those who appreciate cult classics and a good chuckle. – Mari Badenhorst
The Disaster Artist is about friendship, following your dreams and never giving up. A film based on the true story of 'the best worst movie ever made' definitely makes me want to watch the original. Quite funny in some parts. – Faadhil Sadek
Found the movie: Depressingly humorous through it realism. I am not a movie buff at all but thoroughly enjoyed it. – Grant Horley
I actually thought it was very well done. I initially thought it was going to be a comedy, but some scenes were awkward and made you really feel for Tommy. Even I had a few, "ah shame man" moments. I didn't expect there to be that much drama and was pleasantly surprised by it. – Nico Paulse
Time for #TheDisasterArtist @FortressofS pic.twitter.com/67hLhASNEQ

— Wayne Warren (@Dwayne_is_dead) February 8, 2018
The film was good, very peculiar but good. I think James Franco did a good job playing Tommy Wiseau. – Naeemah
A serious comedy about a serious (accidental) comic. The Disaster Artist is a peculiar, yet pleasant journey into the mind of one of Hollywood's greatest mysteries: Mr Tommy Wiseau. – Wayne Warren
James Franco's gives a brilliant comedic nod to the making of the cult film 'The Room' – considered the best worst film of all time. Stellar performances and extremely entertaining. 4 stars! – Evelyn Stroud
I thought it was great. James Franco was great as Tommy Wiseau, and his brother Dave was also good. – Trent Meikle
I thought the movie was great. It was lovely to see a mockumentary of this cult classic. James Franco really did a great job! I mean he did a better job at acting as Tommy Wiseau than Tommy did! – Byron Hendricks
What a hilarious, yet surprisingly inspiration story surrounding such a mysterious dude. Fun from beginning to end, the film manages to get you to laugh at this character and then also empathize with him. Was a thoroughly enjoyable movie. – Chris Muller
The film was brilliant. I think Franco pulled off Wiseau nearly perfectly and all of the references were great. – C Alberts
It was surprisingly moving, and seriously funny. Their scene recreations were scarily accurate, and the film worked so well as a story, not just taking cheap shots at The Room. – Nic Gonzalez
The Franco brothers portray Tommy and Gregg perfectly! The attention to detail is great, nailing every classic scene in the original film. Definitely worth a watch. – Quinton Dos Santos
That look you give when you're told you're the store's favourite customer. #OhHiDoggy #TheDisasterArtist @FortressofS pic.twitter.com/PoJW3f9tY1

— Nicolas González (@nicfluff777) February 8, 2018
It was great. James Franco really embodied Tommy Wiseau in a hilarious way. – Brandon Krige
The Disaster Artist is one of those movies that you'll either love – because you love that particular style of film or because you are part of The Room cult following and understand the background – or absolutely hate. Case in point: I loved it because I have been obsessing over The Room, Tommy Wiseau and Greg's book for years. – Leonie
Hilarious and Brilliant. James…at his finest since 127Hours. He captures Wiseau's mannerisms & personage to a 'T'. – Zimangazenkosi Mthimkhulu
Unconventional, different, funny, refreshing and very entertaining movie. We had a great evening. – Mia
Absolutely hilarious!! Throws head back like Tommy… Ha ha ha!! – Tristan Winslow
It was a good entertaining film, even though I haven't seen 'the room'. I would recommend it to others. – Riyaadh Sadek
A James Franco masterpiece and a must see. Sporadically funny, excellent cast and acting. Turning probably one of the worst movies ever (The Room) into a creative genius project. – David Klaasen
James Franco is amazing as Tommy. The entire cast is class from start to finish! The film does wallow in some meta-narrative but does this in an extremely entertaining way. Dave Franco's fake beard horrendous. – Benedict Winkler
The movie was pretty damn fantastic and surprisingly hilarious! And, in my opinion, one of the best movies I've seen this year. – Theo Brandt
The movie was different. – Maraliza C Leyds
The Disaster Artist is an excellent film. James Franco is superb as Tommy Wiseau. It's a great mix of heartfelt emotion, good story, great acting by the two leads and humour. – Neilan Adams
This film is hilarious. I constantly found myself laughing, snickering or chuckling throughout. But don't think because it is funny, it won't pluck at the heartstrings. It will. – Franco Havenga
I thought the movie was both fun and insightful. Tommy is such a force of nature but I couldn't help but empathise with his need to be seen for who he believes he is. It left me with a deep impression that has me yelling " you're tearing me apart!" and casually stating "Oh hi Mark" all the time. – Freda Smit
Pleasent indeed. This movie really was a real crowd pleaser. Everyone left in good spirit. What's more to be said? – Caren
The movie was excellent. James Franco has made either the most tragic Comedy I've ever seen, or the funniest Tragedy I've ever seen. I have a new respect for the Franco brothers and The Room. It needs to win an award of some sort. – Leon Liebenberg
The film was great. It's a very introspective look into who the man behind the hair is. Great performances from everyone, especially James Franco. Id recommend watching it, whether watching the Room or not. – Jarryd Cunningham
Thanks to everyone who attended and made the screening a special night of fun. The Disaster Artist opens in cinemas today, 9th February 2018.
When Greg Sestero, an aspiring film actor, meets the weird and mysterious Tommy Wiseau in an acting class, they form a unique friendship and travel to Hollywood to make their dreams come true.