Have you ever wanted to play a god and rule over a village of unsuspecting AI that you can squash, drown, throw or send to their deaths just for fun? You'll find yourself doing all that and more in City Builder Townsmen VR on the PSVR 2.
RELATED: Is The PSVR 2's Thumper Worth Playing?
What Exactly is Townsmen VR?
The game's description reads as follows:
"Townsmen VR uses the exciting possibilities of virtual reality to further enhance the classic city building game with entirely new gameplay experiences and interactive mechanics. Lean back, relax and watch the bustling life of your villagers or actively get involved to speed up processes and move workers and resources directly where they are needed. You are able to seamlessly change between the all-encompassing view of a god and the detailed view of a citizen, able to follow the colorful life of your village. There is a lot to discover! But watch out for the Black Knight's plundering hordes!"
RELATED: Is The PSVR 2's Star Wars: Tales from the Galaxy's Edge Worth Playing?
Where Townsmen VR Shines
The Level of Interaction with the World
Players can do whatever they want to within the world of Townsmen VR. You can pick up your villager to get them to different parts of the island faster, move resources if your villagers take too long and even wave clouds out of your view. If you're feeling particularly bored, you can mess around with a school of fish swimming past you or pick a bird right out of the sky if it's irritating you. Anything you can think to interact with, the game developers thought of it first.
Well Handled Controls
Movement is relatively simple in Townsmen VR. You can move around the island by gripping and dragging yourself to a specific area. Zooming in and out is also fun. You can zoom out by a substantial amount and have the island appear micro-sized, or you can zoom down into the size of one of your many villagers and follow your favourite around like a crazy person.
Objects behave precisely how you want them to, and the camera doesn't jump around the screen in a headache-inducing way.
Plenty to Do
While the game is a bit slow at the beginning, and waiting for your townsfolk to complete a task will get frustrating, remember to be patient. When the game picks up, it moves quickly, and you may find yourself with more activity than you know what to do with.
RELATED: Is The PSVR 2's Moss 1 & 2 Worth Playing?
Where Townsmen VR Fails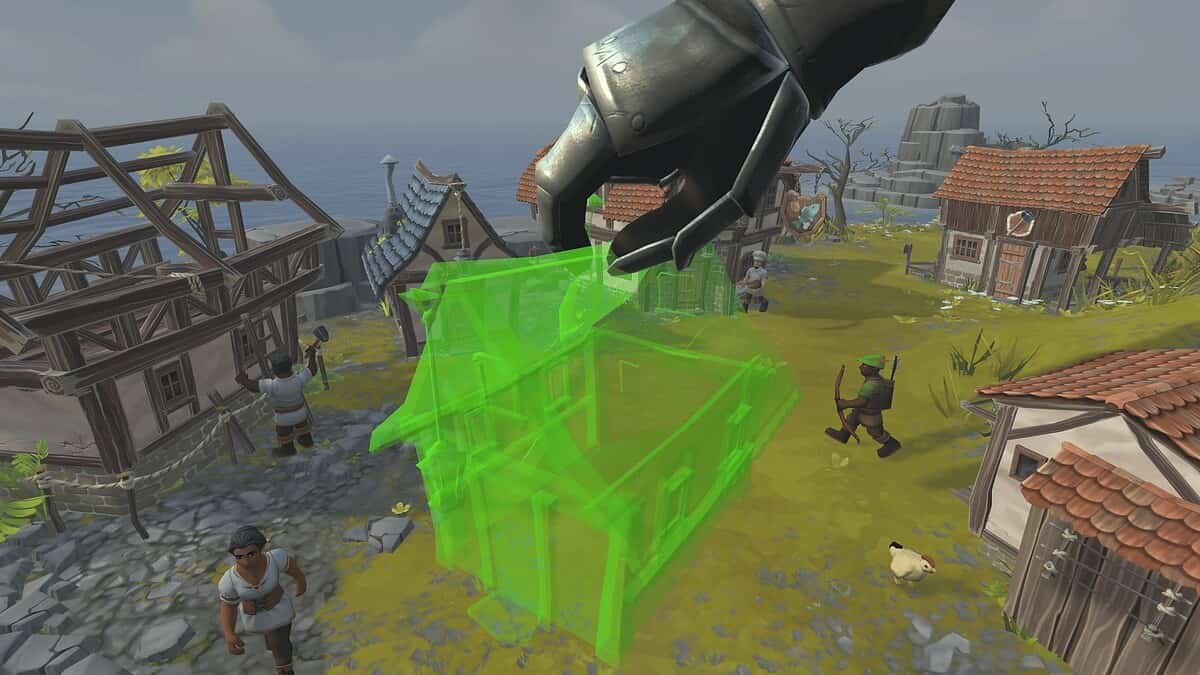 Simple Art and Music
While some players thought the simple style of the game added to its charm, others thought it took away from the game and was too simple. It doesn't have particularly stunning visuals, and you may occasionally confuse a cast for a dog.
No Driving Narrative or Motivation
A few players found themselves overcome with boredom after playing Townsmen VR for a little while. They didn't feel it was worth playing with no real story to add intrigue to gameplay and quickly gave up on their little village.
RELATED: Is The PSVR 2's Horizon: Call of the Mountain Worth Playing?
TL;DR
If you've ever wanted complete control over a group of unsuspecting townspeople, Townsmen Vr is the game for you.
The sandbox game allows you to interact with anything and leaves you will plenty of tasks to improve your village.
Some players found the game too simple and boring.
What do you think of City Builder Townsmen VR on the PSVR 2?