Like many, I loved the original DuckTales TV show. I'm not usually a Disney cartoon fan, so that's a pretty big statement.
When it comes to the classics, I'm a Looney Tunes guy. Yet even I used to get a kick out of DuckTales back in the '80s. Despite Disney's squeaky clean image at the time, the original was a fantastic show which won me over almost instantly. Not only that but it even became the flagship show of other great weekly Disney cartoons, with Darkwing Duck, TaleSpin and Chip 'n Dale's Rescue Rangers arriving over time.
It all started with that catchy theme tune, and the rest of the show backed it up too. The stories were great adventures, the pace was fast, the comedy was good and the characters were fun. That opening song promised race cars, lasers and aeroplanes, and it delivered on that promise. It defied the Disney stereotype at the time by being cool, even if the rest of their output on TV was so clean-cut it was almost bland.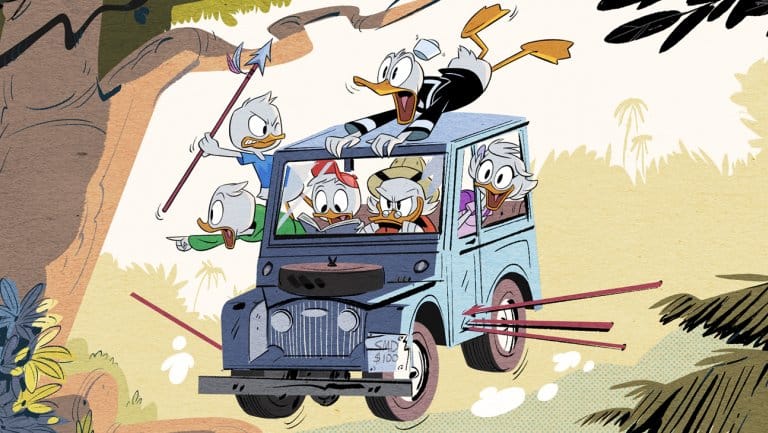 The point is, I loved the original DuckTales, so I'm biased in favour of it. However, even back then I knew there was also a problem. No matter how entertaining the episodes were, their adventures never quite lived up to the amazing title sequence which opened each episode. Plus, being a Disney product aimed at kids, it would sometimes play things a bit too safe and fall back on the cute factor. The villains had no real sense of menace, Scrooge was never quite mean enough, and Webigail was saccharine-sweet. Basically, things like that exposed the show's key weakness: it was primarily made for kids and its appeal beyond that demographic was practically zero.
Now we've got the reboot, which recently ended its first season. I patiently sat through all the episodes, biding my time before making a final judgment on it… although I had an increasing feeling as it went along that I was watching something truly special. Based on the response the show got from others, I wasn't alone in that estimation. At the end of the season, against all likelihood, Disney appears to have created that rarest of anomalies:
A reboot that's better than the original.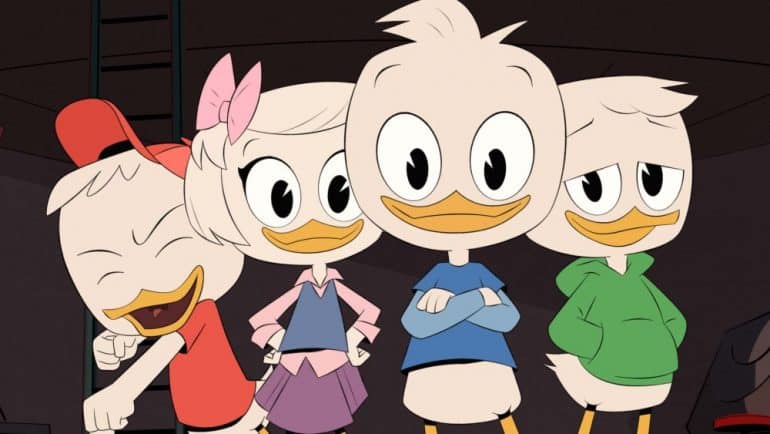 Barely a day goes by where we don't see old ideas getting recycled, rebooted or remade – generally to the annoyance of audiences. Most are inferior versions, appearing to try to cash in on the previous one's established popularity. Others are – as painful as it is to admit it – decent. And amazingly, on incredibly rare occasions, some are even better. The Bogart version of The Maltese Falcon, the Clooney-led Oceans 11 and even John Carpenter's The Thing are all better than their predecessors, proving it's possible. Now, as unlikely as it may seem, DuckTales should to be added to that list.
Right out of the gate the reboot of DuckTales grabs the audience's attention, beginning with the updated version of the opening theme song. A classic to begin with, it's an instant burst of nostalgia and it's as catchy as ever. More than that, the title sequence which accompanies it is a fast-paced montage of adventurous high-spots featuring a race to catch Scrooge's legendary Lucky Number One Dime. Any fan of the old DuckTales will know the huge significance of that already, and it's a promise the show lives up to. It's more than just an opening sequence, it's a key storyline throughout.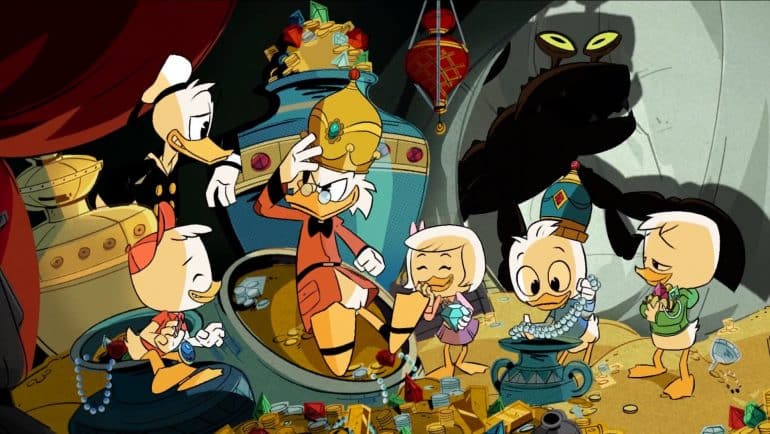 Plot-wise, the episodes follow a pattern similar to The X-Files: some are stand-alone tales, others are "mythology" stories which add pieces to a continuing season-long double story arc – the first revolving around Scrooge's Lucky Number One Dime, the second being the disappearance of Huey, Dewey and Louie's mother. Hints to the bigger picture are dropped throughout, making it episodic. Yes, you've got to watch the episodes in order.
As usual, the primary focus of most episodes is on the triplets of Huey, Dewey and Louie. However, unlike in the earlier version, here they're each given distinct personalities. Huey is a fast-talking, get-rich-quick kid whose sole interests are money and fame. Louie, the youngest, is the most sensible and intelligent, and always tries to follow his Junior Woodchuck guide to be kind and helpful. Dewey suffers from middle-child syndrome, desperately trying to develop his own sense of identity.
The mystery of the fate of their mother is an intensely personal one, particularly for Dewey who uncovers clues about their family's darkest secrets. What have Scrooge and Donald been hiding all these years, and why did it lead to their family friendship falling apart? As Dewey uncovers the truth, he finds himself becoming a part of the web of lies as he's forced to deceive his own brothers in order to protect his now-reunited family. With Scrooge's own personal history coming under scrutiny and the strained relationship with Donald being focused on, there's more on offer than meets the eye. By the end, the painful revelations are enough to bring a tear to the eye.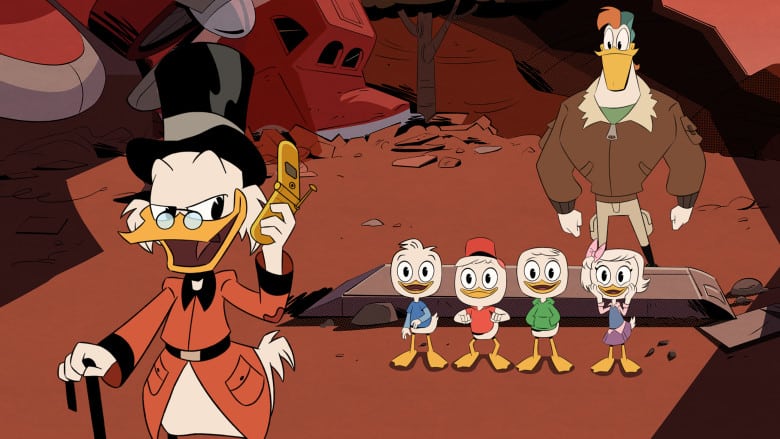 It's this level of emotional depth that the original never achieved, while still ticking off every box of things the long-time fans expect to see. There's race cars, lasers and aeroplanes, action adventure and comedy galore. The same classic characters return, some with necessary (and unexpected) updates. While Launchpad, for instance, remains pretty much the same lovable accident-prone goof as always, crackpot inventor Gyro Gearloose now has an air of unstable menace which makes him a wild card. Incredibly, even Webigail's cloying cuteness has been balanced with a believable level of obsessive nerd-rage.
Not only that, but some of the villains actually pose a genuine threat to our heroes. While many are played for laughs early on, it doesn't take long before the stakes are raised. By the end of the first season it seems likely that the adventures may exact a deadly toll. There's a consequence to every action, and it's perfectly possible that the good guys may not always win.
Then, of course, there are the cameos and Easter eggs which point to a greater shared universe going on. Learning from the steady building process of the Marvel Cinematic Universe, DuckTales has gradually mentioned that it's in the same world as the Gummi Bears, TailSpin and Darkwing Duck. The last should have been the easiest, given Darkwing Duck's crossover sidekick Launchpad, but even here there's new depth. In a move reminiscent of Batman: TAS's The Gray Ghost, Darkwing Duck is shown as being only a television character who Launchpad happens to be a fan of… yet there's a hint of something more behind it, perhaps even a real-life superhero behind that show's façade. Meanwhile, the Gummi Bears tie in thanks to an adventure which references spy thrillers like The Prisoner and the Steed and Peel UK Avengers… shows most kids won't even have heard of.
Of course, not every episode has been a winner. There have been a couple which have been stinkers. But many of the episodes are solid, some are great, and most are genuinely incredible in terms of what the show is achieving. It's entertaining for kids, but is also intelligent and savvy enough for adults. If the original show was cool by Disney standards, this show is cool by any standards. Not only did they manage to get it right, but they got it better.
Some viewers have complained about the new show – usually followed by admissions that they've given up on it early on, having only watched an episode or two. Unfortunately, being an episodic show, this is one which rewards regular viewers by slowly revealing the bigger picture. Those who stick around for the whole ride will have a very different experience from the casual viewer who only watch a couple of scattered episodes. It's hard to imagine DuckTales functioning on a similar viewing level to The Walking Dead, but it's something seen in many cartoons these days, from Star Wars Rebels and Disenchantment to most anime.
It's also been mentioned that the new art style seems wonky, being nowhere near as rounded and pleasing to the eye as the original. It's true, this show doesn't look like the old one. In its defence, the "new" art style dates back to Carl Barks's work, the artist responsible for originally creating Duckburg, Scrooge McDuck, the Beagle Boys and more in the first place, many years before the original cartoon series. This new version is closer to the original source material in terms of how it looks, although it does take some getting used to.
Another complaint was how the voices for Huey, Dewey and Louie seem too "normal" these days. Yet the nature of how classic Disney characters are supposed to sound is always debatable. Donald's garbled quacking has been mocked as a speech impediment in the past, and doesn't make sense when compared to the voices of Scrooge, Daisy and other ducks over the years. The show plays on that fact in the final episodes where Donald is granted a normal voice, proving that for years he's been more capable than many have realised… if only people understood him better. It may be for that same reason that his nephews are now more understandable – their normal voices allow them to be taken more seriously as characters in the show. Whether that was the point or not, it certainly works better this way.
The new show isn't for everyone, and naturally every viewer will have their preference. The new version may surprise fans of the original with how different it is, and it takes some getting used to. Yet ultimately, the new show scores over the original by keeping all the right elements of the previous version, re-working those which didn't and adding new ones. It plays on nostalgia for older viewers but never becomes reliant on it, and is accessible for all viewers and not just kids.
Despite being a reboot full of references, it's shockingly original in all the right ways. It isn't just a retread of what went before, but creates something new without dismissing the original. Now it's up to future seasons to try and reach the high standard it's set for itself, and that's a whole new challenge.
Season 2 of DuckTales is scheduled to air in late 2018.