Delve into the world of Jurassic World Aftermath with our in-depth review. Learn all you need to know before deciding if it's worth playing on PSVR 2.
RELATED: Is Altair Breaker on PSVR 2 Worth Playing?
This VR stealth game sees you playing as Sam, a silent security expert on their way to Isla Nublar two years after the fall of the Jurassic World Theme Park just before the events of Jurassic World: Fallen Kingdom. While flying over the island, Sam's plane is attacked by a huge Pteradon, which leads to a crash landing near a research facility. While sneaky past deadly dinosaurs and trying to find a way to escape the island, players will come across some dodgy information that links back to the movies. Jurassic World Aftermath was initially released in two parts for the Oculus Quest 2, but the developers decided to release it as one product for the launch of the PSVR 2.
RELATED: Is The PSVR 2's Townsmen VR Worth Playing?
An Immersive World and Incredible Gameplay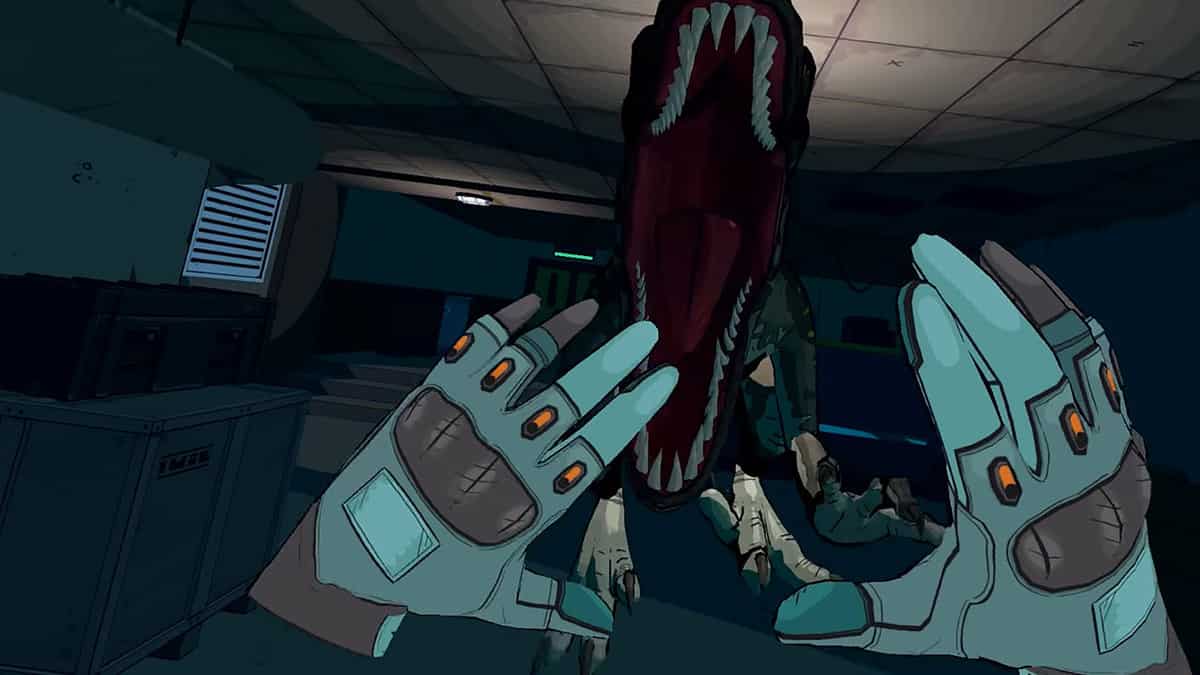 While travelling the island, players are guided to mission objectives by Dr Amelia "Mia" Everett, Sam's partner injured during the plane crash.
Players rely heavily on stealth and sound as they travel through Isla Nublar to try and find a means of escape. They are by Velociraptors for a lot of the game, and because players are given nothing to fight the dinosaurs with, they must rely on their sneaking skills and distraction in the form of an alarm or radio to get past them. The Dilophosaurus and Tyrannosaurus are brief enemies as well and provide some of the tensest moments of Jurassic World Aftermath.
Sound is a big part of the game. If you make too much noise through running, you will attract the raptor's attention, forcing you to move slowly through your environment. You can hear different creatures moving around, but their terror-inducing high-pitched screeches at close range are one of the highlights. It is especially terrifying when you've closed yourself in a locker, and they throw their whole body against it to try and open it.
Puzzle-solving, minigames and fetch quests make up a large portion of the game, but they are dispersed enough throughout it to keep it entertaining.
RELATED: Is The PSVR 2's Thumper Worth Playing?
Falls Below the Bar Compared to Other VR Titles
The game has excellent audio that will have you jumping out of your skin and voice work from Laura Bailey (Uncharted 4's Nadine Ross) as Dr Mia Everett, BD Wong as Dr Henry Wu and Jeff Goldblum as Dr Ian Malcom.
Unfortunately, some things make it fall just a bit short of standing on its own when compared to VR titles released for the PSVR 2. For example, Jurassic World Aftermath doesn't always recognise when you've completed an action, which can be frustrating, especially when you're trying to close a door and a raptor's running at you.
Gameplay is relatively limited, which can be frustrating for players expecting more action-based sequences, and the haptic feedback in the controllers and headset is criminally underused.
Despite its few defects, Jurassic World Aftermath on the PSVR 2 is definitely a worthwhile experience.
TL;DR
Jurassic World Aftermath is a great VR experience, with plenty of tense moments and stunning visuals.
Certain sequences are terrifying enough to make you jump, and the tasks you're sent on are entertaining.
Jurassic World Aftermath falls a bit below the bar compared to other VR titles.
RELATED: Is The PSVR 2's Star Wars: Tales from the Galaxy's Edge Worth Playing?
What do you think of Jurassic World Aftermath on the PSVR 2?