A recent leak has revealed the possibility of an Apple touchscreen Mac being released in the near future (around 2025). This is big news for the tech world as the idea of a laptop with a touchscreen seems inconvenient for users. And while yes, there are Chromebooks and Windows laptops that have the touchscreen option available, Apple has not needed the feature for various reasons. Therefore, throwing something like this into the mix could change a lot for the company. Apple users are still deciding whether this would be a helpful feature, with most noting that they would rarely use the touchscreen option if it were to be added. However, following a discussion of general users on a Reddit forum, one comment stated that while a touchscreen feature would not increase their workflow and make navigating more manageable, it is still a cool option. So, is it good for Apple to add a touchscreen feature to laptops and computers?
The possibility of an Apple touchscreen Mac has not been more real than today. A few days ago, Bloomberg's Mark Gurman made a report claiming that a new MacBook Pro with a touchscreen feature could be released in 2025. The device would sport an OLED display and debut as the first touchscreen Mac. And while this is very exciting news for many tech enthusiasts and journalists, the question of whether this is a practical decision must be asked. The MacBook series has been successful thus far without needing a touchscreen feature. So what would the touchscreen add to the device to make it more practical?
RELATED: The Stem Projector Is Kano Computing's Awesome New Palm-Sized Device
What Has Been Revealed So Far About the Apple Touchscreen Mac?
Besides the device's OLED display, Gurman did not reveal much else. The device would sport a traditional laptop design with a keyboard and trackpad, but the screen would support touch input. Furthermore, the device would also stick to using MacOS as they are not working towards combining the Mac and iPad OS. But mobile applications will still be accessible on the Mac OS unless stated otherwise.
Besides this, Gurman confirmed that the company was actively working on the project. This means the device has a very good chance of seeing its release date in the next two years. But there have been other devices where development died down after a year or two due to lack of funds or practicality. It has yet to be seen if this will be the case for the new Apple touchscreen Mac.
Would This Be A Practical Decision On Apple's Part?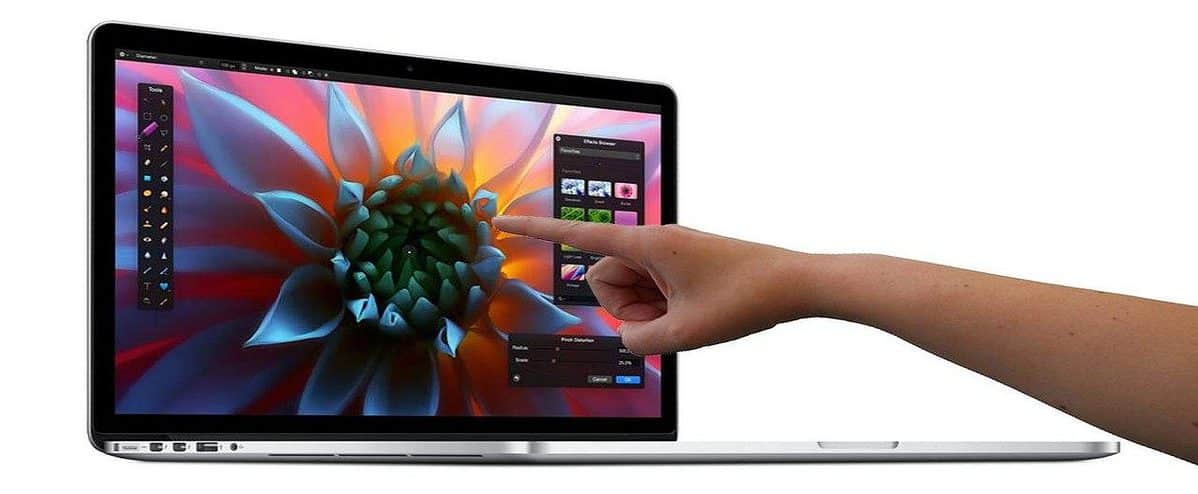 This is the penultimate question: is this a wise decision? And to answer this question, one must look at the history of Apple laptops and why this feature was never added. There are a few good answers to this question:
Steve Jobs stated that touchscreen laptops would be an ergonomic nightmare due to the awkward positioning of users' arms as they attempt to use the device. After long hours of accessing the touchscreen input, it can be expected that arm fatigue would take hold.
Furthermore, there is also the fact that Apple has yet to see the need for this so that users would buy separate devices such as the MacBook and the iPad. And while this is a move that benefits the company more, it makes sense as they have a specific device for each user's individual needs.
Then there was the Touch Bar feature that Apple added to some of their laptops. This was a failure as users rarely needed it and ended up being worked out of devices that had them. It is now only available on the 13-inch MacBook Pro.
Based on the above information, there is no need for them to add this feature. But perhaps users will be pleasantly surprised by what the company has in mind.
RELATED: Pick n Pay Teams Up With Takealot: What Does This Mean for Customers?
Would you prefer a MacBook with a touchscreen option?