Invincible is an Amazon Prime original series based on the comic book series by writer Robert Kirkman and artist Cory Walker published by Image Comics.
Knowing absolutely nothing about the source material, I went in with no expectations. To my surprise, I was instantly invested in this show after watching the first episode, which culminates in one hell of a twist.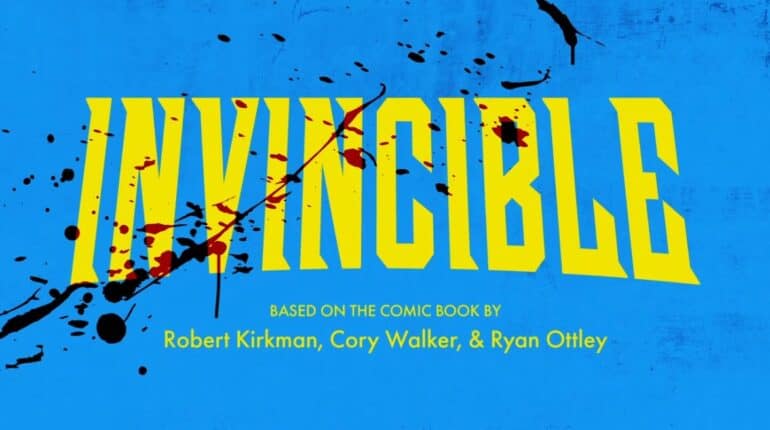 What is Amazon's Invincible about?
Invincible, Robert Kirkman's animated series produced by Seth Rogen and Evan Goldberg, follows 17-year-old Mark Grayson (Steven Yeun) as he develops the abilities inherited from his Superman-like alien father, Omni-Man (J. K. Simmons).
The show starts with a world-saving sequence in which a Justice League-style squad of heroes named Guardians of the Globe tackles The Mauler Twins (Kevin Michael Richardson) targeting the president and attacking the White House with a great action set-piece that harkens back to the Justice League animated show.
The first episode of Invincible features some important father-son interplay, which is a theme throughout later episodes as Nolan Grayson/Omni-Man teaches his son the responsibilities of being a hero whilst balancing his personal life.
Mark is struggling with his newfound abilities and still dealing with your typical high school issues; standing up to the school bully and trying to get the attention of Amber Bennett (Zazie Beetz). He aspires to be a superhero but is naïve to the harsh realities and consequences of being a hero.
Debbie Grayson (Sandra Oh) is Mark's mother and the wife of Omni-Man. Debbie is a realtor who has become so used to being married to a superhero that she no longer notices the normal adventures. Drama unfolds as she gradually observes a change in Nolan's behaviour.
The subplots in Invincible are compelling as well.
The GDA (Global Defense Agency) coordinates superhero responses around the world and makes use of cutting-edge technologies to speed up rehabilitation or resuscitation after death. Cecil Stedman (Walton Goggins) the head of the GDA oversees all operations relating to the world of superheroes, assisted by his teleportation ability, and tries to recruit Invincible once he begins his career as a hero.
You could be fooled into thinking you've seen this all before and that the first episode of Invincible is your stereotypical superhero show before the final scene kicks in and really leaves you wanting more. You'll love it if you are a fan of Zack Snyder's Knightmare sequences, The Boys, or Injustice.
Both in the first episode and later episodes we are introduced to a variety of familiar-ish characters which smartly subvert expectations. Mark is called upon to help save the world against an alien invasion with a Teen Titans-style team aptly named Teen Team. He meets Atom Eve (Gillian Jacobs). She is Invincible's first superhero friend and guide into the world of super-heroics.
Is it worth watching?
Amazon Prime Video's Invincible is mature, action-packed and visceral with a discerning sense of humour. It offers a fresh twist on familiar fare which is highlighted by the soundtrack with music by Run the Jewels, Cage the Elephant and more that enhance the action and brings the animation to life.
I love the world Invincible sets up with characters that are conventional in their looks and powers yet strangely different. All the usual superhero stereotypes are present, but they are performed with purpose and self-awareness.
A-list actors provide the voices that bring the characters to life including Steven Yeun (The Walking Dead, Minari), JK Simmons (Spider-Man, Whiplash), Sandra Oh (Killing Eve), Zazie Beetz (Atlanta, Deadpool 2), Gillian Jacobs (Community), Clancy Brown (Starship Troopers), Walton Goggins (Justified), Kevin Michael Richardson (Family Guy) and many more.
Four episodes of Invincible are currently available on Amazon Prime Video, with the remaining episodes being released weekly on Fridays.
For fans of: The Boys, Justice League, Injustice, The Walking Dead and One Punch Man.