Considered the granddaddy of conventions in South Africa, ICON 2016 promises to be bigger than ever, moving to a new venue and bringing out a literary icon who loves his characters more than George R.R. Martin (okay, only a little bit more). We caught up with ICON organiser Les Allen to find out what you can expect from the esteemed convention this year.
Icon 2016 is moving to a bigger venue at Gallagher Estate. Don't you think this move should've happened sooner?
This is something that a growing number of ICON attendees have been clamouring for. A shift to Gallagher Convention Centre isn't a small undertaking, and the main thing needed were the resources to make it happen, both monetarily and in manpower. This year, the ICON team has both of those, so we're confident that we can pull off a convention worthy of the venue upgrade.
ICON is one of the original cons in this country. In recent times, we've seen newer festivals and cons pop up all over. Do you feel these are adding value to the culture or just cheapening the experience with oversaturation?
There's definitely a new wave of geek-themed events added to the calendar, each with their own contribution. Great examples of adding to geek culture are two new conventions this year: CosXP and Fan Con. CosXP was put together by members of the cosplay community to help increase the overall skill level of the community: senior cosplayers shared their knowledge and skill in training sessions during the course of the day in order to impart the benefits of their experiences. Fan Con was the natural evolution of the amazing work that the Reader's Den had put into Free Comic Book Day over the last decade and they brought in some of the biggest names in comics – something South African fans have been clamouring for.
For a long time, the South African geek calendar was sparse, and there's no doubt that's changing. Geeks want these experiences, but they must be authentic experiences – if geeks feel they're being taken advantage of, then they'll turn their backs quite quickly and not be shy to make their feelings known. In the end, the events that provide these authentic geek experiences, done for the right reasons, will win.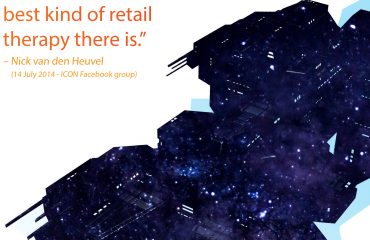 A friend of mine said he went to a con the other day, paid R100 and didn't know why he paid R100 if all he did was look at stalls. He raised a good point, because a lot of people feel the same way about cons and festivals. How will ICON 2016 be different?
ICON has always been the premiere comic, board and tabletop gaming event on the South African calendar. Sure there are stallholders with items for sale, but that's never been our sole draw card – ICON has a rich history of national tournaments for CCGs, board games as well as roleplaying competitions, plus it has a number of firsts to its name. ICON was the first convention in South Africa to host a cosplay competition, and was also the first convention to add a comedy night to its schedule, which has always been a big hit.
The additions to ICON 2016 are to enhance the convention experience as a whole: the added space means we can finally do something that conventions overseas do as a matter of course – workshops and panel discussions running all weekend across two separate areas. All weekend you'll be able to hear speakers such as Raymond E. Feist, Rico Schacherl, Arthur Goldstuck and Pippa Tshabalala share their knowledge and wisdom about an array of topics such as worldbuilding techniques in fiction writing, South African urban legends, the political cartooning landscape in South Africa and what the latest news from the E3 video game conference will mean for South African gamers. And there's no extra charge for the panels at all – it's incredibly important to us that we give back to the community and help it grow as a whole, and panels and workshops are a big part of that.
That said, it's also important to us that we keep some of ICON's traditions, though some of them might get a bit of an upgrade. The bottomless coffee with the purchase of the ICON mug will still be there, as will ICON's Comedy Night, which has expanded to five headline comics led by the incomparable Vittorio Leonardi. Our support of SA Guide Dogs and Lory Park Zoo will also continue as well. Same ICON goodness; just more of it.
Raymond E. Feist was in South Africa in 2014 and will be at ICON 2016. Was it hard to convince Raymond to come back so soon again?
Raymond loved his time here in 2014, so it wasn't much of a challenge at all, though it did require one major change – the date of ICON needed to shift for the first time in its history. Typically, ICON ran over the last weekend of the June/July holidays, but this would mean that it'd be tough to get Raymond out here due to a pesky convention called San Diego Comic Con which runs around that time.
By shifting ICON to the start of the holidays, it meant we could bring Raymond out a week before, do the convention over the weekend, then get him back to San Diego with two weeks recovery time before the madness of SDCC. If it wasn't for that date change, we were never going to stand a chance of getting him out here.
The introduction of international personalities, such as Raymond, is obviously a big draw. Have you made any plans for next year's guest already?
We have indeed, but at the moment, we can't make any announcements as nothing's been confirmed. The shift in date will help next year and going forward when it comes to inviting other guests that could potentially be attending SDCC that year as well.
What have you learned from attending other conventions?
Over the past few years, I've managed to attend San Diego Comic Con and Gen Con three times, as well as Supanova conventions in Adelaide, Melbourne, and the Gold Coast. With a fan's eyes, the things that sold me were the amount of experiences I could have at each of them, inside and outside the conventions. Supanova has a great VIP perk – on the Saturday night, you're invited to a private party with all the guests the convention brings in, which means you could be drinking with Christopher Judge from Stargate SG-1 one minute, then chatting with Summer Glau from Firefly about what it's like to be a new parent. That sort of experience, for a lot of geeks, is a once-in-a-lifetime opportunity – the type of thing that every fan craves.
But now, I have to wear an organiser's hat when I visit a convention. While experiencing these amazing cons, I can't help but want to do the same thing here for local fans who, most of the time, won't get a chance to travel overseas. What I've had to keep in mind is that these cons took a long time to get there – Supanova now runs six conventions a year in Australia, and each one has over 50 top drawer guests from television, movies, comics, animation and speculative fiction. But it's taken Supanova 14 years to get to this level, a reminder that it's going to take a little time for ICON to emulate that sort of offering.
SDCC gets in excess of 140,000 people. Gen Con, "the best four days in gaming", got over 60,000 people in Indianapolis in 2016. rAge Joburg had over 35,000 attendees in 2015, which is over halfway there. Is it possible to emulate rAge's numbers? We'd like to, but we don't expect it to happen straight away. We're just aiming for ICON to build on its proud history and provide the best of the comics, board and tabletop gaming pop-culture worlds to the SA geek audience.
Finally, Les, what's been your favourite comic book film of 2016?
So far it's been Deadpool by a country mile, though initial reports about Suicide Squad are positive, so I'm looking forward to that. I'm also partial to Doctor Strange, so here's hoping it's another Marvel hit!