There are very few South African cartoonists that can boast the popularity of Kobus Galloway, an Afrikaans comedian/illustrator who needs little to no introduction. His works, the Idees Vol Vrees comic strips, have become as popular as a morning cup of coffee in the office. Who can kickstart their morning without a little Idees Vol Vrees humour? Despite his extremely busy schedule, Kobus managed to sit down, although just for a moment or two, to answer a few questions for us.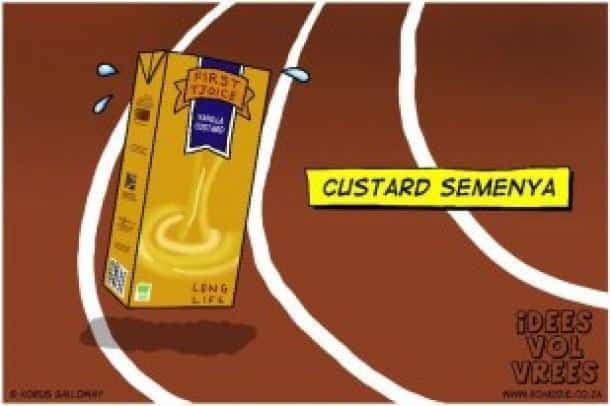 You're one of South Africa's most talented cartoonists at the moment. How did it all start? Tell us about the very first joke you put to paper.
I enjoy what I do and I thrive on the smiles of others. There's just something about the feeling you get when you can do something as little as an Afrikaans cartoon and turn someone's day around for the better! I've been drawing mainly comics since the late '90s. All of them take extremely long. They were all drawn by hand and had to follow a storyline. I wanted to portray the same ambiguous sense of humour in a shorter, quicker to read, cartoon. I had a lot of ideas, but I was also scared, not knowing if it'll work. Hence the name; Idees Vol Vrees.
Idees Vol Vrees has become a huge success (over 50 000 fans on Facebook). How are you handling the popularity? And how did the project start?
It came as a big surprise but I'm loving it. I don't see the 51 000 fans as "fans" though. I see them as one big online family. I hate it when people get big ego's and start to act differently after achieving success. So I still just draw for the love of cartooning, just like I did with the very first Idees Vol Vrees.
Take us through your work process (from formulating the idea to the final product).
It all starts with an idea, sometimes I'm in the shower, the car, at work or even sleeping. As soon as I get an idea, I immediately know if it'll work (generate laughs) or not. I always write down all my ideas so I don't forget them. The drawing process takes about 30min – 2 hours depending on the illustrations. From there I upload them and take it from there.
Do you ever call in an objective reader to test a joke on? Someone who can tell you if a joke is bad or not.
Aside from my fiance, I usually test most of the new IVV jokes on two of my friends, Bouwer Bosch and Armand Bronkhorst via BBM. If they don't like it, it's usually a k*k idea.
I'm sure there are a lot of people who would like to enter your mind and figure out just how you come up with these strange and funny concepts. Are you a funny person in general?
When I'm not drawing, I do a lot of stand-up comedy in my spare time with the Afrikaans Comedy Group, Gemengde Vrugte and Thursdays I do a comedy show on radio in Franschhoek. So being funny is a way of life for me.
Do you consider your works art? Or are they for the sole purpose of making audiences laugh?
Both. If one line is out-of-place, it bothers me!
Afrikaans is said to be a language that is dying. How do you feel about that statement and do you feel your works are proving that there is still a love for the language in South Africa?
Load of crap. Afrikaans is more alive than ever! Literature, music and art!
Idees Vol Vrees has humour specifically targeted to South African audiences. Do you have any plans to do international works and reach a broader audience?
I do. I also have an English cartoon series with a friend, Anton Vermeulen. It's called "Oneduhfool Cartoons", pronounced Wonderful Cartoons.
Tell us about some of your works outside of Idees Vol Vrees.
I run a comedy company Komedia Media CC. I manage the comedy group Gemengde Vrugte. I work as an Illustrator and Infographic Designer at You, Drum and Huisgenoot. I run a Social Media company, Getsocial. I'm a stand-up comedian. I host a radio show and I work as a freelance cartoonist and designer.
What are your thoughts about the industry in South Africa?
There are so many talented illustrators, cartoonists, designers and comedians in South Africa. The standards are world-class!
What can we expect from Kobus Galloway, Idees Vol Vrees and Komedie in the future?
The second Idees Vol Vrees book will be launching in September. I'm also planning a stand-up comedy tour and there is loads of stuff in the pipeline as we are relaunching the www.komedie.co.za website soon!