Roguelikes and Space Sims are two genres that have been gaining huge support from the gaming community over the last few years. Seeing the popularity of these two genres, Rockfish Games, a studio consisting of a team that had previously worked on the groundbreaking mobile Galaxy on Fire series decided to mash up these two popular genres into one fast-paced action-packed, not to mention gorgeous looking, single-player roguelike experience called EVERSPACE.
Fortress of Solitude was afforded the opportunity to ask a few questions to one of the founders and CEO of Rockfish Games, Michael Schade regarding EVERSPACE and their experiences during the development process.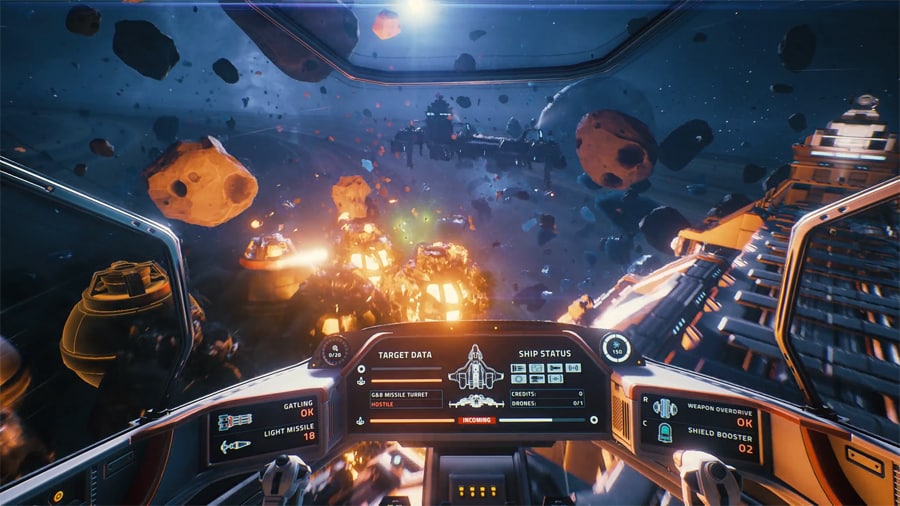 In my review, I described the feel of the gameplay as an egg in salt water, very floaty and imprecise. My assumption was that the game was probably designed as a VR experience first and then a controller experience second. Is this an accurate assumption?
Michael Schade: To the contrary, EVERSPACE was designed as a 3D space shooter with super tight controls optimized for mouse and keyboard. We believe it is one of our strongest selling points and received lots of positive feedback for it. We added VR support as an option due to strong community demand during our Steam Greenlight campaign back in 2015. We also put a lot of effort into nailing gamepad controls, but like with any FPS on consoles, the controls can feel floaty compared to playing with mouse and keyboard.
If a player takes the time to get used to gamepad controls, they can have a blast with it, too. Bear in mind that EVERSPACE is not a classic space sim but a fast-paced 6DOF shooter, where strafing and aiming precision is key to success. Its flying physics are much closer to Freelancer and Descent as opposed to Elite: Dangerous, for instance.
I could imagine creating a game is an incredibly expensive exercise. As an Indie studio, how do you develop a game through crowdfunding? Do you have a percentage of the budget secured and use crowdfunding to fill the gap?
Michael Schade: At the beginning of the development of EVERSPACE, we had some money left from our previous project and got a loan from a business friend, which helped us to keep the studio going for about nine months. This was enough time to develop a decent prototype and prepare our Kickstarter in August 2015.
We raised €420K on Kickstarter and another €250K through our website, which enabled us to go on until we released EVERSPACE in Early Access in September 2016. Fortunately, the launch went pretty well alongside a big feature on the Steam front page. Thanks to several major content and feature updates, sales continued to be pretty strong throughout the nine months in Early Access. Eventually, we warped out of Early Access with the full release in May 2017, made it to the front page again and became a global top seller once more.
In my review, I again made an assumption that the release date was pushed back as often as it was due to issues around crowdfunding. Is that a reason?
Michael Schade: Fair enough, the full release was postponed by a few months, though this is not unusual in the game industry even for AAA titles. Developing games is an incredibly complex process with lots of unknowns involved. So, if things are not polished enough yet, and postponing the release can make a better game, of course, you push back the release date.
Most fans appreciate it, and it is also the better strategy from a commercial point of view. I do want to mention though, that the EVERSPACE Early Access release happened a month earlier than we estimated in our Kickstarter, so we consider to have delivered the initial product on time. That is the exception to the rule for crowdfunded projects.
What made you decide on developing a rogue-like dogfighter space sim? It is a fairly saturated market. Games like EVE: Valkyrie, Freespace and Elite Dangerous, to name a few, offer a similar experience. What made you believe EVERSPACE would be able to compete with (and in my opinion) beat these other games?
Michael Schade: Well, as the creators of the iconic mobile space shooter series Galaxy on Fire, we knew we had a large fan base that we could build on along with the space game enthusiasts who were waiting for a top-notch but accessible arcade space shooter for PC and consoles. At the time, other big space games were either super complex space sims with brutal PvP combat and Newtonian physics that require HOTAS support for the best experience, or overpromised on delivering a space exploration with a feature set wide as an ocean but only a few inches deep, or focused on a niche audience for a PvP-VR space shooter, or were simply outdated.
For budget reasons – but also to cater to the fairly large roguelike fan base – we decided to combine two popular genres and incorporate a storyline that fits the nature of a roguelike, which hasn't been done before. When we hit Steam Greenlight with 89% positive votes of over 17k in total, we knew we were on to something. After the successful Kickstarter the proof was in the making, and when EVERSPACE eventually became one out of 12 Steam Early Access Platinum Graduates of 2017, the evidence was there: our concept really paid off.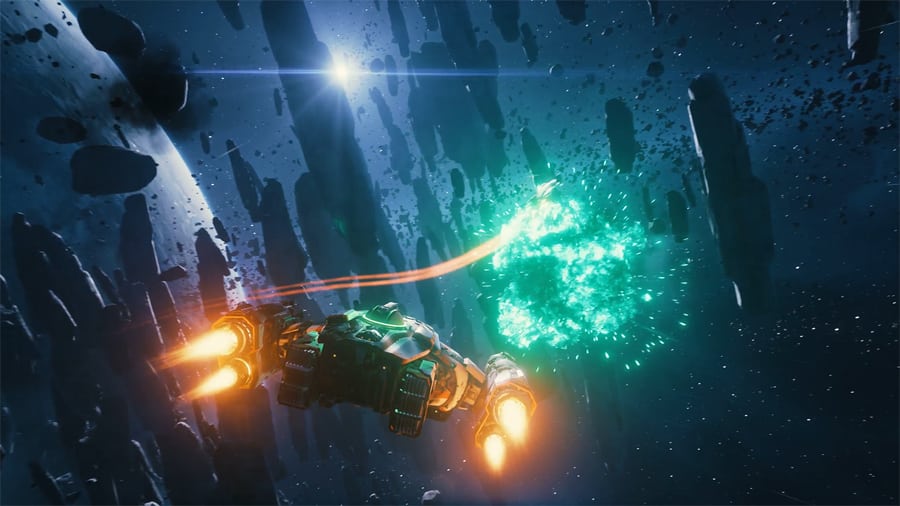 I mentioned in my review that I found the plot a little thin but that it ultimately didn't matter. It was like watching porn for the story. You sit through the dialogue because you know soon you're going to be in the thick of the action. Would it be a fair assumption to say that gameplay was higher up on the priority list than plot?
Michael Schade: For an action title gameplay always comes first, and story should never be the highest priority. While the plot in EVERSPACE certainly cannot compete with AAA single-player action titles like Uncharted or Horizon Zero Dawn, we think we took storytelling in a roguelike to a new level. Especially, as the plot of being a clone pilot that gradually finds out about his own existences with every new life actually makes perfect sense in this genre. It was inspired by the movie Edge of Tomorrow, which subtitle "live, die, repeat!" couldn't be a better fit for what a player goes through in a roguelike.
Also, a story for a roguelike shouldn't be too complex as it might take quite some time before a player makes it further in the game, so it should be easy to follow the plot even if the last cutscene happened a few hours ago. Lastly, there is much more to the story than you might think in the beginning, and we put even more things to be discovered between the lines in the Encounters expansion. In fact, we got a lot of praise for the story from players who played through the very end of the campaign when all pieces fall together. Lastly, EVERSPACE offers more story content than any of its actual competitors. So if you're looking for a modern space shooter with a decent story, we'd say don't look any further! But we're biased, of course.
Encounters served to address this issue it seems, by going a little deeper into the denizens of this universe you created. Can we expect more in the near future?
Michael Schade: Indeed, with five new fully voice-acted side missions, Encounters adds a lot more depth to the lore, and – unlike in linear single-player games – it enriches the experience from the get-go as the new content is already available in Sector 2. In fact, we put a lot of effort into making Encounters a great addition to the base game, and 95% positive reviews on Steam prove that our fans really like it. However, because of the law of diminishing returns and the fact that it is hard to add new features and content to a roguelike in a meaningful way without having to rebalance the entire game, we decided it would be better to start working on a new game that all our fans will be able to enjoy.
It is, without a doubt, one of the most beautiful games I have played. Where did the inspiration for the art direction come from?
Michael Schade: Thanks! We get this a lot, and it never gets old for us. For the art style, we took great inspiration from the movies Guardians of the Galaxy and Star Wars, of course. However, you can also tell that EVERSPACE was developed by the same people who created Galaxy on Fire 1 and 2 in our previous studio.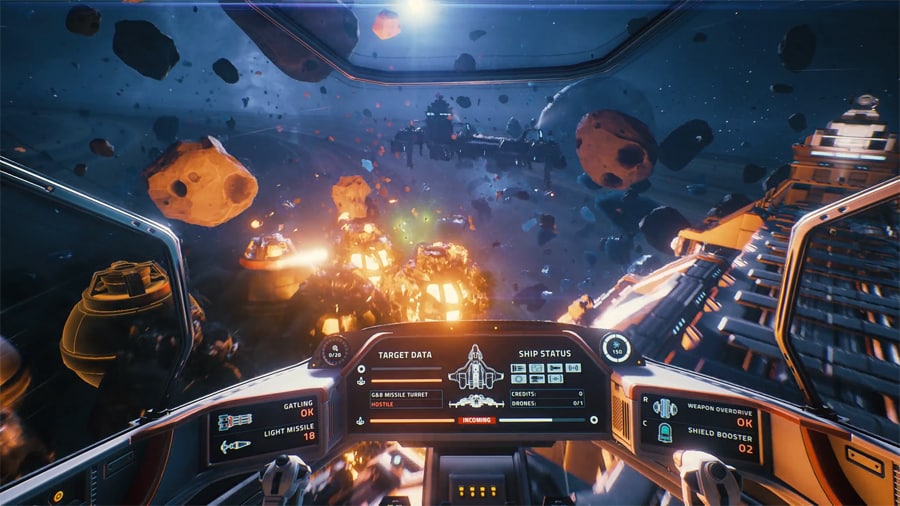 The game engine. Is it an off the shelf solution or did you guys develop your own?
Michael Schade: EVERSPACE was developed in Unreal Engine 4, and it is a fantastic piece of technology, hands down. We can tell the difference because, on mobile back in the day, we had to use our own engine and it was not even close as powerful and easy to use.
Today, even our artist can implement gameplay features thanks to using UE4's intuitive Blueprints while our tech programmers can still implement performance critical functionality like flying physics in C++. Also, Unreal Engine did most of the legwork for us when it came to port EVERSPACE to Xbox, PS4 and Switch. It goes without saying that without Unreal Engine 4, EVERSPACE – and even Rockfish Games as a studio – wouldn't exist.
What are your top 3 games ever and do they serve as inspiration when you wake up in the morning and decide "I'm going to develop a game about…"
Michael Schade: I don't have any top games of all time because I have always had my favourites that were at the top in a given time. Today, none of them would stand a chance against my latest favourites, which are Horizon Zero Dawn, as well as the Halo, Gears of War and Uncharted series – just to make it 4 that I have enjoyed equally.
To me, it is absolutely mesmerising how big teams can work together for several years on one vision and create such wonderful looking, highly engaging and satisfying games. I can still recall moments in all the mentioned games above where I had goosebumps and stopped playing just to enjoy the moment and gaze in awe because of what a bunch of highly talented and committed people created. To me, games are the highest form of art and entertainment at the same time.
I have huge respect for Indie game developers and you have achieved something fantastic with EVERSPACE. What can we expect next from Rockfish?
Michael Schade: Well, we already started working on a new game, but it is too early to share any details as we're still in pre-production, and at a lot of things can still change. However, we are very confident that whoever had a lot of fun playing EVERSPACEwill also enjoy our next title. We plan to share more details next year, so stay tuned!