Injustice 2, the sequel to the world's best comic book brawler, 2013's cult hit Injustice: Gods Among Us, has finally landed and it brings with it a plethora of the biggest names from the DC comic universe, including Batman, Superman, Wonder Woman and Joker. Like its exceptional cast of heroes in this "what-if" story, this fighter for PS4 and Xbox One, which sees a huge improvement in graphics and mechanics, soars above its competition. Injustice 2 is nothing short of phenomenal.
It's hard to believe that it's been over four years since NetherRealm's Injustice: Gods Among Us release. It was a game that not only shook the gaming industry but went on to shape the way these DC characters were portrayed in film and comic book media. The cataclysmic events of the original game, which sees Superman succumb to his anger and go rogue, have become a talking point for most people who up until that point always imagined the character as the perpetual good guy and beacon of hope and justice. While we get more of the same in the story here, the game doesn't feel as heavy and there are some truly amusing moments thrown in to lighten the mood.
Injustice 2 continues that storyline and expands on the universe by bringing more characters to the foreground (around 28 so far), including another Kryptonian, Superman's cousin, Supergirl. It picks up five years after Batman defeated the still unlikeable Superman, but also shows us some of the other stories left out of the original game, like Damian Wayne's betrayal of Bruce Wayne. From there we are thrown back into the world where planet-killing alien Brainiac now poses a threat to Earth. Will Batman and Superman be able to put their history aside to face an even bigger common enemy or will they ultimately destroy each other? Surprisingly, some of these decisions are ultimately left in the hands of players.
Off the bat, it's easy to see that Injustice 2 has a lot more single-player content than most games. The far more engaging story mode, which also features a number of impressive cut-scenes (12 chapters), weighs in at around four to six hours, depending on how good you are. NetherRealm clearly has a better grasp of the characters and delves deeper into each character's reasoning (efficiently explain their motivation). There is also an option to play Multiverse mode, which sees a character you choose battle against variant designed versions across multiple universes (like Mortal Kombat's Living Towers in a way). It also gives you the opportunity to level up your fighters, earn and equip gear for them. If that weren't enough, you can also play the traditional arcade style, an online mode or take up various challenges. There is a lot of content here and it should keep you busy for hours.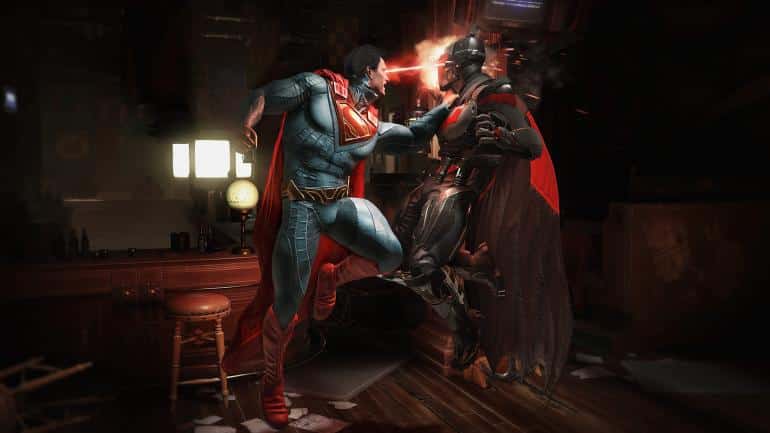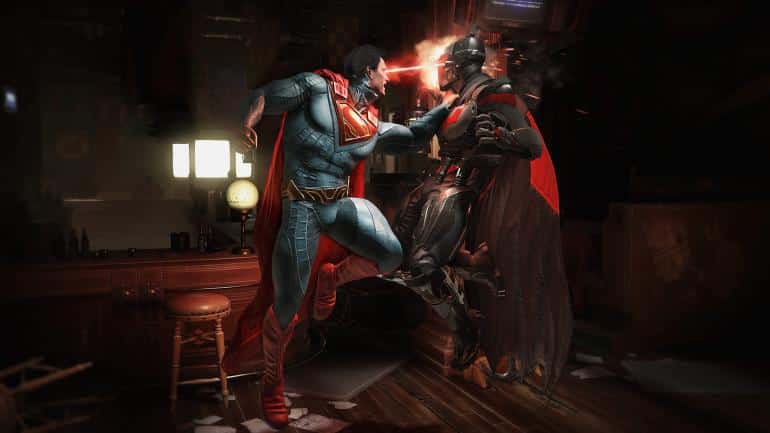 Injustice 2 is clearly a labour of love and, because of that, there is a noticeable leap forward in terms of quality. It feels a lot more refined and detailed than Injustice: Gods Among Us. Every hero is uniquely crafted, from their special moves to their interactions in the game with others to their complex backgrounds. The graphics have also improved tremendously, with each character looking more life-like and even a lot more like their DCEU counterparts. The voice acting is also remarkable, with Kevin Conroy voicing Batman, Alan Tudyk voicing Green Arrow, Tara Strong voicing Harley Quinn, George Newbern as Superman and Robert Englund as Scarecrow.
That said, the true magic comes from the game's mechanics, which has been perfected and improved. It's not a complete overhaul from the mechanics in Injustice: Gods Among Us, but there are a lot of improvements which make the game feel faster and far more fluid. Injustice 2 sees the return of the super meter, which allows players to execute enhanced special moves when fully charged. Fill up the meter bar and execute the command to see Superman toss a character into the sky and fly-punch him back to the ground in a more cinematic beatdown. The backgrounds, which include stunning environments like the Fortress of Solitude and the Batcave, are also more interactive, which allows players to chuck a rolling tire at their opponent or swing from a hanging object. It's a game that, ultimately, finds a fine balance between retaining what worked in Gods Among Us and evolving into something fresh. It's all immensely satisfying, especially for those who enjoyed the original.
Much noise has been made about the Gear System and, thankfully, it delivers. As players fight in the game's online and offline modes, they also earn loot boxes (mother boxes) which are filled with random gear, armour, shaders and character abilities. Unhappy with the version of Batman you are playing with? No problem, you can customise him to look and fight how you want. While there are limits to the amount of customisation you can do, there is enough to play with here to keep you interested for hours. I currently have my eyes set on obtaining the darker and grittier DCEU-looking costumes that are still to be unlocked. Thankfully, there are still good reasons to replay portions of Injustice 2 to experience the game's alternate story paths. Even though I've completed the story mode once, the stats still show that I've only played 67%.
I only have one minor gripe with Injustice 2. I would hope to see more than one "super move" for each character included in future releases. It can become tiresome executing a move and waiting a few seconds while the same cut scene plays over and over in each round. Like the rest of the game employs, variety would be great here.
Borrowing heavily from its recently successful Mortal Kombat XL, Ed Boon and his team have proved once again that they are the masters of story fighter games. The roster is huge. The controls quickly become second nature. The story is interesting. Gameplay is excellent. And, most importantly, it's really fun. Injustice 2 is quite an achievement.