Ubisoft seems to love the ancient Greece setting. Their previous Assassin's Creed release dropped us into a bloody war-torn version of this time period. With Immortals Fenyx Rising we are once again heading for turquoise shores, albeit a more mythological version filled with gods and monsters.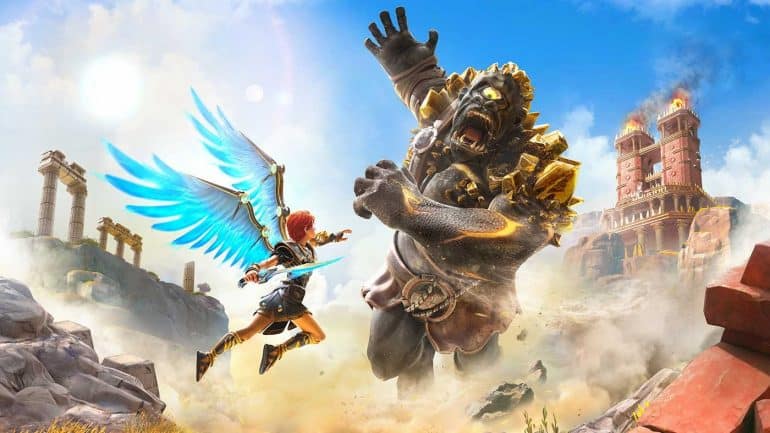 Immortals Fenyx Rising puts you in the sandals of Fenyx. The titular hero/heroine has been tasked by Hermes, the god of thieves, to save the gods from the game's big bad, Typhon.
You see, Typhon hates the gods of Olympus and has stranded them on the Golden Iles. It's up to you to save them and ultimately defeat Typhon once and for all.
Although the story might seem familiar (the gods tasking a mortal to save the world), the twist is that the whole tale is told by Prometheus, with Zeus interrupting him on a regular basis.
Initially, the narration can be quite jarring. However, I soon discovered that I was able to quickly learn more about the world of Immortals Fenyx Rising without having to sit through hours of exposition and cinematics.
The relationship between Prometheus and Zeus does offer some more light-hearted comedic moments – although some of the jokes can be quite cringeworthy.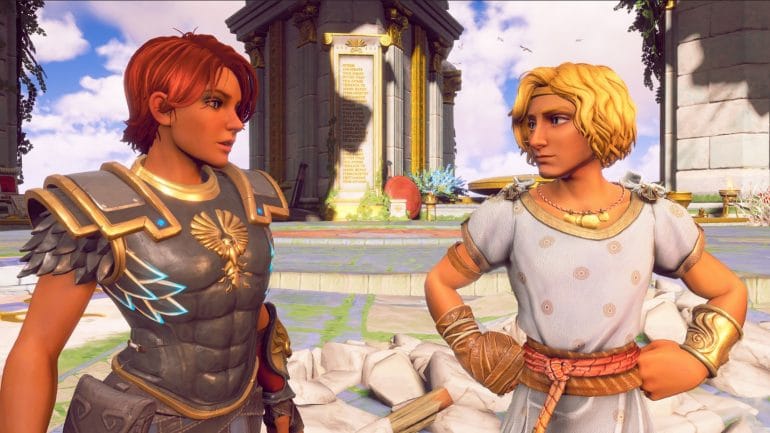 The world of Immortals Fenyx Rising is inviting from the get-go. It truly feels like you have stepped into a storybook as the world envelops you in its colourful and rich visuals. It is a breath of fresh air to not be greeted by another gritty, dark world.
The Golden Iles is divided into sperate regions, each dedicated to a specific god. As Fenyx, you will be exploring these realms to find collectables, complete puzzles, battle a few monsters and, eventually, save each of the gods.
In true Ubisoft style, you'll be climbing to the highest point in a specific region and then surveying your surroundings, which mark points of interest on your map. This does take away some of the wonderment when exploring as you'll mostly know in which direction to head if you want to complete a certain challenge or collect a specific item.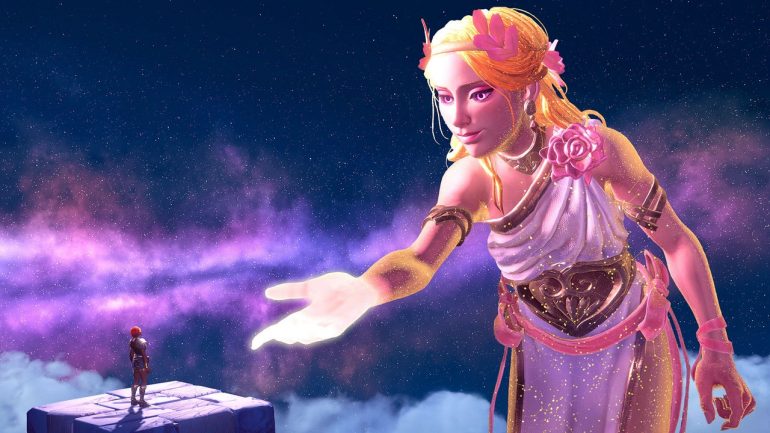 Some might experience déjà vu when playing Immortals Fenyx Rising. It is apparent that the game takes quite a bit of inspiration from the recent Zelda game, Breath of The Wild. Not only does Fenyx have a stamina bar, which she/he uses to climb and scale almost any surface, but the map is filled with vaults which feature environmental puzzles like Breath of The Wild's temples.
That said, it is important to recognise that, although the game does clearly take a lot from Breath of The Wild, it adds its own unique twist which helps set it apart.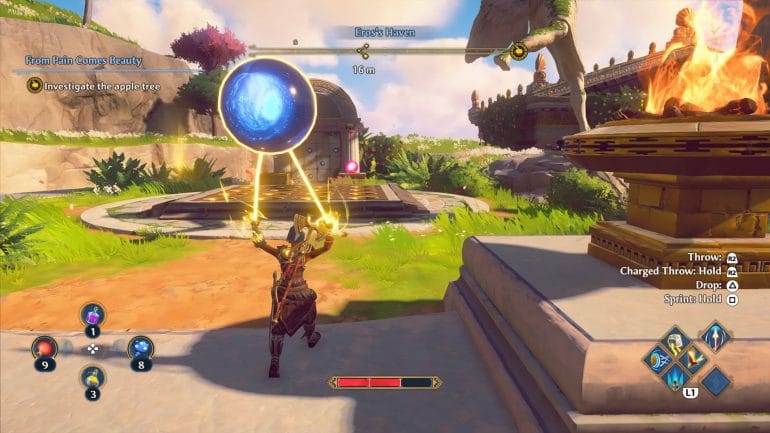 One of the best aspects of Immortals Fenyx Rising are the vaults, where players need to solve various environmental puzzles. These range from being very simple to more complex. None of these puzzles are tough enough that I found me banging my head against a wall trying to solve them and, in fact, for the most part, were quite intuitive.
Of course, saving the Gods means beating up some mythological creatures. Early on combat can be quite challenging as Fenyx starts off with a limited repertoire of skills and abilities. Towards the end of the game though she/he can start to plough more easily though enemies, thanks to some unique skills and upgrades.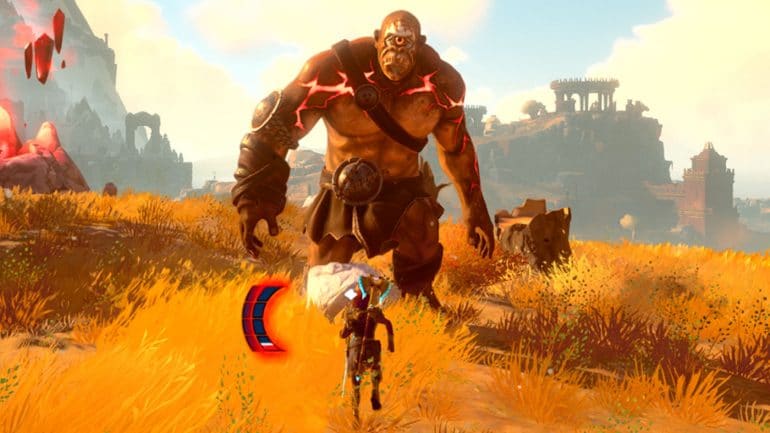 Fenyx has access to a sword (for quick attacks), an axe (for stronger, slower attacks) and a bow (for taking down those pesky harpies).
Each weapon can be upgraded using raw materials and new versions of these weapons can be discovered in chests scattered throughout the Golden Isles. The same goes for Fenyx's armour.
Players will also need to keep an eye on Fenyx's stamina gauge, which is used to activate her/his abilities.
Combat is fast and furious and mainly boils down to basic attacks, mixed with parries, dodges and using abilities. Dodging at the precise moment slows down time, giving Fenyx an opening to do more damage to an enemy. As Fenyx gains more abilities and skills, she/ he will unlock various combos making combat even more involved.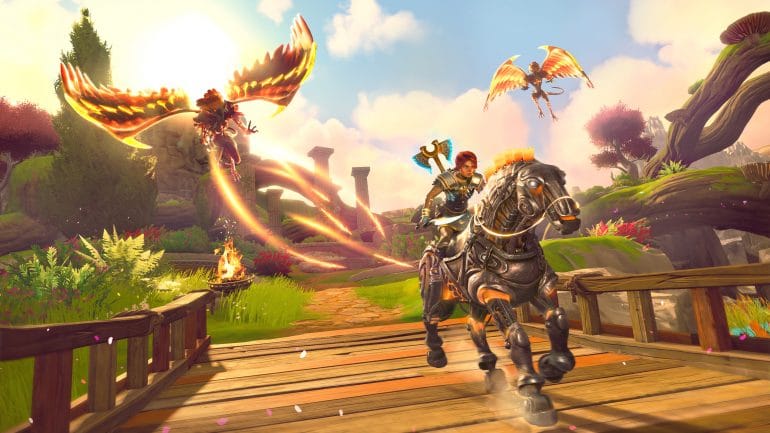 Visually, the world of Immortals Fenyx Rising is a delight to just get lost in. Each area is unique and offers up its own visual flair and style. It is a world I loved roaming.
With its colourful visuals, surprisingly fun combat, and rich world to explore Immortals Fenyx Rising is a fun a light-hearted romp through Greek mythology. There is little doubt that a lot of love, care and attention has gone into the game. Hopefully, this is a franchise we will see more of in the future.
Ubisoft provided a review code to Fortress of Solitude for the purpose of this review.
The Review
Immortals Fenyx Rising
Immortals Fenyx Rising is an unexpected surprise. Thanks to its colourful and inviting world, engaging combat and a fairytale-like story, it has become one of my favourite games of 2020.
PROS
Colourful world that begs to be explored
Fun, yet deep combat
Unicorn mounts
Review Breakdown
Gameplay

0%

Graphics

0%

Replay Value

0%

Sound and Music

0%

Story

0%