The fitness tech segment is still on the rise with its trackers, smartwatches and the likes. In fact, Huawei has been the fastest growing brand in this market in various regions for a few years now. With its latest range of fitness devices, Huawei continues this push in South Africa. With the Huawei Watch GT 3, it continues its aim at upsetting the top three — Apple, Samsung and Fitbit — in the smartwatch category.
On the surface, there doesn't seem to be much change when it comes to this smartwatch market. However, you'd be wrong to assume that. With better screens, advanced hardware and expanding list of features, the OEMs continue to push the boundaries of what's possible on a piece of tech that fits on your wrist, more than just to tell you the time. Huawei has not rested on its laurels when it comes to this, so we take a closer look at what the Watch GT 3 has to offer over its previous generation devices.
Build and Design
Arguably, Huawei has been designing the best smartwatches for a good three to four years now. The Watch GT 3 is no different. It continues the lineup of great-looking smartwatches for the brand. It has quite a large screen while only weighing 43g, which isn't heavy at all. Compared to other leading brands, it's right up there in that regard.
In terms of its build, it features a stainless-steel frame, curved glass, plastic rear cover and three options for out-the-box straps on purchase. The review unit received included the brown leather strap – with the other two being the plastic polymer strap on the Action Edition and a gold Milanese strap on the Elegant Edition.
In addition to these straps, there are plenty available online, both official and unofficial, from the premium and fashionable to something more sporting. The straps aren't as easy to swap out as you would on something like the Fitbit Versa range, but still simple enough to switch it up between going out and exercising.
The Watch GT 3 features a similarly large circular toggle (pr watch crown to be more conventional) on the top right, with a flush button below it. This is a slight change over the GT 2, which features two large toggles. The combination of one toggle and one button has been the standard across the new range of Huawei watches.
While it's not a big overhaul over previous ranges, the Huawei Watch GT 3 improves upon those designs and delivers yet another aesthetically pleasing smartwatch to add to the portfolio.
Screen and Display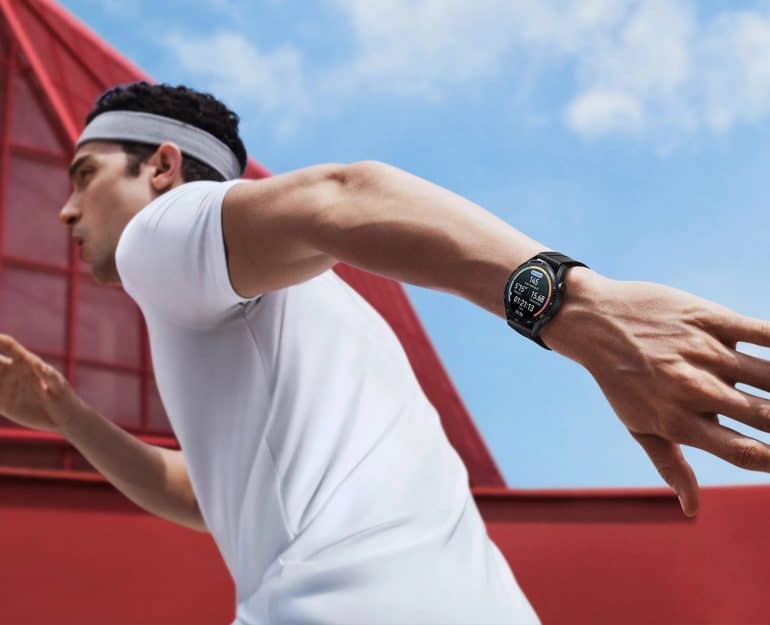 When it comes to the screen, it features the same two variants in the 46mm and 42mm options. That said, the screen size itself is slightly larger at 1.43". As such, it also has a larger resolution of 466x466px, while still keeping the same 326ppi pixel density.
The panel featured is that of an AMOLED screen. As such, you can expect nothing but great clarity on the visuals, with the touchscreen interface being just as smooth. This smoothness is filtered down to both the interactions and animations through the UI. It is also very bright, even in direct sunlight, so you won't often have issues scrolling through the menus during a sunny afternoon while out on a jog.
The screen is a bit large in size. It isn't an issue, however, but it doesn't necessarily fit all wrists. Thankfully, there is the smaller 42mm variant for those needing the smaller frame.
What really makes the screen stand out is the wide selection of premium-looking watch interfaces. Huawei has quite a few beautifully-crafted faces in this regard. When showing these to anyone, they're often amazed that it's digital and not analogue. For those who really need to stand out, there are a few more premium options, however, these are hidden behind a paywall.
Overall, there are only slight improvements on the screen but remains as elegant as ever.
Fitness and Features
I wrote of the Watch GT 2 that it lacked a broader set of features for a modern smartwatch. Huawei has attempted to change that with the GT 3, offering more, while also enhancing the hardware to achieve this.
Compared to the GT 2, the GT 3 has a sportier overall approach. It shored up this approach by improving its tracking capabilities. The first of these is location tracking. Instead of a singular approach when it comes to the GPS system, the Watch GT 3 offers five. Yes, you heard that correctly. It tracks via conventional GPS but then also includes GLONASS, Beidou, Galileo and even QZSS. These five satellites tracking systems make for accurate, pinpoint tracking wherever you may be running or walking. It also offers better tracking around taller buildings and between housing in complex structures, where I often found others to come up short.
As with previous models, it also offers SpO2 monitoring. This time around, you can continuously track this. It gives you the capability to track your stress levels throughout the day or receive notifications when those levels reach worrying levels. What's even better is it not being something that is readily available on other smartwatches.
Although it's something that I won't use and even find annoying, the watch has a built-in microphone, which allows wearers to make and receive calls as well. It is useful when coming to your personal assistant and issuing commands, but talking on the phone via your wrist is not it. That said, because it doesn't have its own SIM or eSIM, it means you'll always need to be within range of your smartphone to make these calls.
Where you don't need the connectivity to your smartphone is the music playback. Instead, you can copy over some music or download it via supported apps and then listen to this while you're off on a walk or run. You can also use the feature to control music on your smartphone without it playing the music itself.
Again, however, the lack of NFC or other payment options is still a glaring miss for many users. For me, personally, this isn't an issue. However, many others like the convenience of it, which is understandable. Many of the other leading brands support this feature.
Other enhancements include updates to the heart monitoring trackers, respiration tracking, skin temperature monitoring (useful in today's new normal), sleep tracking and much more.
While there still remains a lack of overall 3rd-party apps on the platform, there have been a few additions that are available on the AppGallery. With the new devices running on HarmonyOS UI, it opens up a lot more possibilities when it comes to providing additional apps.
Performance and Battery Life
As with any modern device, the performance is what the user makes of it. For your everyday usage, the performance of the Huawei Watch GT 3 is very solid. You can track all your required health statistics without needing to force or manage any of them manually. It tracks all those metrics 24/7 if you require, while still being able to do so continuously for a period of two weeks before needing to recharge.
Huawei has introduced a new feature via the Health app called Healthy Living. It tracks five of the key metrics and produces a daily report on your sleep and wake up time, breathing, activity levels and your steps throughout the day (and night). For each of these metrics, you can also set specific goals while also getting stats that compare to average users around the world. While it works well for the most part, there were one or two comparisons I found myself having a giggle, after receiving a notification that I had beaten more than 90% of other users simply by waking up and breathing. Seems the wording or combination for some of these reports has not yet been optimised fully.
As with the previous devices, the GT3 has over 100 workout tracking options to choose from. However, there are about 10 which are more popular that are always on top of the list when selecting your workout prior to starting.
There is plenty of planning and coaching support available for your workout routines, as well as calendar syncing. This allows you to get the best out of your weekly routines, matching against previous workouts and your set goals.
However, the running and walking tools have always been its strong suit. The number of report options available after each workout here is impressive, giving you a very detailed summary post-run. Even while on the run itself, you get a few voice reports that let you know your current pace, last 1KM pace and heart rate. In between these breakdowns, you also get a prompt to indicate your stress levels and pace matched against the virtual runner.
When it comes to the battery life tests, the charge depletion is very dependent on your routine. During the 2-3-week period in which I tested the unit, I only had to charge it once. Even though I had turned on most of the tracking features to run 24/7 and had two non-GPS workouts and two GPS-enabled runs in those two weeks, it still lasted seven to eight days per charge.
Conclusion
While it may look as if there isn't much of an improvement over its predecessor, the Huawei Watch GT 3 offers an all-around improvement on almost every stat, feature and hardware available. Whether it is the enhanced tracking by means of five GPS satellites, updated features and sensors or even the reporting via the app, there's a tick next to almost every aspect of the unit.
Granted, it may not look significantly different, but there are sufficient improvements to warrant an upgrade if you owned the previous Huawei smartwatch. At a retail price of R5,499 for the 46mm leather strap variant, it's only slightly pricier than the GT 2 when it was launched.
The Review
Huawei Watch GT 3
While the enhancements may not be significant, there are improvements across the board on the Huawei Watch GT 3 over its predecessor. With its 5-satellite GPS tracking system, the accuracy has been improved, along with better reporting and goal-setting via the Huawei Health app. It's definitely worth the upgrade, even when already owning the Watch GT 2.
PROS
Two-week battery life under normal load
Enhanced (5-satellite) GPS tracking
Great post-workout reporting
Tweaked design
HarmonyOS opens up 3rd-party support
Review Breakdown
Ease of Learning

0%

Ease of Use

0%

Design

0%

Performance

0%

Enjoyment

0%

Value for Money

0%