Since the launch of its first smartwatch, Huawei has been pushing the limits of its release schedule. The company has doubled down on its smart wearables drive, running on its own operating system (Huawei Lite OS) and its tie-in Huawei Health app to track fitness at levels not many other manufacturers do. There are quite a lot of variables to consider across the fitness and tracking device market, elements such as price, saturation and the likes. When it comes to smartwatches, however, there are even more challenges to hurdle. With the likes of Apple WatchOS and Google Wear OS offering a bit more functionality and features while also holding a better market share, Huawei has had its work cut out for it when it officially entered the market.
Having released the Watch GT in May earlier this year, it was a surprise that Huawei would be releasing its successor, the Huawei Watch GT 2 only a few months on. Yet here we are. The original GT variant offered a minimalist interface, in-depth fitness and sleep tracking and assistance, and, most importantly, much better battery life than your average smartwatch. With the release of the GT 2, Huawei continues where the original left off, streamlining where it could and pushing the limits of battery life to the next level. However, having released both units in the same year, the question still remains, whether you should invest in the new and improved GT 2 smartwatch.
Huawei Watch GT 2 Build and Design
The Huawei Watch GT 2 follows a trend of beautifully crafted smartwatches produced by Huawei, starting with the first Huawei Watch, some four years ago. That said, there are a lot of similarities between the GT and GT 2 variants, with only a close-up examination and side-by-side comparison to pick apart those differences. The GT 2 comes in two variants, the 46mm and 42mm models. The former has a larger frame, with an angled bezel around the watch face. The bezel, while it may look the part, doesn't perform any specific function, other than adding to the aesthetics. The smaller variant has a more elegant finish with a curved screen and no bezel. Although it's not explicitly stated, there have been hints on launch day that the 42mm variant has a more feminine design for women. It's not hard to understand why, although, in 2019, such labels aren't always accurate.
Unlike many other smartwatches that aim to be as thin and sleek as possible, the GT 2 keeps its chunky build. The watch was designed as a fitness companion at its core, and the thicker build, at 10.7mm, certainly looks the part. The build is solid, along with the 3D glass, which means you needn't worry about any bumps and scrapes that could disable the unit. The 42mm variant has a 9.4mm thick frame.
At 10.7mm thick, it also isn't as thick as a few other smartwatches on the market. There's also quite a bit under the hood, such as the built-in GPS (not available on the 42mm version), heart rate sensor, air pressure sensor and the likes, which makes its size more impressive. As with the previous model, there are two large buttons on the right-hand side. The top button is used to open the menu screen, allowing users to browse through a few different features, settings and more. The bottom button is used to open the fitness menu, allowing you to easily start any exercise of your choosing without has to traverse the main menu first. If you look closely enough, you'll notice that there are two holes between the two buttons. These are the speaker grilles for the loudspeaker, mostly used for voice assistance. On the left-hand side, there's a much smaller hole, even less noticeable, which houses the microphone inside. The mic is used for answering phone calls – that's if you haven't already realised how stupid speaking to your watch looks.
The Watch GT 2 weighs about 41g (without the strap), which is very light, all things considered. Even more impressive is the 29g for the 42mm variant. The unit is comfortable enough to wear all day, and night, even though it appears to be much heavier than it really is. The straps are interchangeable, with a quick-release mechanism for easier swap-outs. The watch feels sturdy around your wrist, so you don't have to worry about it falling off either. The holes in the strap are spaced together quite adequately, allowing you to clasp at a comfortable position – with other watch straps being either too loose or too tight without finding a healthy middle.
Speaking of the different straps, which are available through Huawei and a few third-party vendors, the customisations are almost endless. But while there are quite a few options here, there is only one of each type of frame with one colour to choose from. Perhaps I'm oversimplifying the matter, but having a few colour variants for the frame would have been ideal, especially for those who find the default colours a bit dreary.
The overall build is solid and the unit doesn't fail from an aesthetics perspective either.
Huawei Watch GT 2 Screen and Display
The Huawei Watch GT 2 has a 1.39″ AMOLED screen with a 454×454 HD display. As with the GT version, the GT 2 supports slide and touch gestures. All the touch-based motions were detected quite easily with a sense of smoothness to it. Under no circumstance did the device lag or fail to detect any touch or gesture, which I find refreshing. It just worked. Always.
If you long-press on the screen, you'll have an option to customise the watch face. There are quite a lot of options to choose from the default list. Unfortunately, this default list is as far as your customisation of the faces can take you. The OS is still pretty closed down, which again means there aren't any third-party developers allowed to design cool new features, apps or even clock faces. In the end, there were only two faces that really caught my fancy, which I swapped between when the mood struck me. The rest feel quite robotic with little to no emotion or appeal.
Fitness and Features
The assistant voice, which tells you when workouts have paused or acknowledge other actions, is super jarring. It's loud, sharp, and aggressive, making for some embarrassing moments if you're out in public and you alert the entire street you're about to start a workout. You can disable it, however, it's just hidden in the "stop workout" screen. We'd suggest you start a fake workout just to end it and mute the assistant voice permanently.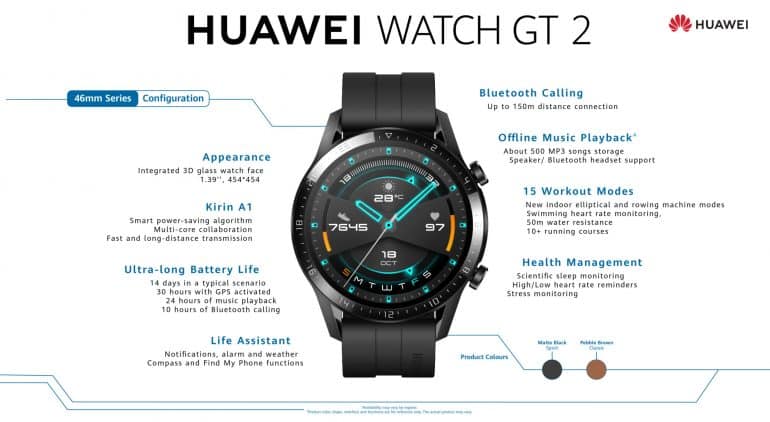 Performance and Battery Life
The Huawei Watch GT 2 is powered by Huawei's Kirin A1 chip, which was developed internally. The combination of its in-house hardware and software means that the level of performance and efficiencies is great. As mentioned previously, there's no lag or stutters when using the smartwatch, which includes no loading times and lack of performance as a result. The in-house chipset also employs Huawei's AI and algorithms, similar to those found installed on the flagship smartphone range to improve performances.
In addition to the great performances, the device is also very low-powered, in that it's quite efficient. When using as a standard watch, the battery life exceeds the two-week mark quite easily. Using the GPS allows for 20+ hours of continuous tracking. Both of these stats far exceed those offered by any Apple or Samsung devices, and probably the best in the smartwatch category. The above-mentioned AI also plays a role in the power consumption, lowering the CPU power when not actively tracking any workouts while also predicting when you're at your most active or likely to use the smartwatch features.
Fitness and Features
We couldn't talk about the features of the Huawei Watch GT 2 without first discussing the underlying components that make the unit tick. The CPU, OS and AI all work together to provide great performances across the board, which means you don't have to worry about the nitty-gritty, it takes care of that for you. From monitoring your heart-rate throughout the day, suggesting changes in your behaviour, assisting your workouts based on your targets set and even monitoring your stress levels. All of these features provide great usefulness to your physical health with aspects of your mental health as well.
One of Huawei's key new features on the Huawei Watch GT 2 is the voice assistant while performing any activity. The loudspeakers, as mentioned previously, are used to convey alerts, updates and prompts that affect your workout based on your goal. These are all very helpful but can be extremely annoying at the same time. There is not volume level on the voice prompts, which means it's always assuming you're in the noisiest of environments while providing you with feedback. A few times these were quite embarrassing. The first of these was the first time I tracked an activity, a run at the gym, after which starting the workout was met with a very audible "starting working" prompt. This seemed to have startled quite a few of the other gym patrons. It became even more awkward after I completed my first kilometre during my run, to which it prompted quite a detailed summary of my current status, from my pace, heart rate and the likes. It's quite a lengthy speech. The second time also occurred during a run, this time outdoors, as I ran passed a group of people at the exact moment the assistant started prompting my most recent kilometre stats. It took me a few days to figure out how to turn off the voice assistant, which can only be done when starting a workout, pausing or stopping the workout, and then turning it off. You can go ahead and start a fake workout now to turn off the prompts…I'll wait.
https://www.youtube.com/watch?v=aMbacqP7u0k
There are quite a few limitations on the OS when it comes to the broader range of features commonly found on other smartwatches. The term 'smartwatch' carries with it quite some baggage as to what it is expected to perform. With prompts such as reminders, calendar updates, weather updates, receiving and making calls, sending texts and emails, and much more. Unfortunately, the GT 2 only offers a handful of these. You can answer your phone via the smartwatch, which then essentially acts as a Bluetooth speaker. There is no SIM connectivity (virtual or otherwise), which means all GSM features are simply mirrored from your smartphone. You cannot reply to emails or any other messages for that matter.
Where the Huawei Watch GT 2 really shines is tracking your health across a broad range of monitoring options. Starting with sleep tracking, the unit detects, very accurately, when you've gone to bed, the levels of sleep (REM, deep, light, etc.), as well as those few moments you're awake at night without even realising it. It also picks up random naps quite well, even if you dozed off for just 10 minutes or so. Users can use the Health app on their smartphones to get a detailed summary of the sleep stats, as well as a report on the measurements and what they're likely to mean. It's not a complete sleep study, so we shouldn't rely blindly on the results, but they're pretty useful if you're not suffering from any serious sleep-related issues.
In terms of fitness tracking, the ecosystem here is one of the best I've come across. The watch tracks almost all aspects of my workout, from my heart rate, VO2 Max, altitudes, speeds and much more. All of this information is summarised into a report with the input data used to suggest next steps for the user, such as time to recover, workout intensity, how much the workout improved your fitness and a few extra details, most of which are only available via the mobile app. The GT 2 includes onboard storage capacity to store your music, which you can use while you're on a run.
A few challenges experienced with the Huawei Watch GT 2 during runs is that it wasn't always 100% accurate. On almost every run, there were a few differences in the total distance covered, most often between 50-100m when using the GPS tracker. Speaking of which, the GPS detection takes around 30s to attach and pinpoint your location before you can start your run. It may not seem much, but it's quite frustrating, especially when you're attempting to set visual benchmarks during your regular route and routine. When using the standard tracking without GPS, results here varied between 50 and 100m per 1KM. This is quite a significant amount overall. It seems that Huawei was well aware of the pedometer readings, as it prompts you to adjust your distance covered if need be after each run when you're not using the GPS.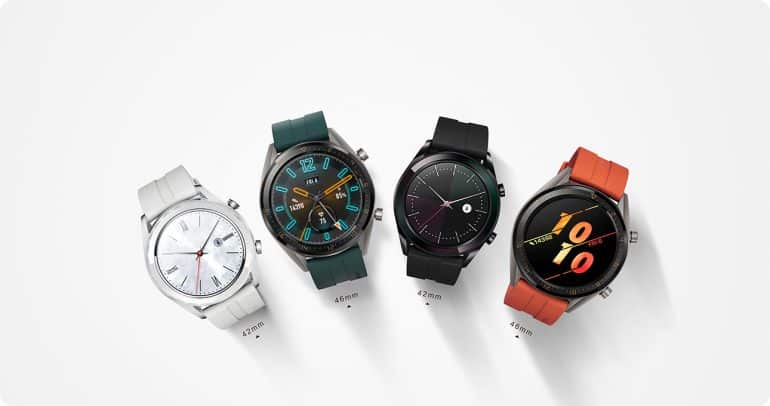 Conclusion
The Huawei Watch GT 2 is a really great fitness and health companion, covering quite a number of aspects of your fitness, sleep tracking, heart-rate monitoring, as well as stress feedback throughout the day. I found all of this very useful based on my current needs. That said, if you're looking for a more well-rounded smartwatch, this isn't it. The GT 2 doesn't offer a lot on the way of features that aren't mirrored from your smartphone, which means it isn't really to be considered as 'smart'.
At a price point of R4,999, the unit costs in the same range as the other smartwatches, although a bit on the lower end of the spectrum. As a smartwatch, it was already competing in the same space, and with pricing what it is, users will have to consider all the options when choosing between a wide variety of other smartwatches available on the market. Personally, I'd go with the Watch GT 2, simply because of the tracking capabilities, which is more useful in my life than sending an email from my watch. It's all about user priorities in the end.
The Review
Watch GT 2
The Huawei Watch GT 2 is a great fitness and health companion, offering a wide variety of tracking options and summaries thereof. From your fitness to your sleep and stress levels, the GT 2 has your covered. It's not your standard smartwatch, with some features stripped away in favour of a more streamlined experience.
PROS
Two-week battery life
VO2Max sensor
GPS-enabled tracking
All about the fitness
CONS
No 3rd-party apps
Missing smartwatch features
Review Breakdown
Ease of Learning

0%

Ease of Use

0%

Design

0%

Performance

0%

Enjoyment

0%

Value for Money

0%