Back in 2018, the leading mobile manufacturers were locked in a race to be the first to officially announce their foldable smartphones. While there were rumours aplenty, many brands fell by the wayside, and only two remained. Huawei and Samsung were the two standouts in early 2019 when the first announcements were made. Huawei entered the race with their Mate X foldable OLED smartphone, with the brand following that up a year later. However, it wasn't until 2022 that the brand released its first foldable smartphone in South Africa in the form of the Huawei P50 Pocket Premium Edition. 
Unlike the larger Mate X foldable device, the Huawei P50 Pocket Premium Edition resembles that of the Samsung Galaxy Z Flip range. With all foldable smartphones opening up a list of new features to the market, I was intrigued by what Huawei would have to offer. Being its first foldable device publicly launched in SA, there may be quite a lot riding on the success of the Pocket in terms of any future foldables. There are quite a few questions to have answered from just one device, so let's get to it. 
Build and Design
Undeniably, its stand out feature is its design. There are three colour variants for the P50 Pocket, but only one has made its way onto South African shores. The model in question is the gold edition, or Premium Edition, which has been designed in partnership with Dutch haute couture designer, Iris Van Herpen. It is noticeable not just for its gold colour but also for its leafy-looking pattern design, inspired by electromagnetic waves.
Being a foldable smartphone, a lot rides on its hinge. Upon first glance, it resembles a similar approach to that of the Samsung Galaxy Z Flip3. But, while the hinge may look similar in appearance, it seems to do a much better job of creating a more comprehensive fold. This means that while the Z Flip3 still sports a small gap between the two sides of the screen when folded, the same isn't present on the P50 Pocket. It's basically flush, which is quite incredible if you think about it in more detail.
When folded close, there are two large circles on the front right-hand side. The top circle is actually a small screen, which I'll discuss further in the next section. The second circle is that of the triple-lens camera. Its camera housing also protrudes a bit. However, it doesn't really matter, since you won't be placing the phone face down, as it were.
It's a beautifully crafted design all things considered. However, it is fairly prone to fingerprints. Additionally, it's also extremely slippery. It was surprising to me leaving the unit on the couch, mouse pad or even glass desk, only to find it had moved itself some 30cm to the other side as if it had a mind of its own.
Without a doubt, it's the best-looking foldable smartphone available on the market today.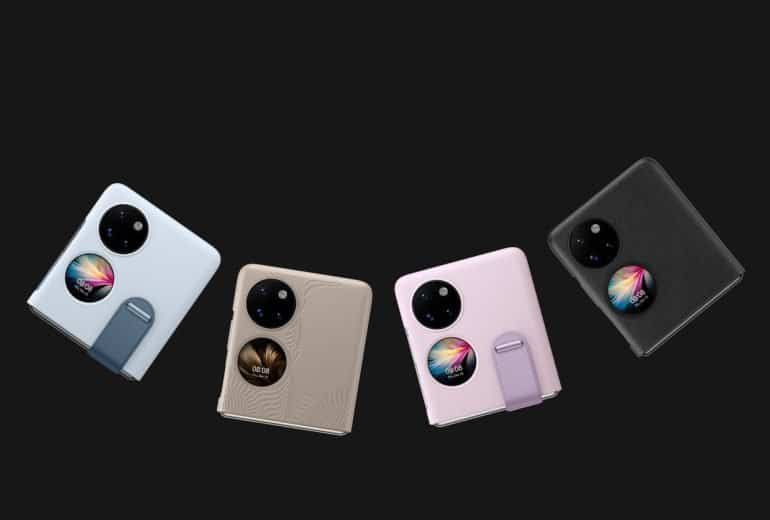 Screen and Display
When it comes to the main screen of the Huawei P50 Pocket Premium Edition, it is a foldable OLED panel, which also supports a 120Hz refresh rate. Additionally, it is also fairly sizable, measuring 6.9", which is great. Further to this, it also has an 85.1% screen-to-body ratio. 
In terms of the display, it features a 1,188×2,790px resolution display, with an aspect ratio of 21:9 and a pixel density of 442ppi. It may not appear like much when compared to the standard Huawei P50 Pro but when you compare it to the similarly-specced Z Flip3, the P50 Pocket ekes out an advantage across every stat here.
When I said that the screen is large, it really is. During the review period, I found myself favouring holding the phone on the 'bottom half' of the device. This gives my thumb access to the bottom of the screen but only about ¾ of the way to the top. It's definitely not meant for one-handed use and, unless you have giant hands, you're not reaching the top and bottom from one position of your grip.
Being a foldable device, the one big question is whether the crease would be visible when in use. The answer here is that it depends. For about 90% of the usage, you won't notice it at all. You may notice that the screen isn't flush when you first open and use it but this quickly dissolves once it's fully opened. You also won't notice the crease at all unless you're viewing a predominantly white image. It is also slightly noticeable in certain angles of light.
You will, however, be able to easily feel the crease when you're swiping your fingers over the fold of the Huawei P50 Pocket Premium Edition. It's clear then that the outer layer of the screen carries most of the folding, while the inner layer appears flush once it has been fully opened. Furthermore, given how flat the screen folds when tucked away, it's really impressive how great it appears once opened up, something other brands of foldable devices don't have as much. 
In addition to this, there is a second screen on the front of the phone – or the rear when unfolded. It is also an OLED panel, which measures 1.04" and has a 340x340px resolution display. It's easy to use and navigate to the various options that are available from its menu.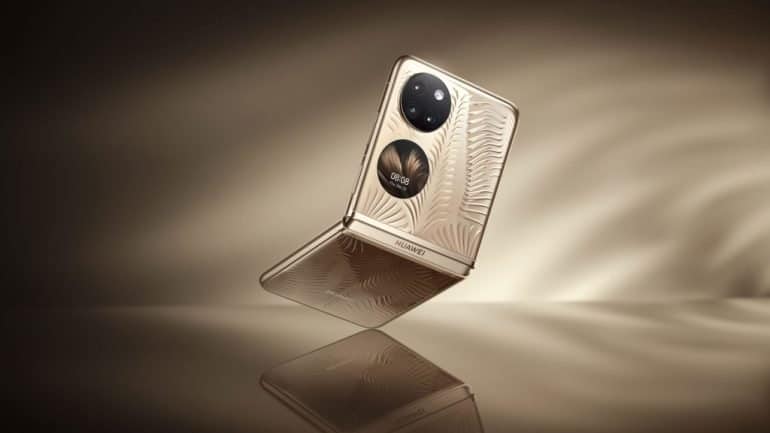 Huawei P50 Pocket Premium Edition Specifications
When it comes to the hardware on the Huawei P50 Pocket, it delivers above-average specifications. It uses a Qualcomm SM8350 Snapdragon 888 4G SoC. This is an older variant of the Snapdragon chipset, which doesn't support 5G connectivity.
This is a strange omission from the Chinese manufacturer, as there's a Qualcomm SM8350 variant which supports 5G. Not sure why the 4G version was chosen – if it's to save costs, it didn't really do much.
When it comes to the CPU, it has an Octa-core processor. This includes x1 2.84GHz Kryo 680, x3 2.42GHz Kryo 680 and x4 1.80GHz Kryo 680. Further to that, it has an Adreno 660 GPU pairing.
While there are several variants of the device configuration, the Huawei P50 Pocket Premium Edition comes with 12GB RAM and 512GB internal storage. Plenty of capacity on both fronts. 
As mentioned previously, it has a triple-lens camera configuration. This includes the following:
40MP, f/1.8, (wide), PDAF, Laser AF
13MP, f/2.2, 120˚ (ultrawide), AF
32MP, f/1.8, (wide), 1/3.14″, 0.7µm, AF
It supports 4K video recording at 60FPS and 1080p at up to 240FPS.
The inner camera, also known as the selfie camera, has a 10.7MP, f/2.2 ultrawide lens. It supports HDR and panorama shots, as well as 4K and 1080p video recording.
Rounding off the hardware stats is the non-removable, Li-Po 4,000mAh battery. It supports 40W fast-charging, as well as reverse charging of 5W, which is quite handy.
Lastly, it features the EMUI 12 firmware, build on the Android 11 OS firmware. However, it doesn't support Google Play Services, continuing its AppGallery store page. Unfortunately, there's no indication if there will be an upgrade to Android 12, with the current version already being quite hard to obtain in itself.
Performance and Battery Life
I spent quite a lot of time standardising the EMUI 12 experience into that of the more conventional Android one. I installed a few side-loaded apps, including a few from Google Play Services. However, while the apps themselves worked normally, they wouldn't sync across the various devices. So, while you're getting the user experience, you aren't getting that of the ecosystem.
When it comes to the everyday performance of the Huawei P50 Pocket Premium Edition, it gets by fairly easily with day-to-day tasks, using apps and multitasking. It gets the job done, despite it being down on power and benchmark tests compared to other leading smartphones on the market in 2022. But you won't be left wanting additional power for conventional use. 
With its 4,000mAh battery, you can expect a solid one-day charge for mid-level use. However, for power users, you may not quite eke out a complete day. It does tend to run a bit on the warm side under continuous load, which affects battery life. The software does offer AI battery optimisation, although this won't matter much when under heavy use for an extended period of time.
With its 40W fast-charging support, it is capable of getting up and running again in just a few minutes. So, you'll never be left out of commission for too long. However, it doesn't offer wireless charging, if that is a personal preference.
Camera Capabilities
As a flagship smartphone, the camera of the Huawei P50 Pocket Premium Edition isn't comparable to other leading units. However, for a foldable smartphone, it delivers one of the best camera packages on the market. Its triple-lens camera configuration delivers solid performances as well, even with a few elements having been removed either to save space or costs. 
The 40MP primary camera takes very good photos, even in low-light conditions. Again, it's not going to compare to the leading flagships, but it's still very good irrespective. The colour representation on the produced images provides a good palette, along with contrast. It looks good, especially when compared to other foldables. This, again, is reflective in night-time photography.
Where there is a bit of a let-down is that it doesn't include a fourth, zoom lens. This means that the device only offers digital zoom of up to 10x, with no optical zoom at all. The zoomed images aren't all that bad either, although anything beyond 3x zoom or higher becomes noticeably more pixelated.
Switching to the inner, selfie-camera, the results aren't really replicated. The 13MP ultra-wide camera delivers average results but still gets the job done as required. Its wide lens does, however, make it easier to capture group selfies. 
Is the Huawei P50 Pocket Premium Edition Worth It?
The Huawei P50 Pocket Premium Edition is a solid device with good performance, which will be more than sufficient for the majority of users. The large, 6.9" display is brilliant, even with the loss of a few pixels on the resolution. It's really good for streaming videos and playing games.
Where the true test comes is in the cost of the P50 Pocket. At R28,999 it really does make quite a dent in your pocket – no pun intended. At R9,000 more expensive than the P50 Pro and more than R10,000 over the Galaxy Z Flip3 it's quite a hard sell. It looks the part and delivers quite decent performances overall. However, its high price may make it a tough sell for many.
The Review
Huawei P50 Pocket Premium Edition
The Huawei P50 Pocket Premium Edition is a really good flip-folding smartphone. It's the best of its category on the market today. However, with its high cost, it may have priced itself out of the market but may manage to sway some high-end users with its sleek appearance.
PROS
Outperforms other flip folding smartphones
Large 6.9" screen
Brilliant design
Good primary camera
CONS
Older 4G SoC
Google Play Services apps don't sync
Battery life is not the greatest
Review Breakdown
Ease of Learning

0%

Ease of Use

0%

Design

0%

Performance

0%

Enjoyment

0%

Value for Money

0%