A few weeks prior to the launch of the Huawei P50 series, the brand announced its latest tablet range to the market. In fact, the first hands-on for the new tablets was at the P50 launch event. The brand introduced two new tablets to the fold, the Huawei MatePad T 10s and the MatePad 10.8. The first variant of the MatePad range was announced in 2020. Now in its third generation, we received the Huawei MatePad T 10s for review.
It's been quite a while since my last tablet review – five years ago, in fact. While there have been plenty of tablets released during this time, there seems to be less of a drive, in terms of marketing, over flagship smartphones and the likes. When comparing market share over the past few years, mobile/smartphone share has increased from 53% to 58% from Q1 2020 to Q1 2022. Desktop has seen a decrease from 45% to just under 40% during that same period. However, tablet sales have capped out at 2.5% throughout these years.
Sales are still in the many millions per quarter, meaning that there is always room for new generation tablets to the market. That being said, there hasn't been all that many advancements during the past five years that would grab the headlines. That's quite the amount of pressure on the shoulders of the Huawei MatePad T 10s. Does it deliver on its promise of bringing an immersive multimedia experience to the user?
Build and Design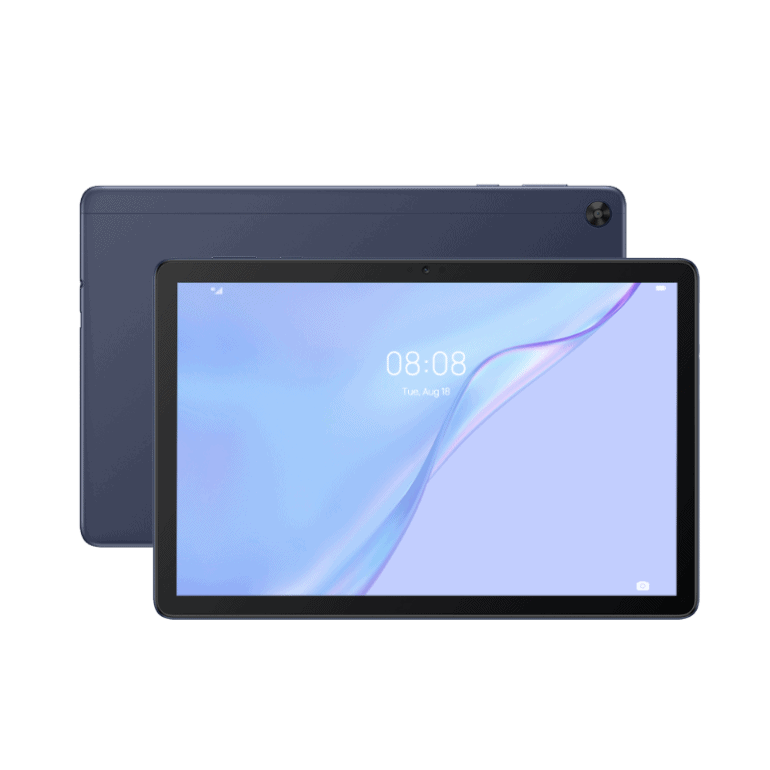 It's clear from the offset with the design of the Huawei MatePad T 10s that it's aimed at the younger generation. It has a wider bezel around the edges, making it easier to grip, whichever manner you grip it. It's also very lightweight in comparison to many others, weighing just 450g. It's also just 7.85mm thin, which is impressive.
Being considered an entry-level tablet, it still offers good build quality. There's very little squeaking or flex when under a bit of load, so it should be able to withstand the odd knock here and there. This is mostly thanks to its aluminium frame, which allows for a lot more flex than a predominantly plastic build.
The unit is only available in the Deepsea Blue colour. This is a type of dark navy with a matte finish. It works well in terms of hiding all those pesky fingerprints that like to scream for attention on glass or other metallic surfaces. This would be especially true when kids are involved, so it's a nice to have less smudging on the rear.
The T 10s has a USB C 2.0 port, as well as a 3.5mm headphone jack and a microSD card slot. All of these are quite useful actually.
Overall, there's not a lot of impressive details on the MatePad T 10s. It does a good job of the design in terms of getting the basics right and preventing issues that could occur as a result of a poor design. Given that there hasn't been much in the way of tablet design shake-ups over the years, that's more than reasonable from Huawei here.
Screen and Display
The conventional screen size for tablets have features in the 10.1" category. And that's no different here with the Huawei MatePad T 10s. The screen is an IPS panel. The display has a Full HD resolution, which measures 1,920×1,200px – just slightly larger than 1080p.
Additionally, it has a 77.4% screen-to-body ratio and 224ppi pixel density. These aren't bad figures but more along the lines of slightly above average.
In terms of actual viewing, it does a solid job overall. The colour reproduction is good, although the lighting is a bit on the dark end with low nits on peak brightness. That said, the viewing angles are quite wide, so it allows for viewing of more than a single user at a time. This is great for kids gathered around to watch a video or two or 100.
The screen is laminated and offers some assistance for scratch resistance. However, there's no real detail on what this is or how powerful that protection is.
Huawei has added some level of AI into the resolution while viewing. This means that if you're performing an activity that doesn't quite require the full set of pixels, the resolution is adjusted in order to save a bit of battery life. When it is required, it bumps this back up to full. Although it doesn't natively support 4K viewing, watching YouTube videos on the 4K resolution still provides better viewing than 1080p when it downscales accordingly. You can turn off the Smart Resolution mode if you're not keen on these auto-adjustments.
Unfortunately, the unit doesn't support DRM standard natively, so the playback viewing on apps such as Netflix and the likes won't have full HD support. That said, it doesn't look half bad. And if you're a kid, those extra pixels won't matter too much in the end.
Specifications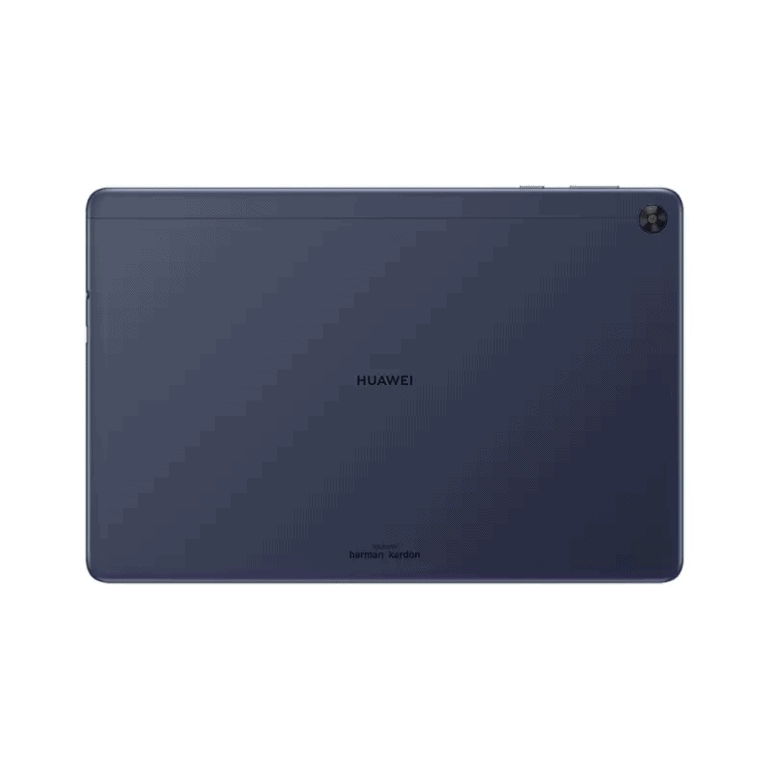 The Huawei MatePad T 10s is powered by the Kirin 710A chipset. It features an Octa-core processor, which includes x4 2.0GHz Cortex-A73 and x4 1.7GHz Cortex-A53 CPUs. This is coupled with a Mali-G51 MP4 GPU.
There are about five different models when it comes to storage and RAM combinations. However, there are two that landed on South African shores. This is the 32GB internal storage and 2BG RAM or 64GB and 4GB RAM options. These options also determine which of the free gifts you'll receive with your purchase.
There are two cameras fitted to the unit – one on the rear and one on the front. The rear camera is a 5MP lens with f/2.2 and PDAF with the selfie camera sporting a 2MP unit with f/2.4 aperture. Lastly the battery included is a Li-Po 5,100mAh non-removable unit.
Huawei MatePad T 10 Performance and Battery Life
The Kirin SoC was never going to blow users away with its performance power. When performing and comparing benchmark tests, you'll note that the scores are in the bottom 50% when it comes to performance. Under normal day-to-day usage, it performs well enough overall. However, there's not a lot to write home about for power users.
For starters, running multiple tabs on the browser and switching between them creates some choppy effects. Closing and opening apps also adds a bit of lag, while multitasking also underdelivers. That said, once you've opened and now using your respective apps, you won't have too much to complain about thereafter.
Watching videos and streaming content performs much better. And this is what the Huawei MatePad T 10s is geared towards. Consuming content as opposed to delivering on computational tasks provides a clear distinction in usage patterns.
As a result of the above-mentioned, the cameras fitted to the unit are there simply to perform the job at hand. In terms of both the front-facing and rear-facing cameras, the level of detail isn't great. Colour reproduction is slightly better on the 5MP rear camera, which is to be expected. That said, colour uniformity on each photo is reasonable and doesn't look unbalanced, even if a bit on the lower quality end of the scale. Low-light imagery is too grainy to make much use of, so you can try to avoid that where possible.
Battery results provide good usage on the device. Although you won't be able to run the device for more than 24 hours of continuous use, it is able to easily last the day under normal workloads. That said, if you're going to be playing games, watching videos and more, the average runtime is about nine to ten hours, which isn't bad either. Idle times are probably one of the best amongst other tablets, thanks to Huawei AI support on battery modes.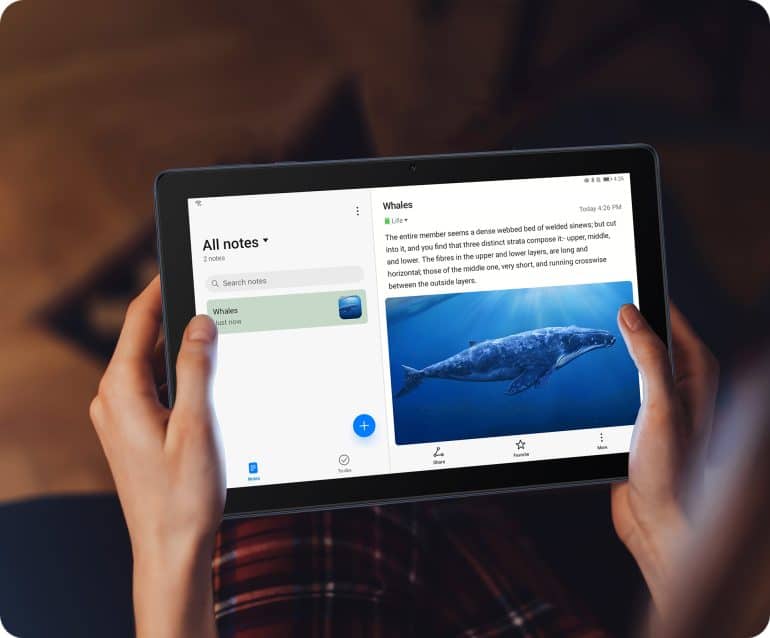 Conclusion
Overall, there's a clear direction that Huawei has opted for here with the MatePad T 10s. It offers a refined experience for a younger audience, opting to remove certain aspects to keep pricing down, while still being able to deliver great entertainment for hours to kids. With its support for a Kid's Mode as well, there are quite a few useful features and performances for this tablet.
Pricing for the unit is great. The base model (32GB + 2GB) is priced at R3,799, while the other variant (64GB + 4GB) is available for R4,449. There's no different in the rest of the hardware on these two options, which makes the R3,799 price point a great bargain for many parents. The tablet will provide more than sufficient screen, performance and functionality for any youngsters throughout the day.
The Review
Huawei MatePad T 10s
The Huawei MatePad T 10s is a very solid unit with a good set of features. It offers great viewing and decent battery life as well. It's clearly been designed and optimised for usage with the younger crowd and it stands out as a result of that. With a low-cost option to the market, it is definitely a worthwhile buy.
PROS
Solid design catered for kids
Decent battery life
Good quality sound
Cool operating temperatures
Very affordable
CONS
Lacks outright performance
Non-existent camera quality
Review Breakdown
Ease of Learning

0%

Ease of Use

0%

Design

0%

Performance

0%

Enjoyment

0%

Value for Money

0%