A few years ago, Huawei launched its range of laptops known as MateBook. The brand has always been consumer-focused, catering to the needs of the customer. As such, it has prioritised product innovation, cloud services and end-user services to perfectly benefit consumers. Backed by strong R&D, Huawei continues to elevate its mobile technologies, one of which being their MateBook series. With the introduction of the Huawei MateBook D 15 and MateBook 14, the brand brings flexibility to its users, taking smart life to the next level.
Huawei MateBook D 15 i3
Although it may be labelled as an entry-level laptop, the Huawei MateBook D 15 i3 is a productivity powerhouse. It features a 15.6″ ultra-slim design with a FullView display. Additionally, it also features the Huawei Share support for that ease of use.
Under the hood, the laptop includes an impressive hardware lineup. This includes the AMD Ryzen 5 3500U CPU and Radeon Vega 8 GPU. The AMD framework has been optimised to provide top performance across various tasks, while still maintaining that efficiency for mobile usage.
For that additional power boost, the MateBook D 15 i3 has 8GB DDR4 RAM, which is upgradable to 16GB. Additionally, it includes a PCIe SSD for better read speeds. Options are available in 256GB and 512GB variants, with an addition of an HDD for that extra storage capacity.
In terms of portability, the unit measures less than 17mm thin. Specifically, it measures 357.8×229.9×16.9mm. It also weighs just 1.62KG.
Its FullView display has an 87% screen-to-body ratio for its 15.6″ frame. The IPS panel has a 1920x1080px resolution, 800:1 contrast ratio and brightness of 250 nits. It also has an impressive 178° viewing angle.
Huawei includes a host of intelligent features on its MateBook series. The Huawei Share ecosystem allows users to easily transfer files from their Huawei smartphones to their MateBook laptops. To connect, users simply need to enable NFC, and with a tap on the MateBook, are able to seamlessly work between the two environments.
For more information on the Huawei MateBook D 15 i3, you can visit the Huawei website.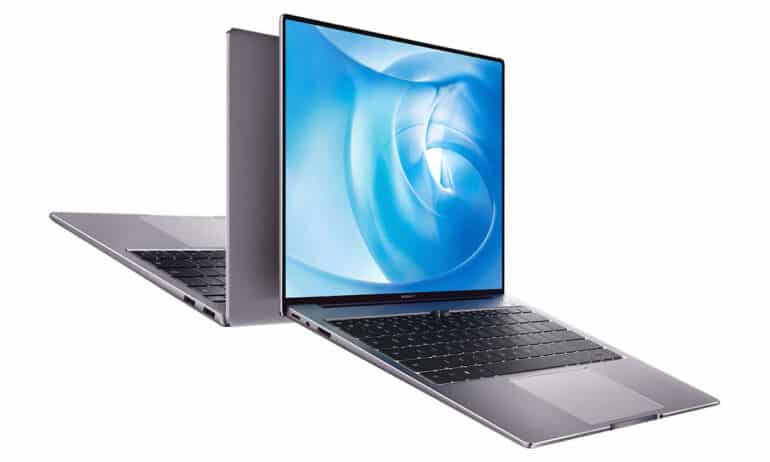 Huawei MateBook 14
The MateBook 14 brings smartphone tech to your laptop by including some of the best elements. The unit has been upgraded over its previous iteration with the latest technologies. This includes the 11th-generation Intel Core CPU, NVIDIA GeForce MX350 GPU, along with 16GB RAM. With support for a 2K Huawei FullView display with multitouch capabilities, the MateBook 14 provides a next-generation experience.
The ultra-thin FullView display measures 14″, as suggested by its name. It has a screen-to-body ratio of 90% with bezels at just 4.9mm wide. The IPS panel has a 2160x1440px resolution at 185ppi.
The range is powered by Intel's Core CPUs, and is available up to Core i7. Combined with its 16GB DDR4 RAM and 512GB NVMe PCIe SSD it provides industry-leading performances. Additionally, the unit also sports Huawei Share and other connection options for that seamless integration to your smartphone.
One of the key highlights of the unit is its Huawei SuperCharge support. This is the same technology that is used to quick-charge your smartphone.
For more information on the Huawei MateBook 14, you can visit the Huawei website.
The Huawei MateBook D 15 i3 is available for R10,999 with the MateBook 14 for R24,999.
The Huawei MateBook range is available both online and in-store across the country.