Last week, Huawei announced their new smartphone to the world. Today, 23 October 2018, Huawei Mobile South Africa launched the Huawei Mate 20 Pro series on our shores. The new smartphone features extreme performance, as well as an ultra-wide angle triple camera, competing for the top honours for best smartphone of 2018.
At a glittering event at the Kyalami Conference Centre, Huawei hosted numerous media, VIPs and guests from the industry to showcase their latest offerings, promising a new bar for innovation and intelligence in mobile devices.
The Mate 20 Pro features Huawei's new Kirin 980 SoC, striking the perfect balance between high performance alongside state-of-the-art power efficiency. The effects are also felt while running high-intensity games. THe 980 Kirin features an Octa-core processor, 2×2.6GHz Cortex-A76 and 2×1.92GHz Cortex-A76 and 4×1.8GHz Cortex-A55, each of which will function at different levels of usage where performances are required. The unit also includes a Mali-G76 MP10 GPU.
Having won the camera battle earlier this year with the triple-lens Huawei P20 Pro, Huawei has pulled out the stops yet again with a 40MP main camera, 20MP ultra wide-angle camera, and an 8MP telephoto camera. The most talked about feature of the new camera is the 16mm Leica Ultra Wide Angle lens, which creates spacious, three-dimensional effects in photos.
The unit is powered by a 4,200mAh, high-density battery. Partnered with the highly efficient hardware and software, the battery fitted to the Mate 20 Pro is easily capable of powering units throughout the day, whether you're at work or playing games. In addition to this, Huawei has included a 40W SuperCharge features, allowing the smartphone to be charged up to 70% in 30 minutes. The unit also features a number of wireless charging features to be the envy of all.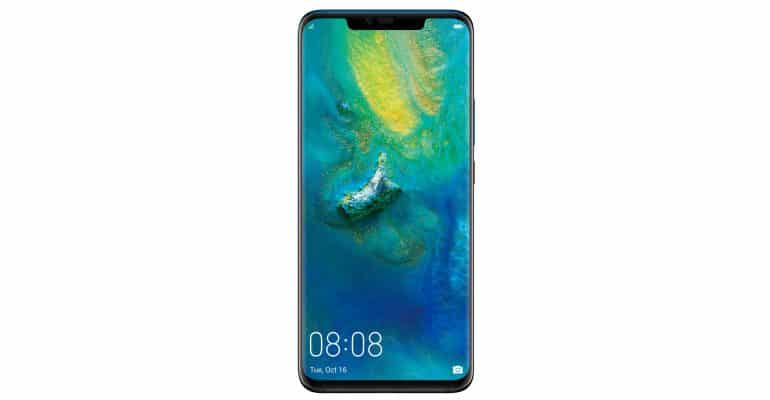 As has been the drive in recent iterations across all the smartphones, Huawei has focused heavily on AI and assistant features, many of which run behind the scenes. One such function is the HiTouch function, which recognises objects in photos, allowing users to purchase said items online. The HiVision function allows users to point the camera at certain landmarks around the world, and immediately receive information about the buildings, art and the likes. The 3D Face Unlock feature recognises your face within 500ms and unlocks seamlessly, and with an error rate below one in a million. The Mate 20 Pro also includes an on-screen fingerprint sensor.
Huawei Mate 20 Pro will be available for pre-order from 24-31 October 2018 at R18,999, for which the first 500 persons to place an order will receive a Huawei Watch GT Classic valued at R5,499. The unit will available on contract at the various operators on the following contracts:
Vodacom: R799 PM x 24
MTN: R799 PM x 24
Telkom: R699 PM x 24
Cell C: R1,399 PM x 24