Starting a video production company is without a doubt the career pinnacle of any filmmaker. So there is no wonder why so many filmmakers all over the world dream about launching their own companies at some point in their careers.
Why is it such a big thing? Of course, having your own company doesn't directly affect your creative mind. It is possible to implement your projects even without building a company. However, there are also quite a few reasons why owning a video production agency can give a significant boost to your career.
Namely, there are several goals filmmakers pursue when launching their agencies:
to promote their creative work;
to accumulate the vital resources (e.g. cameras, lighting, sound gear, etc.);
to stop depending on third parties, etc.
All in all, having your own production company gives you much more freedom in implementing your creative impulse. So, the benefits are clear.
The only question that remains unanswered is how a filmmaker can start their own company? Of course, things get much simpler if you are already a big-name talent with a solid startup capital or the right connections. But, what to do if you are thinking of creating a company from scratch without having all of that?
Getting started with no or little capital, no name, and no connections can be a real challenge. But, it's possible, and this article will be your guide to success!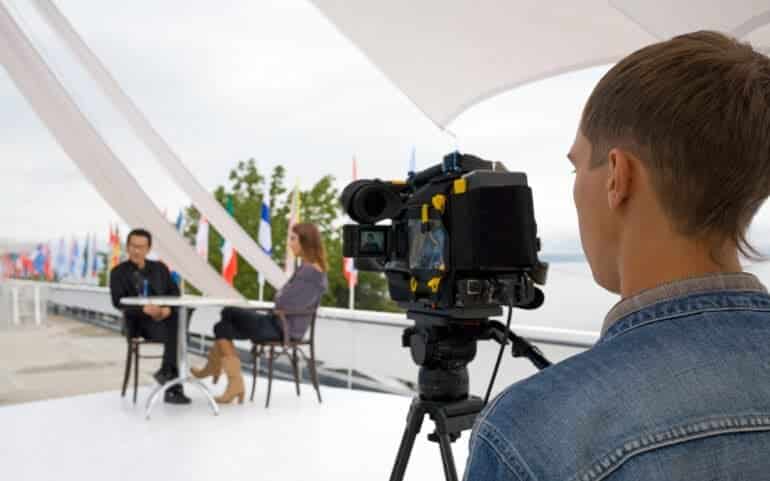 What Is a Video Production Company?
Later, this guide is going to tell you how to jump-start your business step-by-step. But, before we get there, let's answer the big question – what is a production company itself?
To begin with, let's look at the general definition. The term itself is rather broad. In a nutshell, the term refers to a team of creative professionals engaged in creating some sorts of video. So, in fact, anything from a small group of students creating their first movie to large and well-known corporations like Warner Brothers can be called a video production company.
Another thing you need to know about a production company is that it spans all stages of the production process. Thus, the professional team is what always lies at the heart of it. A video or movie can never be done by just one person. There is always a large number of specialists including directors, scriptwriters, directors of photography, and others.
From the filmmaker's perspective, launching such an agency is also a form of guarantee of winning over clients. We all know that media creation is complicated and also can be rather risky. A good team that coped with the client's needs well is very likely to get hired over and over again.
So, here you have it. If you launch your own agency that offers Video Production Services like Develux and cope with your task well, you will have all the resources, funding, and a flow of customers, too.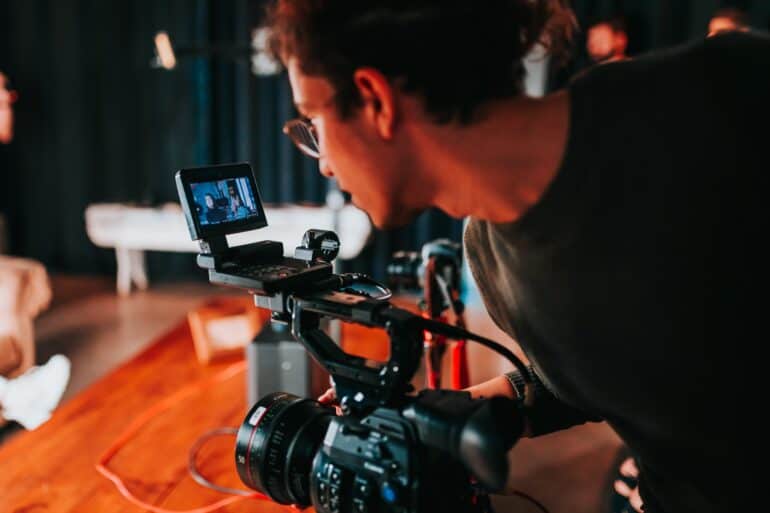 Starting a Video Production Company Step-By-Step
Now that you know what a production company is and why you should care about starting one, we can get straight to the most exciting and yet challenging part.
So, how do you get on the right track? Here is a step-by-step guide that will help you get through each stage of the process.
Define the Form of Business
One of the first questions you will inevitably face when planning a business is "What form should it take in the first place?"
S-Corp or LLC are the two options you will be considering if you are based in the US. As for other countries, there might be completely different or alternative options. But, one thing is true regardless of where you are located – you DO want to incorporate your company.
So, how do you choose a suitable form? Unfortunately, there is no one-fits-all formula. Every case is unique, so you will have to rely on your own situation, needs, and goals. But, we can give you a few handy tips:
Always research the local legislation to understand the rules and define which form of business makes the most sense.
Hire an accountant early on to get an additional opinion on the right business form.
As soon as you incorporate, take time to open a separate business bank account.
Following these tips, you should be able to make a wise and well-informed decision that won't lead you to any problems later.
Name Your Business
In fact, this stage should be a part of the previous one because you do need a specific name for your business to incorporate. However, it deserves a separate point in our guide.
Finding the name for your agency can be quite complicated. The biggest issue you will face is that most good names are already taken. But, if you keep looking, you will definitely find a suitable option.
The main tip to keep in mind during this stage is that your company will need a website. That is, you should be looking for a name with the available web URL. And one more tip is to look for a name that will be versatile and relevant in the long run. For example, don't get tied up to the names that include a city, state, or country if you plan on expanding in the future.
Show Examples
Once you have a name, bank account, and even a website, there is one more thing to take care of. Your website has to show some examples of your work. Attracting customers is barely possible without a portfolio. So, this is something you need to take care of as early as possible.
It's great if you are launching a company with a group of same-minded creatives, each of whom has one or two solid examples of their work. In this case, you can put your samples together and form a fairly good portfolio.
If not, you will need to create spec work. That is, you need to go out and shoot some awesome material that will help the potential customers see what you are capable of.
The best tip would be not to cut down on the time, effort, and funds you put into your spec work. It has to look professional and good enough for customers to want to hire you. Also, be sure to prepare plenty of material. A single promo video won't be enough, even if it looks great.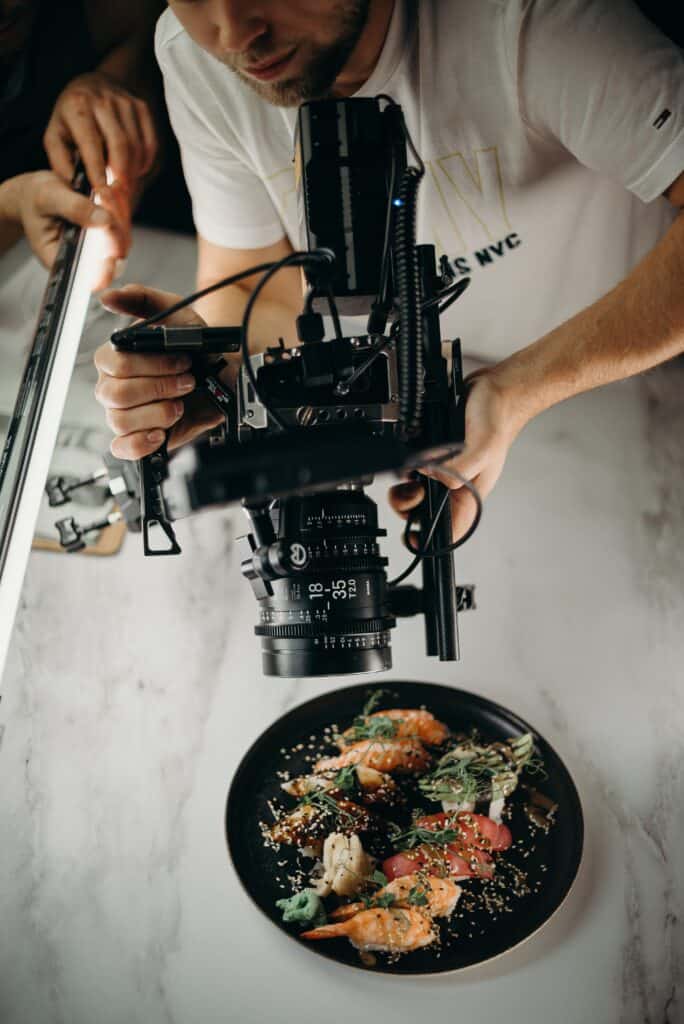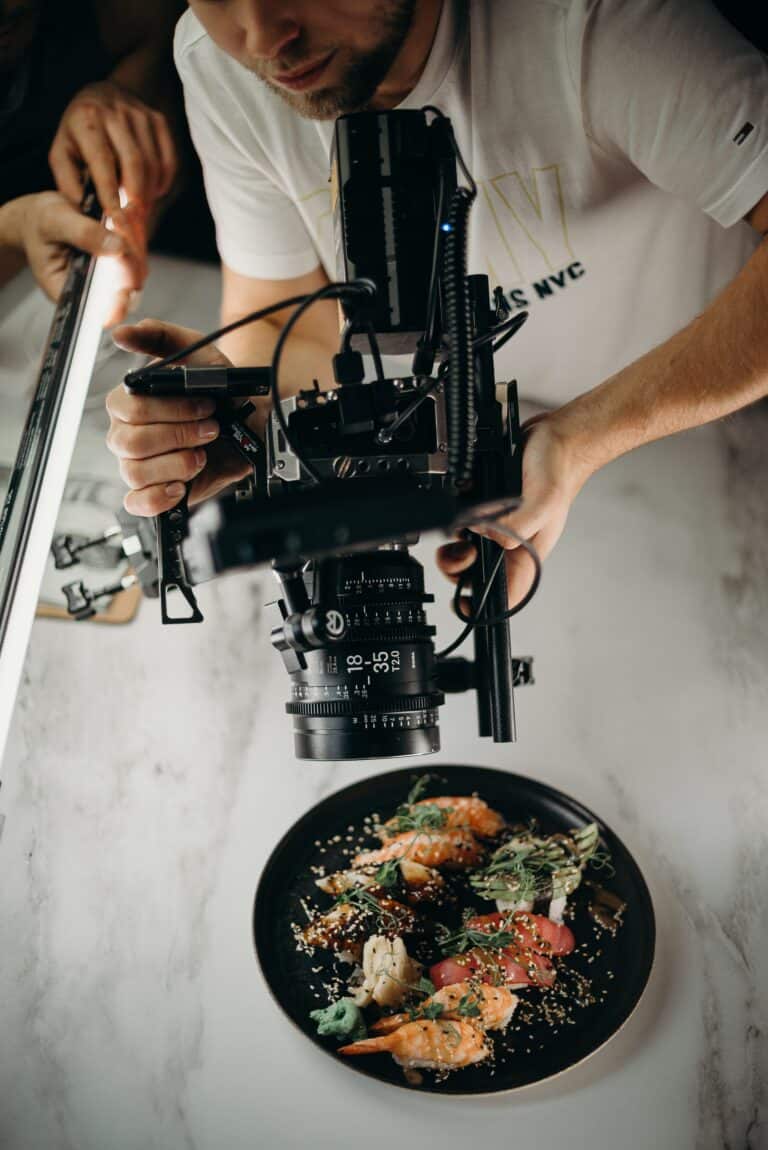 Define Your Niche
Identifying a specific niche (or a few) is one of the best things you can do for your business's success. It is neither new nor rare to see established specialists who made their names on a specific form of filmmaking to try themselves in new niches. In fact, this is something you will probably do yourself. But, first, you need to start somewhere.
Focusing on one or a few well-defined niches is a good way to start. This will allow you to get more customers, build trust, and find your place in the market. So, do your research and find a niche that matches your abilities, interests, and that can actually provide you with work.
Don't Choose Between Ambition and Cash Flow
One common issue all creatives face is the conflict between their ambition and cash flow. Let's say you are dreaming about filming commercials for the fashion industry. In this case, it would be natural for you to want to focus on working on the related projects. But, having a young company, you may not get too many of them, which is also natural.
So, here comes the dilemma: should you suffer from the lack of orders and money, or should you accept other orders too to build a solid cash flow?
It's recommendable not to choose between cash flow and ambition. The best solution would be to keep working towards your goal by participating in projects within your niche, but, at the same time, taking other orders to keep your company afloat.
Invest in Gear
Finally, to become a full-scale production company, you will need to stock up on gear.
Basically, there are two options you have here. If you have solid startup capital, you may want to purchase some gear yourself. However, as a young company with a lack of funding, it can make more sense to lease gear instead of buying it.
Eventually, the decision on whether to buy or lease gear gets down to your unique situation and needs. All we can recommend is to weigh all the pros and cons and make a decision that will bring your business the most benefits.
Pro Tip: At this point, don't forget to budget for gear maintenance. This is one item of expenditure that young specialists tend to overlook, which often makes their businesses overspend and work at a loss.
The Bottom Line
Starting a production agency is never easy. But, if you approach it with decent responsibility and care, you will overcome all the challenges that come along your way and succeed!
Hopefully, this guide will come in handy for implementing your ideas and reaching your ultimate goals. If you follow the steps and tips shared in this guide, you should be able to start a company, find customers, and take your place in the filmmaking industry. Good luck!