The sequel to the tense home invasion thriller Don't Breathe is here – and with it comes one of the most surprising one-eighties we've ever seen in a movie character. From a monster to a bona fide Rambo, in Don't Breathe 2 Norman Nordstrom has joined the pantheon of Hollywood butt-kickers in a spectacular fashion.
That said, the concept of a blind warrior relying on his senses to fight against his attackers is not something new to fiction. In fact, Nordstrom's combat prowess and seemingly unparalleled skills could be linked to a legendary clan of warriors: the mighty samurai.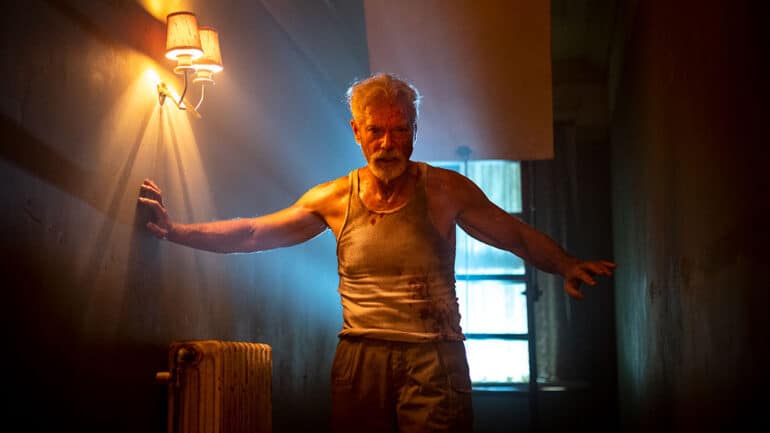 Bushido: A Way of Life
Nordstrom's transformation between Don't Breathe 2 and its prequel is a sight to behold. In the first film, the blind man used to be the villain. While it could be argued that he was protecting his home from a group of thieves, that doesn't mean that his kidnapping and forcefully inseminating women is justified in any way, shape, or form.
Surprisingly, Don't Breathe 2 stands as its own thing. The events of the previous film are hardly mentioned at all, and it seems like Nordstrom has become a better man now that he has an adopted daughter.
All this ex-Navy SEAL wants is a quiet life, and that's the ultimate goal of the samurai way of life: bushido. Fierce on the battlefield, yet calm in daily life, samurai warriors strived for peace and order in their societies. They knew that the way to achieve this was through the use of their swords, but they were unsheathed only as a last resort.
While not extremely similar, the character of Norman Nordstrom reminds us of Zatoichi, the blind samurai. Extremely popular in Japan, the legends of the blind swordsman have inspired a great number of films, including classics like The Tale of Zatoichi and Zatoichi the Fugitive.
The fact that Nordstrom finds redemption through love is also a common trope in samurai tales. Noble yet fierce people, the samurai believed that love could bloom, even on the battlefield.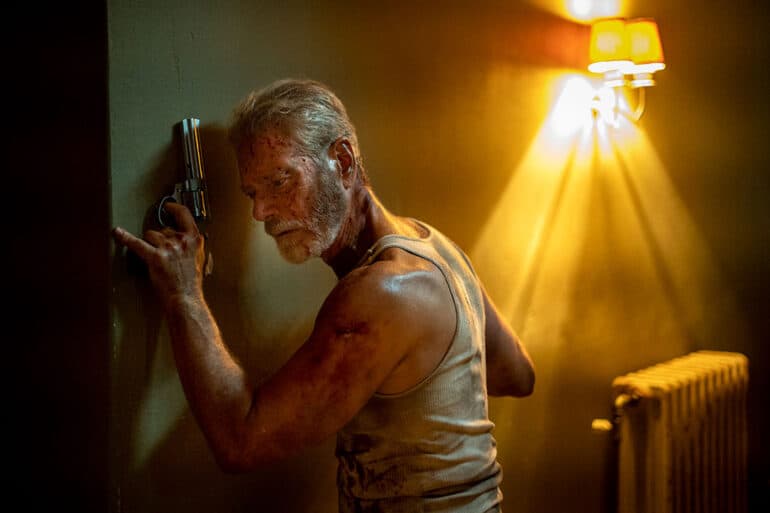 Don't Think, Feel
The fact that Nordstrom is a blind man has no negative effects on his combat prowess. Throughout the film, Nordstrom tries to fight his opponents fair and square, dragging them to his world of shadows.
Being blind only means that Nordstrom has to rely on his other senses, a fact that some popular martial artists have mentioned throughout the years, One extremely popular quote on the subject comes from Bruce Lee. Lee's iconic phrase "Don't think, feel!" embodies the philosophy behind Don't Breathe 2 fighting scenes.
As he's unable to see his opponents, Nordstrom has to listen closely to their footsteps. If that fails, the blind man could always feel the flow of combat to get an idea of where their foes are located at all times. Every fight scene in this movie feels like it belongs in a classic kung fu film, complete with the unnerving moments of tension before the punches begin.
Don't Breathe 2 feels like a movie that time forgot. This is a movie that acts more like a classic 80s flick than most actual 80s movies – complete with a montage of the main character suiting up and getting ready to go on a killing spree.
It's pure, undiluted fun from start to finish, even if it can get particularly dark during certain scenes. Fans of the first movie might be shocked by Norman's change of character, but martial arts films lovers and those who enjoy the classic tale of crestfallen samurai might find a hidden gem in Don't Breathe 2.

Don't Breathe 2 arrives in South African cinemas on October 1st 2021.