2017's Horizon Zero Dawn ushered in a new era for Sony PlayStations's first-party gaming studio, Guerrilla Games. Moving on from the Killzone franchise, the developer found success with their new IP, a sci-fi action role-playing game that plots a young hunter against a world overrun by animal-like machines. Surpassing Hello Games' No Man's Sky as the biggest launch of a new IP on the PS4, the title has sold over 20 million copies to date. Naturally, Sony was quick to order a sequel. Introducing Horizon Forbidden West (released for the PlayStation 4 and PlayStation 5 on 18 February 2022), an exemplary sequel that takes the franchise to even higher heights with improved gameplay, graphics and an even more engaging story.
Starting off where things ended in Zero Dawn, Horizon Forbidden West (released 5 years after the original game) sees Aloy (the young hunter of the Nora tribe) trying to understand the events of the previous game (the game gives us a quick recap) while also having to contend with new animalistic machines that have begun to appear. Her new adventure sees her journey to the Forbidden West in order to find the source of a mysterious plague (a red-coloured moss) that is poisoning and killing everything that encounters it. Joined by a band of companions, her quest sees her travelling through different terrains — including lush valleys, dry deserts, snowy mountains, tropical beaches, and ruined cities.
Much like the first game, Horizon Forbidden West's greatest strength lies with the developer's ability to draw you into the world and the game's mythology. This is done by delivering amazingly detailed graphics (60 frames per second at 1080p or 4K at 30 frames per second), breathtaking cinematics, a beautifully designed fantasy world to explore and, of course, engaging characters to fall in love with. While the sequel pretty much follows the same formula as it did in the first game, and isn't substantially different from its predecessor, Horizon Forbidden West does offer QOL improvements and adds more polish to its biggest strengths.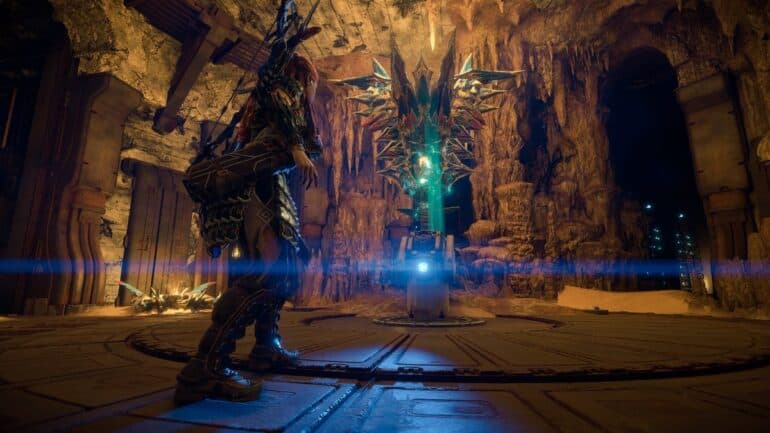 When it comes to sequels, fans are always demanding "bigger and better". Well, Horizon Forbidden West is and isn't. It certainly has bigger and better environments, mechanics, and visuals, but it's mostly similar to the first game. Don't get me wrong, this isn't a bad thing. Fans who demanded more of Zero Dawn are getting their money's worth here but just expect a revolutionary new experience. If you didn't enjoy the original, you're not suddenly going to be wow-ed by the second game.
Tackling deeper themes of greed and environmental disaster, Horizon Forbidden West's story (which delivers a few twists and turns) certainly offers a lot of food for thought – especially when the game comments on similar events happening in the real world today. Of course this only makes the narrative more interesting. Finding artefacts or remnants of our society in the game makes it feel more personal. While remaining a fun and engaging experience, it's also a sharp warning of what could become of our world.
Now a legendary warrior, Aloy (voiced by Ashly Burch), the game's heroine, although filled with self-doubt, carries an empowering message. As our moral compass in this dark world of despair, she is a beacon of hope to us and the characters in the game. Even in the face of adversity, the Saviour of Meridian never gives up and is bound to do the correct thing. Without spoiling the story, it's safe to say that PlayStation fans will be pleased with the story in Horizon Forbidden West. We get to meet interesting characters, new tribes and learn about fascinating cultures. It's an adventure in every sense of the word.
The same goes for the gameplay. Along with new tweaks and improvements, the PlayStation's haptic feedback makes the in-game mechanics feel more alive and more fluid. Pulling back on a bowstring or making your way through something physical helps immerse players into the virtual world. When you combine that with crafting, climbing, and combat improvements, Horizon Forbidden West still feels fresh and fun.
Again, all of the enemies from the first instalment make their return but there are a few exciting new additions. The Tideripper is like a mechanical plesiosaur dinosaur mixed with a whale. The Clawstrider, a rideable machine, resembles a dromaeosaur. The Sunwing, a flying machine that absorbs solar energy and is often found in groups, resembles a pterosaur. And the Plowhorn looks like a robotic triceratops. These are just a few of the many cool creatures you'll encounter as you journey.
Everything about the game – the mountainous landscapes, the sounds, the weapons, the music score, the creature designs and the vast open-world map – draws you in to explore the world again and again. It's jaw-droppingly beautiful, epic and entertaining. Horizon Forbidden West is a must if you own a PlayStation 5.
The Review
Horizon Forbidden West
Horizon Forbidden West doesn't look to reinvent the wheel but instead improve on everything that made the original game a success. Composing a sequel to a mega-hit is no easy feat. Guerrilla Games should be commended for creating one of the best games on the PS5.
PROS
Great character-led story
Beautiful visuals
A world worth exploring
Review Breakdown
Gameplay

0%

Graphics

0%

Sound and Music

0%

Storyline

0%

Replay Value

0%