Home Again is a film that tries to teach you about how to deal with certain issues in your life but makes those issues too highly contrived for us to be able to relate them to our own lives. Or it just has far too many scenes of a wealthy upper-class white woman worrying about which handsome young suitor she should choose to spend her time with aimlessly. A movie that was forgotten almost as soon as I finished watching it, Home Again does not justify its own existence.
The basic premise of Home Again is a sort-of spotlight on a female midlife crisis – Alice (Witherspoon) is 40 and recently divorced from her business-focused music producer husband Austen (Sheen). Alice takes her two kids and moves back from New York to Los Angeles, taking up residence in a gorgeous LA palace. Her late father was a famous documentary maker and left the house to be used by her. Her acerbic mother used to be a famous actress. Alice has aspirations of being an "interior designer" that form a sort-of subplot.
Before we go any further, this basic set-up bothers me – we are meant to feel concerned for Alice's situation, but it remains so wildly privileged that it's hard to feel sorry for her. It's like a millionaire having to sell one of their two private jets – they'll still be fine. Anyway, Witherspoon is probably one of the few women who can remain likeable in this situation, so I'll give her a mark for good acting here.
Now the kooky plot twists begin – Alice goes out and meets three twenty-something aspiring filmmakers, and eventually invites them back to her home, and they end up staying with her indefinitely. Comedy and drama continue as this new living arrangement is formed, and the three men bond with Alice's two kids, eventually forming a new kind of family. Alice also starts falling for the nearly half her age Harry (Pico Alexander) which feels more icky than sweet to me.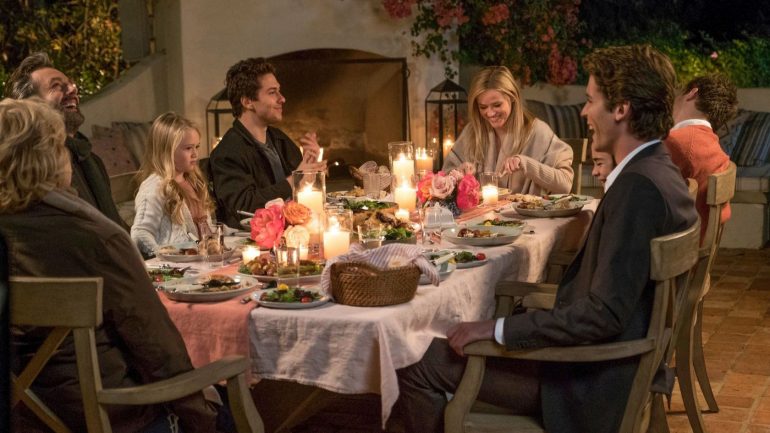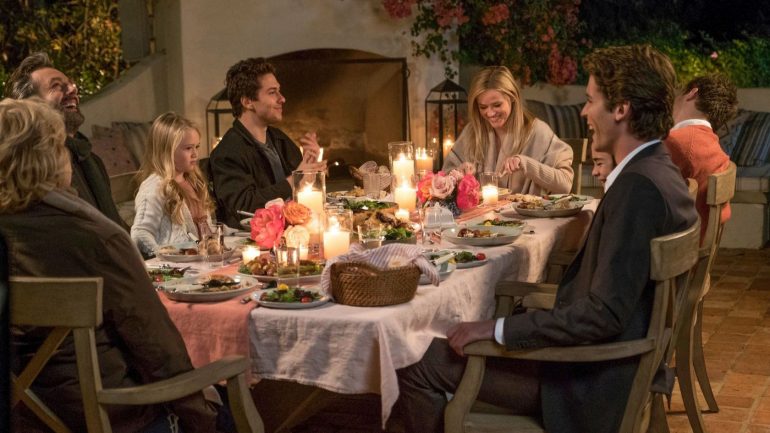 Anyway, it all comes together in a fairly sappy way that I don't want to spoil any further. I did some research and it seems Home Again was the debut directorial effort of the daughter of a prominent directing and writing team in Hollywood, who pioneered many of the famous romantic comedies of the past few decades. Not only does this really stretch the limits of what should be acceptable about "write what you know," when it comes to the background for Alice in this film versus the real-life background of the director, but it raises some unfortunate questions about nepotism.
In many ways, that may explain why this film feels like it lacks a spark – it can hit the same beats but does so without any real creativity or soul. In whatever way, Home Again managed to gather some great actors, who did the best they could with the material, but it remains an imminently forgettable movie.