With the promise of an RPG, fans of Harry Potter's Wizarding World are excited to see more of the new game from Avalanche Software and WB Games. Hogwarts Legacy, an open-world adventure set at the famed wizarding academy sometime in the late 1800s, has only ever been shown in the reveal trailer during 2020's PS5 showcase, and then nothing — no updates at all. Well, the good news is that the first gameplay footage (around 14-minutes long) from Hogwarts Legacy will be shown Thursday, March 17 at 5 p.m. EDT in a PlayStation State of Play Livestream. And Harry Potter fans are delighted.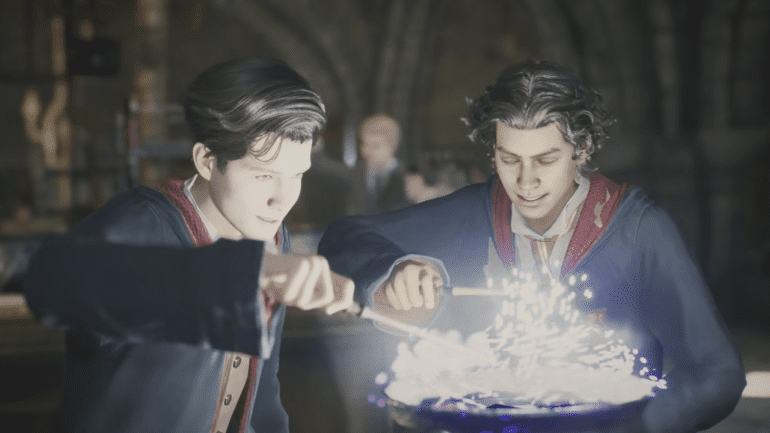 When is the Hogwarts Legacy release date?
Originally slated for a 2021 release by Warner Bros. Interactive Entertainment, the Harry Potter game was quickly delayed into 2022 early last year. However, there have even been claims suggesting that the Hogwarts Legacy video game could still suffer another delay — this time to a 2023 date. Of course, this wouldn't be surprising considering that there has been little promise officially indicating that the open-world RPG is still on target for this year.
Perhaps a slight glimmer of hope, in an article posted in January 2022, the Wizarding World website detailed an article revealing plans for their various franchises. Within the article, fans spotted that Hogwarts Legacy is still scheduled for this year. Even the Community Manager at WB Games Avalanche, Chandler Wood, posted the article adding a "2022" caption along with an emoji, teasing hungry fans that can't wait to see more content. Beyond that, a relieving piece of information was provided by Jason Kilar, CEO of WarnerMedia, who tweeted that the company plans to release "a full slate of highly anticipated games" in 2022, among the games listed was Hogwarts Legacy.
If that isn't enough proof, the Hogwarts Legacy's companion book, The Art and Making of Hogwarts Legacy is reportedly scheduled for a release on September 6, 2022. The September release for the book should serve as a good indication of when we can expect the upcoming game.
Canonically, of course, in the world of Harry Potter, students begin the school year on September 1st. So that would make perfect sense for the Hogwarts Legacy release date.
What is the Hogwarts Legacy story?
As per the official synopsis provided by Hogwarts Legacy developer Avalanche Software (and Portkey Games): "Experience Hogwarts in the 1800s. Your character is a student who holds the key to an ancient secret that threatens to tear the wizarding world apart. Make allies, battle Dark wizards and decide the fate of the wizarding world."
Set prior to the events of the Harry Potter books, taking on the role of a student, you'll be the center of your own adventure as you master ancient magic and explore the famous Hogwarts School of Witchcraft and Wizardry, the fictional British boarding school of magic for students (aged eleven to eighteen) made famous by the popular fantasy novels. Of course, J.K. Rowling herself is not involved in the game in any way and Hogwarts Legacy will actually focus on a new story not developed by the controversial writer.
This means we won't be seeing a lot of the characters in the book's chronological timeline. However, it is likely that we will meet Dumbledore, considering that he was a child in this time period. He could even be a potential classmate or student alongside the playable character.
In the open-world action RPG, you'll be controlling a Hogwarts student — which means attending classes and learning magic with other students. Additionally, in the game's official description, it states that "you are no ordinary student" and "you possess an unusual ability to perceive and master Ancient Magic". This indicates that in a similar fashion to Harry and his friends, you'll be tossed into some large scale events that will have strong repercussions on Hogwarts as a whole.
Dark Wizards are some of the many deadly enemies you'll be encountering in Hogwarts Legacy. This probably means that your character is going to need to travel across various places (even outside Hogwarts) to the Forbidden Forest, Hogsmeade Village and other familiar locations. Hogsmeade appears in the first trailer of the game, so that is basically confirmed. It will probably serve as an area for upgrades (thanks to some of the local shops) or a place with side activities to keep you entertained outside of main missions. The Forbidden Forest was spotted by eagle-eyed viewers as the first trailer showcased a student fighting against evil wizards in this location.
Warner Bros. Games' Hogwarts Legacy seems to be going all out with the locations and story bits.
What will the gameplay be like?
As stated before, Hogwarts Legacy is going to be an open-world action RPG. This heavily implies the presence of character customization, not just at the start but also in terms of stats, skills and affinities. Recent reports also mention that the Harry Potter RPG allows you to choose a house for your student at the very start of the game.
In terms of choice, players will also be faced with missions and scenarios that pose difficult choices that ultimately determine what they stand for. Currently, it is not known if the companions being discussed are the friends you meet at Hogwarts, Patronuses, legendary beasts, or all those things combined. We believe that it will likely be a combination of everything with even more surprises to come.
After all, Hogwarts Legacy is promising to be a game that will present players with the chance to master powerful spells and hone combat skills. And you'll need a little help with that. Nobody in the Harry Potter universe works completely alone.
The biggest surprise, however, is that a Bloomberg report suggests that Hogwarts Legacy's "witch or wizard" character creation engine is being designed for gender inclusion — meaning players could choose voice, body type, and other characteristics without making them gender-essential. This is an interesting development considering Harry Potter creator J.K. Rowling's recent comments.
Is there a trailer?
Yes, currently we only have a single trailer for the game (the one revealed at the PS5 event). However, with the upcoming event this week, we can expect to see a new Hogwarts Legacy trailer and the latest news about the title soon. We already know that the next trailer will focus on gameplay, but don't be surprised if we get some more details about the story too in the coming months.
What platforms can I play Hogwarts Legacy on?
The title is sure to be a day one release on the PlayStation 5. Similarly, we'll also get copies for the Xbox Series X, Xbox Series S, PS4 and Xbox One. Finally, a PC release is also set to be released.
Currently, there is no news on the Nintendo Switch release, but it is probably unlikely considering that this is a title that was made with next-gen in mind. The Valve Steam Deck console could see a future release further down the line, but again, it hasn't been announced yet.
It's a great year to be a Harry Potter fan as Fantastic Beasts: The Secrets of Dumbledore is also set to release in April this year.
Update: New Hogwarts Legacy – State of Play Official Gameplay Reveal Trailer
The narrated video gives an in-depth look into the gameplay, including character customisation, and the variety of spells, adventures, missions, locations, and characters that players will encounter as a student at Hogwarts.
Also showcased was the Official Behind the Scenes video featuring comments by the creative minds making the game.
There are no microtransactions
After many gamers questioned whether or not we'd see microtransactions in Hogwarts Legacy — especially after the gameplay trailer showed that players can use the Room of Requirement to craft and brew their own potions, or grow their own plants — Avalanche community manager Chandler Wood took to Twitter to confirm that there are none.
We've seen this question coming up and want to set the record straight.

There are no microtransactions in Hogwarts Legacy.

— Chandler Wood (@FinchStrife) March 17, 2022
Are you excited to play Hogwarts Legacy?