Having switched my primary living room device to a projector, I've not kept in touch with the television market and technology for quite some time now. It may not be as fast-changing as the smartphone market, but a lot has changed in this time. The costs have decreased dramatically for 4K and HDR-enabled devices, to a point where it could fit the budgets for the middle-income family. That said, 4K sets are categorised in two main categories, mid-range and flagship.
I received the Hisense 65″ 4K ULED Smart U7A for review, which, as half the planet would've known, was the flagship device of the 2018 FIFA World Cup Russia earlier this year. The unit is, in fact, a mid-range 4K TV and was marketed as a great device for watching football but, thankfully, it has a lot more to offer than simple marketing gimmicks.
Build and Design
When labelled as a mid-range device, your first thoughts are often that it may not offer the best in terms of the design, but when it comes to the U7A, that isn't the case at all. When unboxing the unit, the first thing I noticed was how thin it was. The unit has an ultra-thin panel for most of the design, and increases in size towards the bottom only to accommodate internals and speaker bar. In addition to the 'paper-thin' design, the panel also offers a bezel-less finish, making it look even better. The screen is surrounded by a majority metal frame, along with a metallic stand, with the rear cover covered in plastic.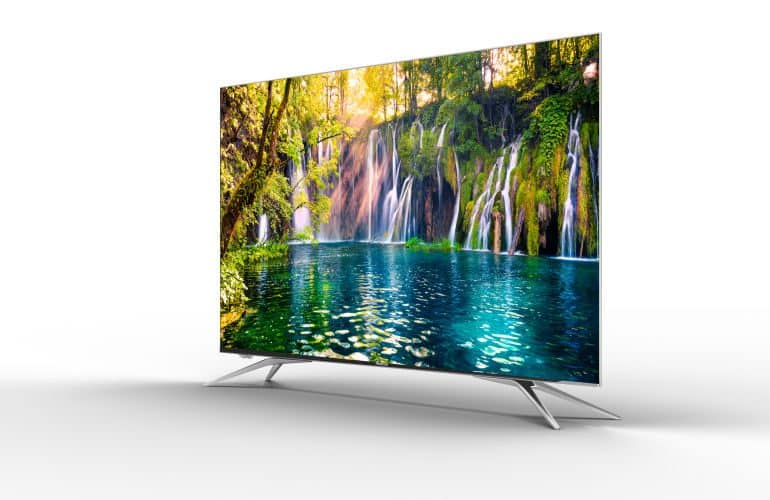 The rear panel houses a number of connectivity options, along with two sets of speakers. These connectivity inputs and outputs include a traditional RF port, standard AV port, two USB inputs (x1 USB 3.0, x1 USB 2.0), SPDIF output, earphone jack, 4 HDMI ports, Ethernet port and WiFi. The HDMI ports are split into various capabilities, which you'll have to position correctly for the best experience. The first two HDMI ports are HDMI 2.0 enabled, which carries 4K@60Hz signal with HDCP version 2.2. HDMI 2 also supports ARC. The WiFi is DLNA compliant, while also supporting Anyview. What's interesting here is that the Anyview is supported by most smartphones, bar two brands – Apple and Samsung – which is extremely odd. A noticeable absentee is Bluetooth support, which takes away a few additional features often via smartphones.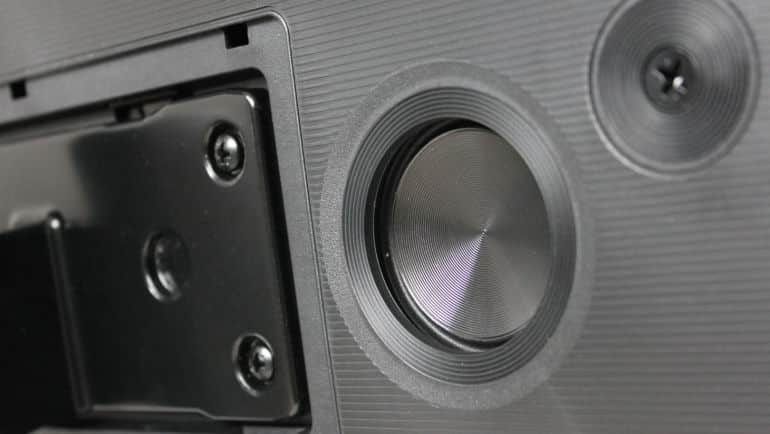 Going back to the speakers, the unit offers a 15W per channel. There are six speakers in total, which includes two tweeters, and four midranges. There is no woofer built in, but the mids are sufficiently adequate to get the job done for the most part. While the unit does have Dolby digital support, as well as lip-sync adjustment, there is no surround sound support. The audio is good, but you shouldn't expect cinema-level quality and while the mids do a good enough job with the bass for average viewing, it is noticeably missing for specific scenes, more particularly in movies and games.
Setup
Being a fairly large unit, installation of the U7A is a definite two-man job. A helping hand is required for carrying the unit from the car to the living room, removing it from the box and then getting it into position on your stand. Safe to say, you cannot do any of the above alone, unless you're planning on dragging the unit around the house, which isn't advisable. Once you've unboxed the unit, the first call to action would be installing the stand, which comes in the form of two metallic feet required to be screwed onto the bottom with three screws each. Once the unit is in position on the stand and powered on, there's a three-screen menu to work your way through to setup, which includes selecting your region, connecting to your WiFi and then signing into an app or two, namely Netflix. After this, you're all set to proceed to view at your leisure.
Being a fairly large unit, installation of the U7A is a definite two-man job.
There's nothing fancy about the included remote, but it does have a few dedicated buttons, including Netflix and YouTube. There are quite a few additional buttons as well, such as personal recording, arrow buttons for menu options, and the standard numeric layout. If I'm honest, I spent most of the review period only using the bottom half of the buttons, since the numeric buttons aren't very useful. The remote is fairly simple to use and, after the first week, you'll be able to use it without needing to look at each of the buttons.
The standard setup and preset choices are solid when it comes to setting up the image quality and colour balance at the start. There are options available for the more advanced user to tinker with, which includes changing the gamma calibration, but this isn't the easiest to play with, with very little reward for time spent in perfecting the balance.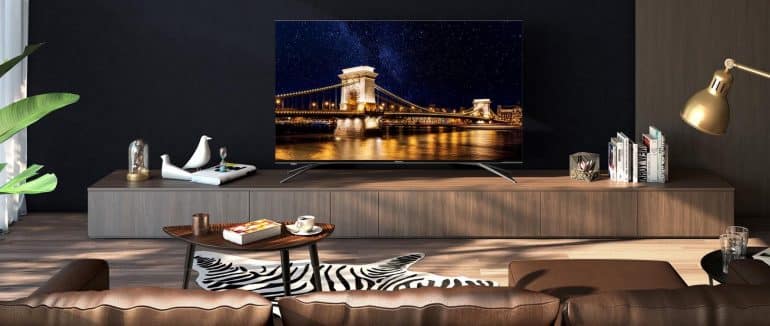 Screen and Display
As you would have judged by its full name, the U7A has a 65″ screen with a 4K resolution display. The screen is labelled as a ULED model, which simply means that it offers 4K LCD with edge LED backlighting, a wide colour gamut and HDR10 support. ULED is a Hisense proprietary backlighting and Quantum Dot technologies. This is not to be confused with OLED (organic light-emitting diode), although Hisense does claim to offer near similar results at a more affordable price with its ULED TVs.
In terms of viewing, there are quite a number of options to uncover for both HD and 4K viewing. Starting with the standard HD support, there are five presets to choose from the image setting. These include Standard, Cinema Day, Cinema Night, Dynamic and Sports modes. The unit has a default Standard setting, which does a good job of offering a balanced colour palette. Switching to either of the Cinema presets, you'll notice that the colours are a lot blander and doesn't offer any greater benefits over Standard. I would recommend not using either of the two, irrespective of what you're watching.
The 4K has a 2160p resolution at 60Hz. The image quality is great, with vibrant colours and even better contrast and blacks.
The Dynamic mode offers greater colour and contrast ratios for specific images, such as on movies, and do a great job in terms of the overall detail, which can also be set. The Sports mode offers better motion handling, thanks to the TV's Ultra Smooth Motion processing. It feels at time as if there's an extra frame inserted to the feed, which reduces some of the jitter, especially when watching sports with a fast-moving object, such as football. This is probably why the unit was so heavily marketed during the World Cup.
It is worth noting here, however, that the Sports mode can only be used via an incoming stream on the tuner and not via HDMI. This is a bit of an annoyance, especially in South Africa. Overall, colour reproduction on standard HD viewing is solid. This includes the contrast and deep blacks, with no light bleed or any dull or grey patches.
The U7A offers 4K and HRD support. Thanks to these capabilities almost standard on a number of leading smartphones, there is content available or recordable for use on your TV if you're not easily able to stream any. The easiest way to test the feature, however, is by using the saved Hisense samples. The 4K has a 2160p resolution at 60Hz. The image quality is great, with vibrant colours and even better contrast and blacks. What's great is that the streaming apps available also support 4K streaming. Where the capabilities lack is the support of HDR, which doesn't offer a bright enough image compared to most other HDR enabled units. At its highest brightness the U7A peaks around 280-290 nits.
As an in between HD and 4K, the U7A automatically upscales the feed. The unit performs its upscaling by means of adding interpolated detail but doesn't come across as being pixelated. This is impressive and means that for most viewers, you wouldn't typically notice any missing detail or out of place pixels.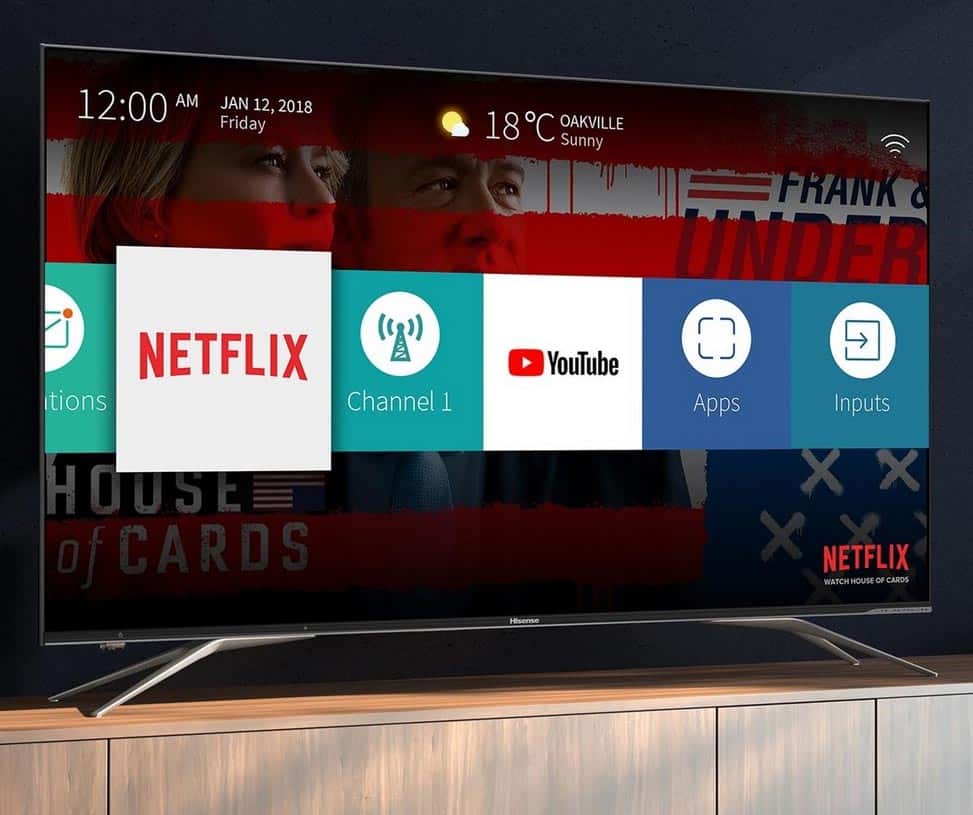 Smart Capabilities
As already mentioned, the U7A offers a few apps, some of which are already preinstalled with a few available on the built-in app store. The installed apps include Netflix, YouTube and Showmax, while Rakuten TV and Chilli Cinema are available for installation. I will admit, however, that I've never used the latter previously. Other non-streaming apps include TED, Plex, AccWeather, Viewster, AOL On. This isn't the greatest variety of apps, although many additional apps wouldn't necessarily work on our shores in any case. It would, however, be useful to have offered one or two more non-streaming apps for more usefulness overall, even basics such as a calculator or the likes.
This isn't the greatest variety of apps, although many additional apps wouldn't necessarily work on our shores in any case.
One of the more pleasant features of the U7A is its peripheral support for media devices. Having previously experienced numerous issues with drive format support, even on modern day consoles, video format and a host of other issues, I was pleasantly surprised that none of these occurred using the U7A. I could simply plug in my NTFS 4TB drive and choose from any of my videos, images or sound clips. Even better still was the fact that I didn't have to preselect which media I'd be consuming as it was able to list all files inclusively.
Where the unit frustrated me was with a few more basic details. For starters, I use two WiFi sources at different times of the day to save on costs. Switching between the two meant that I consistently had to enter in the password each time. And for a unit where you have to scroll to each letter on the onscreen QWERTY keyboard via the remote, this was quite annoying. Even worse still was the fact that after a day or two of switching between the two, the WiFi modem would stop connecting, which meant I had to plug the TV out by the source and back in again before it connected successfully again. If you have your TV positioned in a rather awkward setup, this wouldn't be great at all. The second concern I had, which I touched on earlier, was the limited number of apps, which also doesn't include much in the way of local support for apps for DStv, etc., although Showmax is available.
Conclusion
The Hisense 65″ 4K ULED Smart U7A is a very solid unit by any standard. The mid-range tag and price point makes it an extremely good buy and isn't reflective of anything with subpar capabilities with the minimum amount of quality to make the cut. Instead, the 4K TV does a great job when it comes to performance and image quality and can stand against quite a large amount of competition. While Hisense claims that the ULED is comparable to OLED, this isn't quite the case, with a side by side comparison putting an end to any such claims. At a retail price of R19,999 it is almost half that of many mainstream, 4K OLED TVs of the same size, which makes it a steal. And while it offers good quality at cost, the unit is also stylish enough to look good in any living room.
The Review
Hisense 65″ 4K ULED Smart U7A
The Hisense 65″ 4K ULED Smart U7A is a great buy for anyone looking for a solid mid-range unit at a very competitive price. It's also stylish enough to suit any living room decor.
Review Breakdown
Ease of Learning

0%

Ease of Use

0%

Enjoyment

0%

Design

0%

Performance

0%

Value for Money

0%