When White Wizard Games first released their card game, Star Realms, board gamers absolutely fell in love with its easy to grasp mechanics and quick gameplay. Fast forward a few years later, the team has released a brand new card game. However, instead of a sci-fi setting, this one takes place in a world filled with elves, orcs and magic. So, is Hero Realms just a reskin of Star Realms, or is it a game worthy of its predecessor?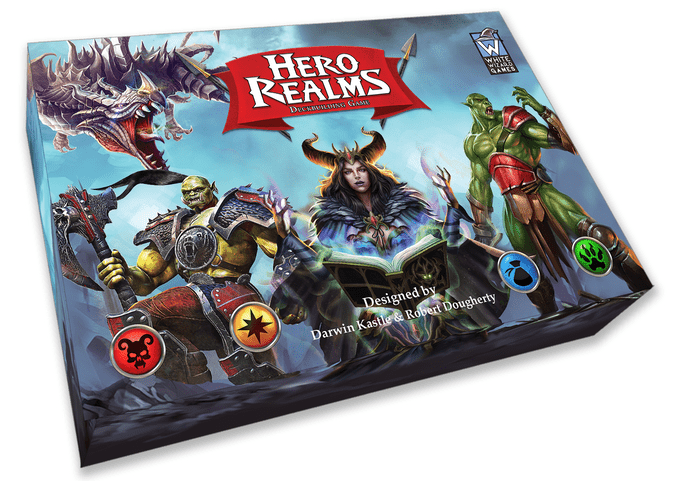 What's in the box?
As with Star Realms, Hero Realms is a game completely made up of cards. The cards are all made of nice and durable card stock, although I would suggest sleeving them as soon as possible as they do show some damage after a few rounds of playing.
What would a fantasy-themed game be without great looking artwork? And, in this regard, Hero Realms doesn't disappoint. Each card is adorned with suitably great looking artwork.
As with Star Realms, the rule book is just one sheet of paper printed on both sides and is a testament to just how easy the game's mechanics are to grasp.
Unlike Star Realms, however, Hero Realms comes packed into a sturdy cardboard box, which is a welcome departure from the flimsy box that Star Realms is packed into.
It's small, easy to travel with and doesn't have lots of components to keep track of.
How do you play it?
In essence, Hero Realms plays very similar to Star Realms, albeit with a few tweaks.
Each player starts with identical decks, each containing 10 cards. These cards are attack cards and money cards.
As you can guess, the attack cards are what you use to chip away at your opponent's life points, while the money cards are used to recruit cards from the game's central market.
Once a card is purchased from the market, it is replaced by a new one from the market deck. On a player's turn, they can play any cards from their hand.
Hero Realms cards belong to one of 4 coloured factions:
The Green (Wild faction)
Yellow (Imperial faction)
Blue (Guild faction)
Red (Necros faction)
If more than one card of the same faction is played by a player, the card's faction ability can be used. This usually is a powerful ability that can help you overwhelm your opponent.
All cards that a player plays on their turn is discarded afterwards, along with your newly purchased cards. Once a player has used up all the cards in their deck and can't draw new cards, they then shuffle their discard pile and use it as their new draw deck.
There is one exception, Champion cards do not get discarded after play and afford players a continuous boon in the form of their unique power.
Play continues until you or your opponent's health points are reduced from 50 to 0.
What did we think of Hero Realms?
If you loved Star Realms but thought that it would be more fun if they threw in a few Orcs and some magic, then you'll love Hero Realms. The way in which you slowly build up your deck and evolve your strategy as you play by buying new cards is one of my favourite mechanics of the game. There is a bit of randomness involved as you are never quite sure which cards will pop up in the market, but figuring out how to mitigate the randomness is part of the fun.
Although the core of the gameplay is still very similar to Star Realms, Hero Realms adds just enough to make it different from its predecessor. It still maintains the easy to understand gameplay from Star Realms and adds a dash of fantasy and some new rules in order to make it feel unique.
Ultimately, Hero Realms is an accessible game that is easy to grasp and, even though it can be considered a lightweight card game, there is still a lot of strategic options to be discovered.
As a huge fantasy fan, Hero Realms has now replaced Star Realms as one of my favourite lightweight cards games.
For more information on Hero Realms, visit solarpop.co.za.
The Review
Hero Realms
If you loved Star Realms but felt that it might have been more fun with Orcs and magic, then Hero Realms is for you.
PROS
Quick to Learn mechanics
Fantasy theme
CONS
Very similar to Star Realms
Review Breakdown
Gameplay

0%

Components

0%

Complexity vs. Depth

0%

Theme

0%