Since he might be out as Superman, with rumours suggesting that Warner Bros. will be casting a black actor in his place, Henry Cavill might be the perfect option for a live-action Omni-Man.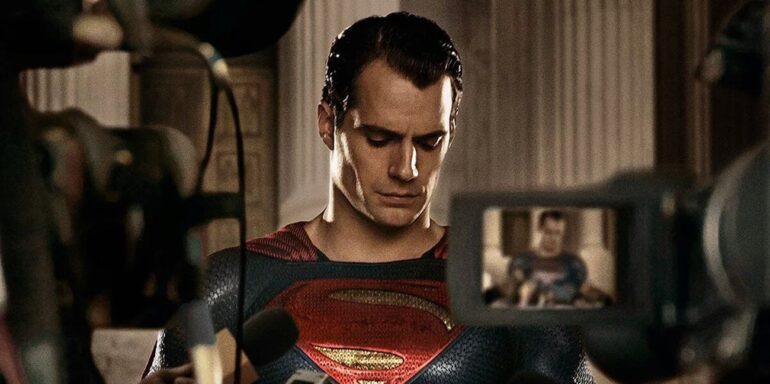 Henry Cavill as Omni-Man
Henry Cavill's moustache may not have been suitable for his role as Superman, but there is one "superhero" role that it would be absolutely perfect for! Thanks to digital artist BossLogic, Cavill's infamous strip of facial hair has been put to good use in a live-action reimagining of Invincible's Omni-Man.
While Superman may generally prefer the clean-shaven look, Omni-Man proudly rocks a large, luscious moustache not too different from the facial hair Henry Cavill grew for his role in Mission Impossible 6 – the same moustache that needed to be digitally removed from Josh Whedon's Justice League reshoots.
BossLogic picked up on the resemblance and seized the opportunity to cast the hunky actor as Omni-Man in his latest Invincible fan art.
The popular digital artist posted an image of a blood-splattered Cavill with the infamous moustache and blazing red eyes to his Twitter account and, while the image may have been intended to poke fun at the actor's digitally-removed Justice League moustache, fans can totally see him playing the role of Nolan in a live-action Invincible movie!
Invincible is great!
Created by Robert Kirkman, Invincible is an animated superhero series that follows Mark Grayson (voiced by Steven Yeun), a seventeen-year-old who discovers that his seemingly normal father, Nolan ( voiced by J.K. Simmons), is none other than the ultra-powerful Omni-Man. As Mark begins to discover his own superpowers and becomes the rookie superhero known as Invincible, he soon discovers that his father may not be all that he seems.
The entire first season of Invincible is currently available for viewing on Amazon Prime Video with two more seasons given the green light by the streaming service. Kirkman has also said that a live-action movie is in early development with creative duo Seth Rogen and Evan Goldberg attached to write, direct, and produce the film – so fans may just have the opportunity to see Cavill take on the role of Mark's extraterrestrial Viltrumite father sooner than we thought.
Would you want to see Henry Cavill play Omni-Man in a live-action Invincible movie?
Or is there someone else you have imagined for the role? Share your thoughts with us in the comments below!