Hearthstone's Year of the Raven continues in great fashion, seeing the release of the final expansion for the year, Rastakhan's Rumble. So, is it any good? In a word: yes.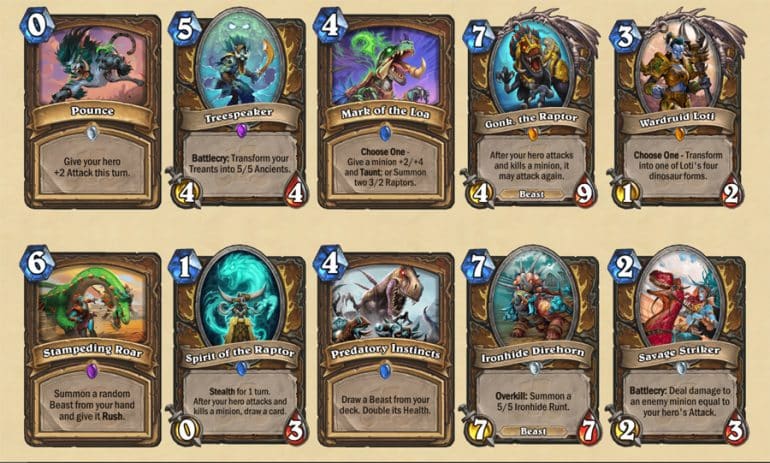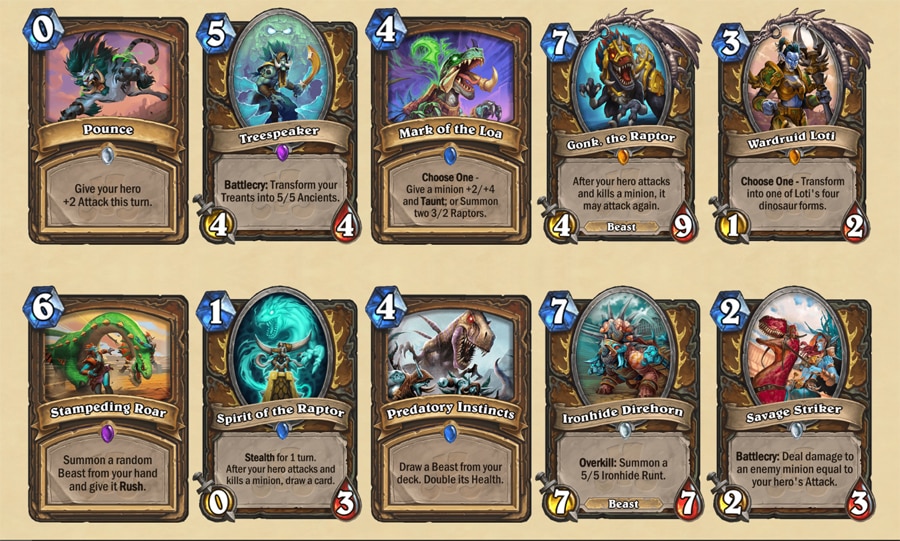 It's don't think it's too controversial to say that the Year of the Raven expansions—The Witchwood, The Boomsday Project and Rastakhan's Rumble—have been some of the best expansions the beloved collectable card game has seen. But, let's talk about that.
Something Old
Rastakhan's Rumble doesn't exactly do anything new, not that it's a bad thing, but if you're familiar with Hearthstone's more recent expansion formula, then you're familiar with this one: a new hero portrait, 135 new cards (including 23 legendaries), a new flavour of dungeon run and an all-new hero card – Zul'jin (Hunter).
Whereas Blizzard used to vary the number of cards released per expansion, as well as alternating between card set releases and singleplayer adventures, it seems they've settled on this tried and trusted formula. I think for the most part Hearthstone is better for it.
It looks like Blizzard is happy to cook up a wild, whacky and whimsical collection of cards and let the player determine the best way to use them – be it in ranked play, arena or the dungeon run modes. It's worth remembering, then, that there isn't anything all that "new" about this expansion, except maybe…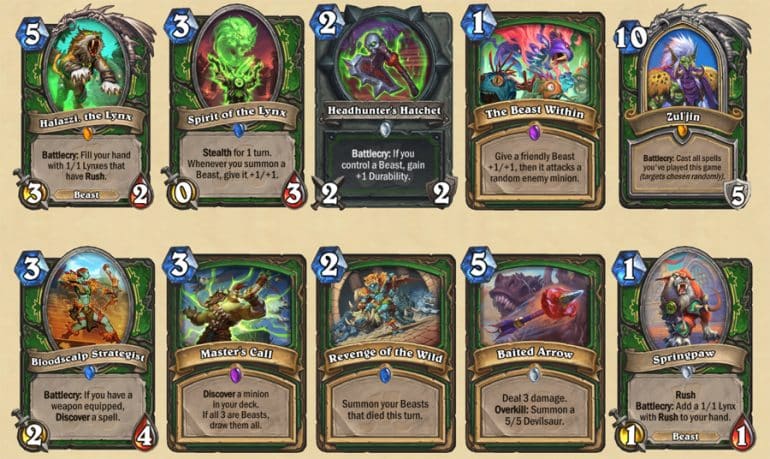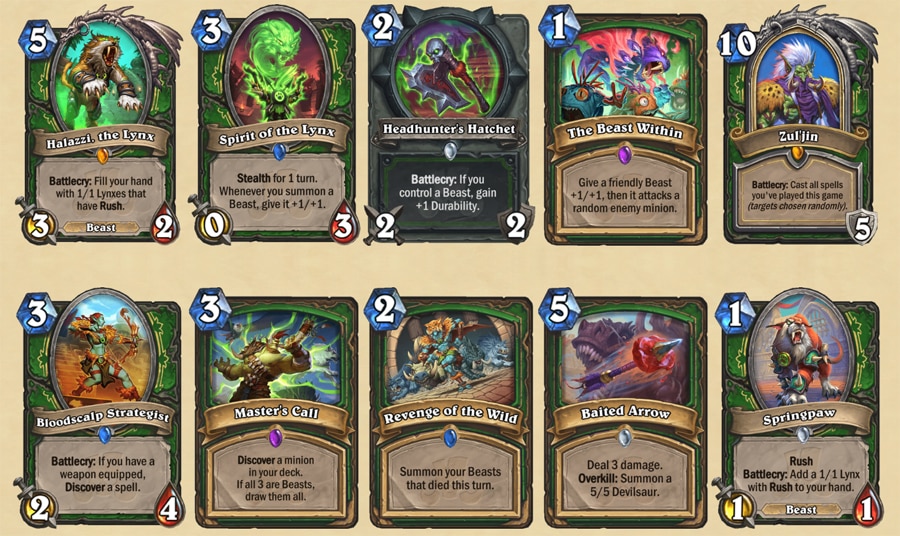 Something New
Trolls. Rastakhan's Rumble is all about trolls, adding King Rastakhan as an alternate Shaman portrait and the aforementioned Zul'jin. Zul'jin, by the way, is a powerful troll hero card for the Hunter with an ability much like Yogg-Saron, only less chaotic. Instead, much like Shudderwock repeats, every Battlecry played on your side of the board, Zul'jin repeats all spells. I don't need to tell you how terrifying that can be for spell hunter.
Zul'jin's not the only legendary card. There are troll champions for each class, each offering a very different ability. Other legendary cards include wild gods called the Loa, several screwy fun neutral legendary cards and spirits – elusive minions that vary from class to class but all of which have stealth on the turn they're played and offer interesting benefits to the player in return for doing no damage.
What about singleplayer?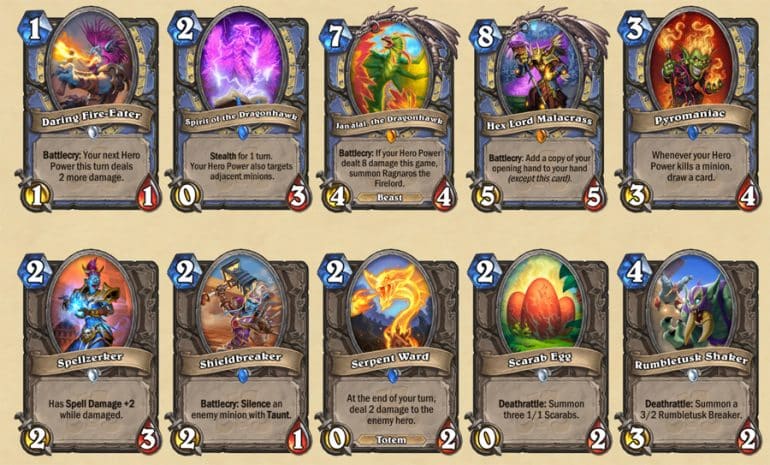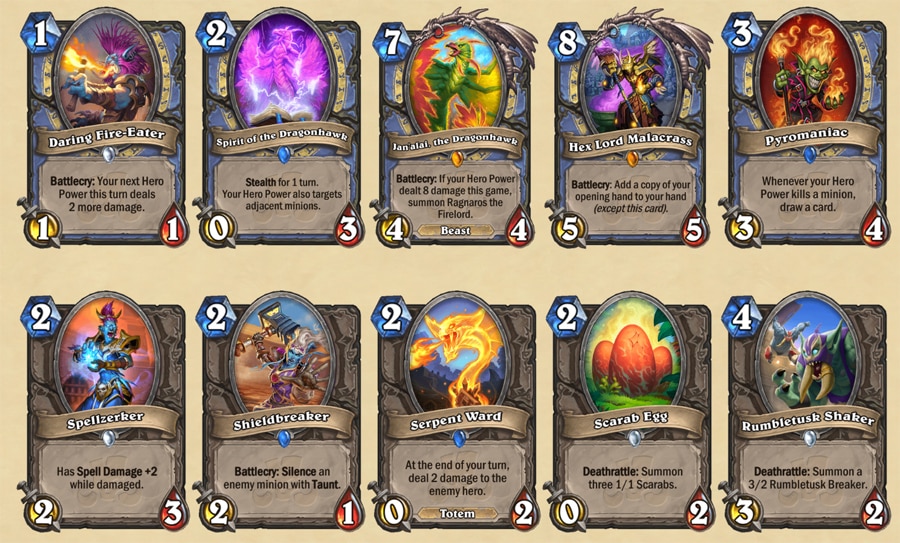 Something Borrowed
There's a good collection of singleplayer content, from Witchwood's Monster Hunter mode—a spookier version of Kobolds & Catacombs' Dungeon Run—to this latest expansion's Rumble Run. I can't stress enough how enjoyable these modes can be, even if you only get a few hours of each.
Rumble Run, like with Monster Hunt before it, tasks you (the player) with competing in a single elimination tournament, defeating one troll lord after the other. After each win, you get to add new cards to your deck.
What makes Rumble Run different is that instead of choosing a different character class each run, instead, you choose a Loa to follow, changing up your character's look and the cards on offer. Players will also get to augment their decks with shrines—cards that start on the battlefield at the beginning of the game and provide powerful effects from the get-go—and more.
Something Blue
All-in-all, Rastakhan's Rumble freshens up the game like the expansions before it. Unfortunately, like the expansions before it, there's quite a large barrier to entry for new players – the cost. Buying the number of booster packs required to make your decks relevant for each expansion can be very expensive, prohibitively so.
That said, Hearthstone's still a great game and the latest expansion is well worth it for veterans of the game. As for newcomers… I'm not so sure.