A part of me really, really wants to love HBO's latest who-dunnit series, The Undoing.
It has everything I love to see on screen – a world-class cast of characters, an intriguing story and the masterful production quality we've come to expect from HBO. After all, who wouldn't want to see Hugh Grant and Nicole Kidman together in a murder mystery limited series, showing us all that they haven't lost their mojo in what many might reasonably consider the latter part of their careers?
Add to that the presence of an actor of the calibre of Donald Sutherland in a supporting role, and you should have something special on your hands.
So, as I said, I really want to love The Undoing. Yet, I'm not sure. It all depends.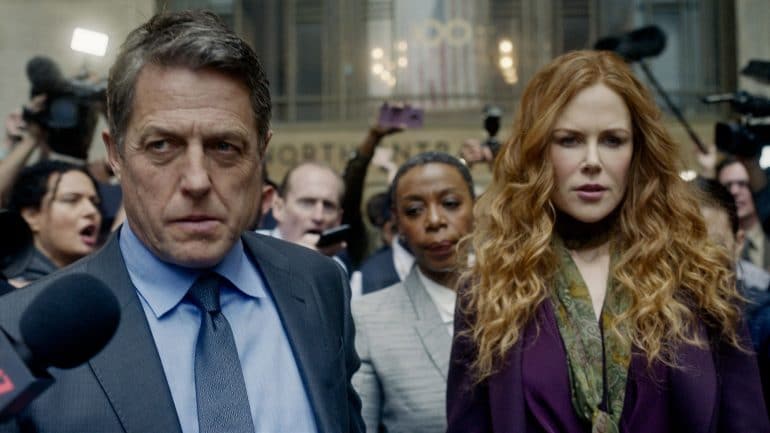 But before we get to my concerns, let's talk first about the nuts and bolts.
The Undoing is an HBO limited series that centres around the gruesome murder, in the very first episode, of Elena Alves, a beautiful, yet enigmatic and troubled woman.
Before her death, she had just become part of a school auction committee, joining a group of well-to-do school mothers at Reardon, a bougie Manhattan school. She's something of a misfit here.
One of the women on the committee is Grace Frasier (Nicole Kidman), a therapist who is married to Jonathan (Hugh Grant), a renowned and somewhat amiable oncologist. After Elena, played by Matilda De Angelis, is found dead in her studio, Jonathan and Grace's lives start to come apart at the seams, as some shocking secrets are uncovered, specifically to do with Jonathan and his secret affair with the deceased.
As you can imagine, this makes for some thrilling mystery in true crime fashion.
Now, I come back to my earlier anxiety. To be clear, I've only watched 5 of the 6 episodes that the show has to offer. So, there is much to be resolved in the final episode. The first five deliver some tense and really engaging moments. My concern, however, is that there is quite a lot left to tie up even beyond the obvious question of who bludgeoned Elena to death and, for one episode to do that work might be a lot.
We've all seen it before – that movie or TV show draws you in, baits you and gets you to buy in. Then, the disappointment comes when scenes or ideas that were set up are never fully paid off. I really hope I'm proved wrong but I have a nagging sense that I may experience that, to some extent, with The Undoing.
While I understand that it is, by definition, the nature of mystery shows and thrillers to keep you hooked and somewhat unsure till the very end, part of me feels like Episode 6 has some seriously heavy lifting to do. Layered beneath the obvious question of whodunnit, there are many other questions to be reckoned with. I hope you and I are not let down by the ending and the resolution of things.
There's no question: the powerful performances from Nicole Kidman, Hugh Grant, Sutherland and the entire cast are worth your time. Just for that, I highly recommend this miniseries. Yet, I think you'll want more – the satisfying, if somewhat tragic gluing together of so much that has been teased and dangled in front of you. With this one, you may only know after the final fade to black.
HBO's The Undoing will premiere on Monday, 30 November at 21:30 on M-Net, channel 101. It will also be available on Showmax at 22:30 on the same day.