Issue 1 of this two-piece miniseries has a lot going on and certainly isn't perfect, but Harley Loves Joker is at least a lot of fun. Wrapping up from Harley Quinn last year by finishing the narrative, the issue gives us the origin of the Grison, a cameo from the Wonderland Gang and a subpar Harley Quinn story.
Whilst always interesting to see Batman's infamous rogue's gallery interacting with one another without the Dark Knight looming above them, Harley Loves Joker #1 seems to lack a heart to the story. Taking place as a flashback of sorts, Harley Quinn is set up in a slightly contrived position of being unable to afford their current situation. Finding that thieving is the natural solution, she embarks on a mission to grab some cash only to discover the Wonderland Gang have intercepted her. A fun but unnecessary cameo, we are then set on a second path to witness the trap to catch the Grison.
Harley Loves Joker #1 seems to lack a heart to the story.
This plan, as you can imagine, is very loose and inevitably goes awry. Discovery that the Grison is actually an old colleague of Quinn's who used to experiment on animals, was a touch that was necessary to the story and did indeed show a more humane side to the psycho killer. However, Grison's motives are hazy at best and when it is declared it is all to impress The Joker, the logic goes out of the window entirely. More to the point, Joker shockingly allowing Grison into the gang is even more perplexing; having said this, it is very Joker to be unexpected. The Penguin cameo was well used but brief, although potentially lays the groundwork towards other things.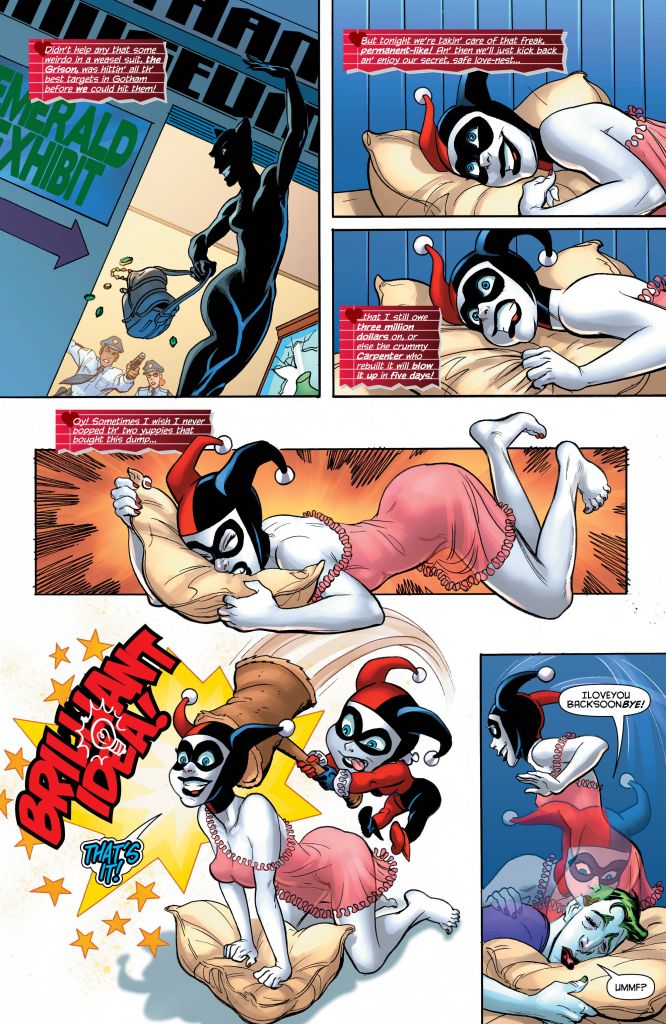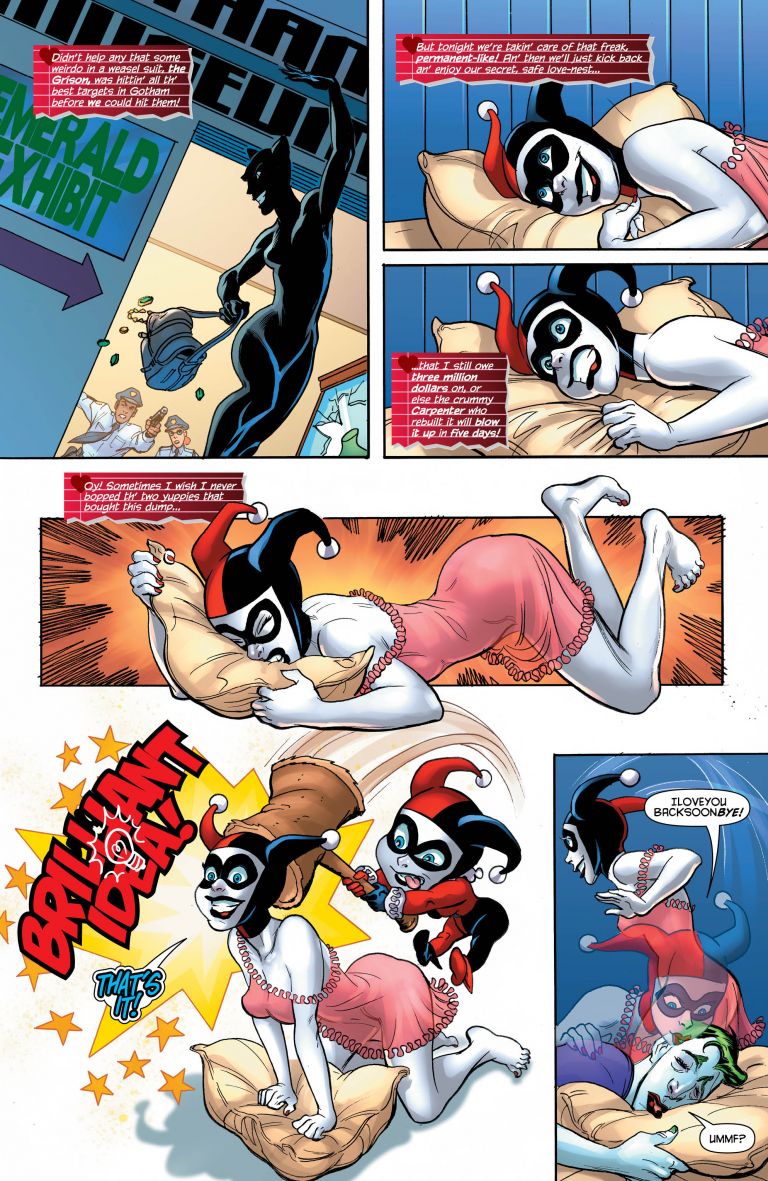 Overall, whilst I love the vibrant art and use of coloured lettering, I didn't love this story. I actually would have preferred some more focus on the Wonderland Gang, an underutilised crew of misfits. Grison is hardly compelling, lacks serious motive and has a half-baked origin. Not to mention, it just really isn't the best thing to turn into. Overall, I understand what this set out to do, fleshing out Harley's relationship with both Joker and her past, but I think Harley Loves Joker failed significantly. This may perhaps be why this is only a two-issue miniseries.
Grison is hardly compelling, lacks serious motive and has a half-baked origin.
I still hold up hope for part two, now that Grison has joined the gang, as there may be another twist in store that we just aren't expecting. But for now at least, Harley Loves Joker #1 failed to deliver on the quality of the characters involved, whilst also failing in setting up the Grison as a character with longer lasting potential. The main redeemable quality of this title was, of course, the art though, which continues to capture the fun of the characters involved.