Happy Salmon, a simple, cute and fun card game that rewards quick thinking and loud reactions, is usually accompanied by laughter, shouting and slapping. This, of course, makes it great fun to watch too.
Cleverly packaged in a Salmon-shaped pouch, this boisterous game works great as an ice-breaker and promises tons of fun for family, friends or co-workers, too.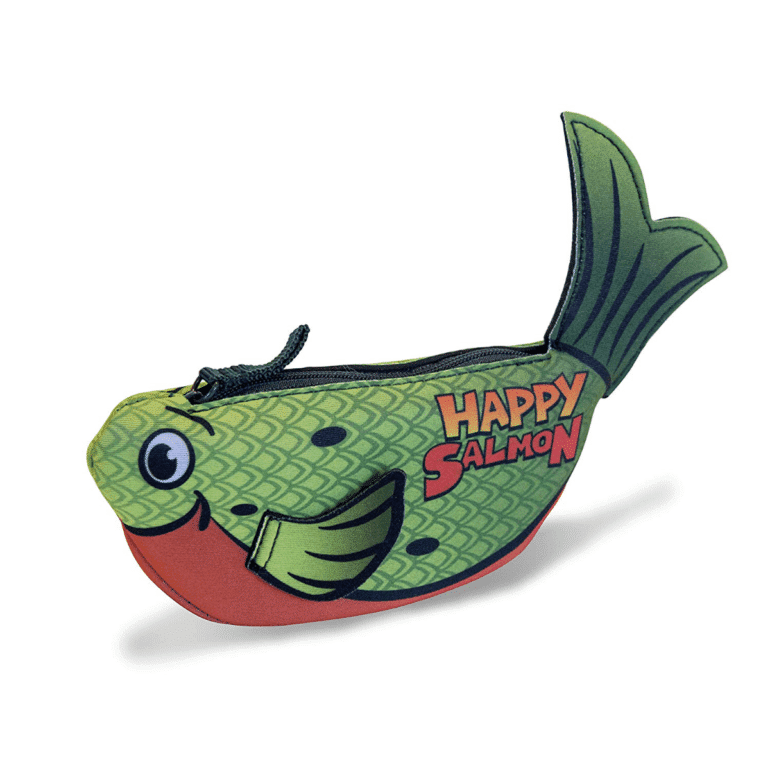 What does the game consist of?
The quirky card game consists of six colour-coded sets of identical cards.
The cards are a thick, sturdy and glossy stock. This means that they should be able to take most of the punishment during play.
The artwork is cartoony (reminiscent of Dr Suess books), and easy to understand.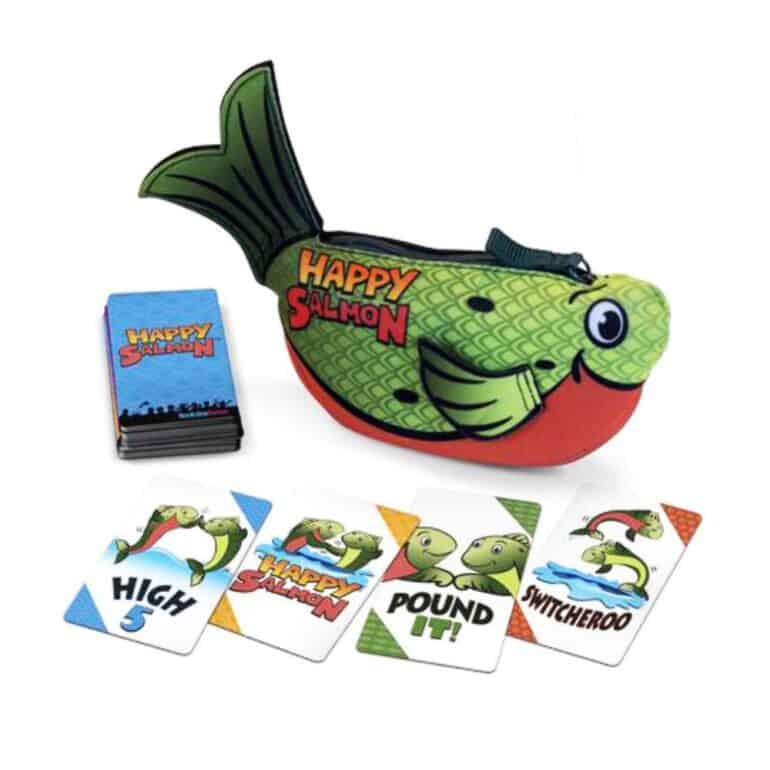 How does it work?
With Happy Salmon, players stand in a circle and receive a stack of 12 coloured cards each (all faced down). The game then requires everyone to start flipping over their cards and shouting the action on them at the same time. There are no turns.
The actions on the cards are:
High 5: High-5 your matching buddy
Pound it: Fist-bump your buddy
Happy Salmon: You both slap each other's forearms three or more times.
Switcheroo: You switch with your buddy, score a match with another player and you all perform the action at the same time.
If you can't find a match, you place your card on the bottom of your hand. But should you find a match, you and your buddy can discard their cards.
The player who gets rid of their 12 cards first is crowned the winner and the happiest salmon.
What did we think of Happy Salmon?
There's not a lot to Happy Salmon — which is part of the game's charm.
It's easy to understand and quick to play. And, more importantly, I haven't played a game that did not end in deafening laughter. It's one of those games that you ask to play just one more round of.
The cards are easy to read and even younger kids can understand them as the images are quite self-explanatory.
If you are looking for a quick, fun and bite-size game to play with your family and friends then you should give Happy Salmon a go.
For more information on Happy Salmon, visit solarpop.co.za. The game retails for around R200 – R300 locally.
The Review
Happy Salmon
Happy Salmon is a bite-sized game that will help fill your house with the sound of laughter.
PROS
Quick to play and learn
It's silly, but in a good way
CONS
Might be to silly for some
Review Breakdown
Gameplay

0%

Components

0%

Complexity vs. Depth

0%

Theme

0%