In recent years, the Scooby-Doo franchise has been incredibly hit-or-miss in terms of both quality, storytelling and entertainment value. While the good news here is that Happy Halloween, Scooby-Doo! isn't painfully bad, like the complete misfire that was Scoob!, sadly it's also not that good either and wastes many of its biggest opportunities.
There's definitely a juicy premise in Happy Halloween, Scooby-Doo!: Halloween is a great time to set a Scooby-Doo story in, especially given the contradictory nature of Scooby and Shaggy – a duo who are perpetually scared of monsters, yet love horror stories and candy. There's a lot of room for a fascinating mystery there, and some interesting character development. The addition of the Scarecrow is a great concept too, since he's the one Batman villain who can fit in perfectly as a Mystery, Inc. villain too. Plus there are the cameos of Bill Nye… and the legendary Elvira.
Amazingly, all of that potential gets flushed away.
Instead, the most creativity that could be drawn from it is a lazy, overly-long car chase. Seriously. The thing seems to drag on for hours.
It's Halloween in the town of Crystal Cove, and things are taking a turn for the spookier. While the townsfolk are trick-or-treating and enjoying the annual carnival parade – this year being hosted by the one and only Elvira, Mistress of the Dark – a terrifying mystery is unfolding. Thankfully, Scooby-Doo and the Mystery, Inc. gang are on hand to make quick work of Batman's fear-spreading foe the Scarecrow.
Except, this Halloween the scares don't stop when the mystery is solved.
When the town is attacked by living killer pumpkins, Velma is convinced that it's all impossible, some kind of trick… yet it's happening. As Mystery Inc. struggle to survive and discover the truth, they're forced into a bizarre alliance with the Scarecrow, Elvira and Bill Nye the Science Guy. Is this latest mystery going to be their last, and can they overcome the Halloween horrors?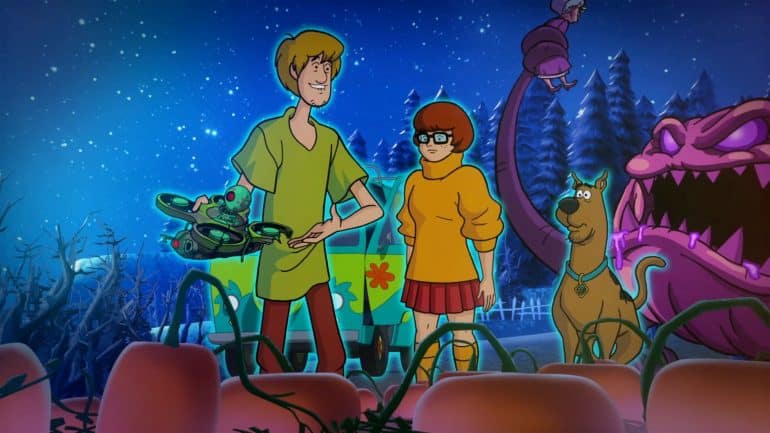 While Happy Halloween, Scooby-Doo! starts out with the traditional (and rather fun) mini-mystery, it doesn't take long before the film grinds to a virtual halt and you'd swear the team behind it have never seen an episode of Scooby-Doo before. The few mystery elements which are unveiled at a glacial pace feel scattershot, either obviously signposted or completely random. It makes that aspect of the story pointless, and what's a Mystery, Inc. story without mystery? Instead, it falls back on action sequences that are slow and sluggish. What's supposed to be a thrilling chase feels like it's running on empty and the pumpkins are one of the least menacing threats they've ever shown.
It's also impossible to care about the fate of any of the characters. Despite audience familiarity with them, they're written so badly as to seem pretty unlikable. Scooby and Shaggy aren't that funny here, Velma seems oddly mean-spirited, Fred seems pointless, and Daphne is an incomprehensible mess whose personality seems to have been replaced by 1990s Pauley Shore. Like the missing mystery, when viewers don't care about the characters then there's little reason to watch it.
And by the way, what do the current Scooby-Doo creators have against the classic Mystery Machine? Yes, once again it's taken out of the running early (a bizarre choice given the huge car chase element to the story) and this time replaced with the blandest Transformer ever. Throw in some of the worst music to appear in a Scooby-Doo movie in a while and some unimaginative directing, and the whole thing becomes a wasted project. Plus… would it hurt to maybe focus a little more on Scooby-Doo helping out in an actual Scooby-Doo film?
How could they get this so wrong? Just give viewers what they want and stop trying to re-invent the wheel!
All of that said, there are still a few decent moments in Happy Halloween, Scooby-Doo!.
The voice cast themselves are great, and it's so good hearing them back again. Fred's "Dutch" Schaefer routine is one of the most unnecessary and obscure homages ever, but may raise a grin from some, while one particular Daphne quirk is so old-school right that it almost feels wrong. The concept of the story is still intriguing enough to get attention, and Dwight Schultz is an inspired choice to play the Scarecrow. And while Elvira's appearance here may not be her best and is far too restrained, it's about damn time she showed up with those meddling kids!
Unfortunately, this isn't a winner and is unlikely to take the top spot in any Scooby fan's collection. Feeling out of step in all the wrong places, Happy Halloween, Scooby-Doo! lurches towards the end credits with all the grace of an uncoordinated zombie.
Happy Halloween, Scooby-Doo! is worth a look for novelty's sake, but little more.
The Review
Happy Halloween, Scooby-Doo!
Not enough tricks or treats to make this special.