Greek mythology is portrayed in a variety of media, including video games like God of War, movies like Clash of the Titans, and books like Edith Hamilton's Mythology. These legends have enthralled us for centuries, and Hades is an excellent contribution to the genre.
Hades is a rogue-like dungeon crawler developed by Supergiant Games (Bastion, Pyre) originally released in 2020 for Nintendo Switch and PC, and most recently made available on PlayStation and Xbox. It rapidly swept the gaming world by storm upon its initial release, winning multiple Game of the Year Awards.
For those unfamiliar with the genre, a rogue-like is a game in which you attempt to beat the game in one run. The best part of Hades is dying as when you return to the blood-soaked hall of The House of Hades you unravel the engaging story further and have learnt how to get further on your next run with its intense fast-paced gameplay.
Hades Story
"God's, Monsters and Heroes"
You take on the role of Zagreus, the Prince of the Underworld, and the immortal son of Hades. As you hack and slash your way out of Underworld, you defy your father and try escape the realm and find out the truth about your mother.
Tragedies, drama, and family dysfunctions abound in Greek mythology, and Hades delivers on all of them. From the God of War, Ares, to the Goddess of Wisdom, Athena, Zag meets renowned characters from Greek mythology one by one.
Zag is aided by gifts bestowed upon him by the gods and heroes of the Greek pantheon.
Hades is fully voiced, with witty dialogue and incredible voice acting. Zagreus will even respond to the narrator as he discusses events. Characters are actively observing both your successes and failings. Hades features deep references across ancient mythology, building its story on relationships between characters.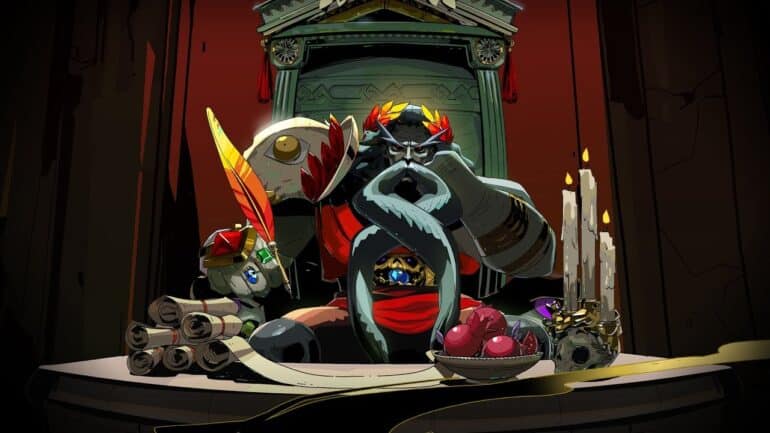 Gameplay
"Battle out of Hell"
Hades is an isometric ARPG with hack-and-slash gameplay, and mostly consists of three attack types: basic and strong and special.
These attacks can be upgraded with Boons, gifts from the gods and others who wish to see Zag escape. Boons range from just a simple increase in the amount of damage to completely changing the magic they can cast.
You fight through multiple biomes of the Greek underworld: Tartarus, Asphodel, Elysium, and the Temple of Styx.
Each run is made up of multiple rooms that are randomly placed and loaded with various enemies and power-ups, ensuring that each escape attempt is not the same as the last. After dying you can also invest a certain currency in yourself so that you have more skills for the next run.
Hades has 6 unique weapons know as Infernal arms, the weapons that slew the Titans. Zagreus can wield these to aid him on his bloody path out of Hell – from the Shield of Chaos that controls the crowd of enemies with its great distance damage to the Twin Fists of Maplhon that is up close fast combat that deals great damage.
Each weapon can be upgraded with Titan blood.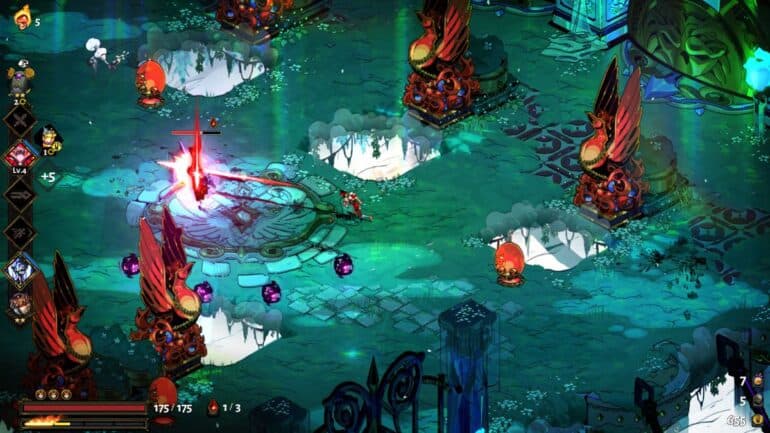 Graphics
"You're quite the specimen"
Hades is beautifully rendered, with a colourful art style and a palette of electric colours that provide a visual feast. The hand-painted artwork is brought to life on screen by a stunning environment design. The characters are meant to be seductive, divine, and devilish and the art brings this to life.
Music
"Facing Hell"
The metal-inspired blood pumping soundtrack with traditional instruments sets the tone to your fight out of hell. Each boss has a distinct musical identity that pushes you to slay them. Every track hits harder than the last. God of the Dead is a monster track, nine minutes of metal.
Composer Darren Korn helped make Hades a masterpiece with his soundtrack.
Replay Value
"Back Already?"
Hades very core is built on replayability and to uncover the full story you'll have to complete the game more than once. After you defeat the final boss, you unlock the Pact of Punishment in which you can increase the difficulty of enemies. Doing this gives you access to more rewards for more upgrades, so beating the game once is really just the beginning.
Also, you can pet Cerebus, the three-headed guard dog of the Underworld.
The Review
Hades
Overall, the gameplay progression, music, voice acting, dialogue and addictiveness is polished to perfection which makes Hades a bloody delight to play.
Review Breakdown
Gameplay

0%

Graphics

0%

Replay Value

0%

Sound and Music

0%

Storyline

0%